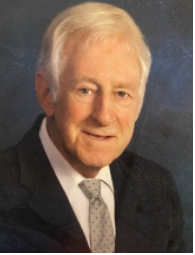 William F. Howell (Bill)
1932 –  2021

William F. Howell (Bill) of Houston, Tx, passed away on October 13, 2021. He was preceded in death by his wife of 62 years, Suzanne, who passed in 2015. He is survived by 3 sons: Drs Mark (Maria), Dr Todd (Robin) and John (Katinka), 7 grandchildren and 5 great-grandchildren.

Bill was a geologist, active in oil exploration with a career in Houston many years. He founded Paragon Petroleum and served as a valued consultant to the industry. He was a member of the Houston Geological Society,  AAPG, Petroleum Club, and Houston Racquet Club. He was an avid tennis player and founding member of World Oilman's Tennis Tournament receiving the Humanitarian Award in 2018.

A memorial service is scheduled for November 13th, 11:00 am, at Chapelwood Methodist Church.
Please visit https://www.luxfhcares.com for full obituary and information.