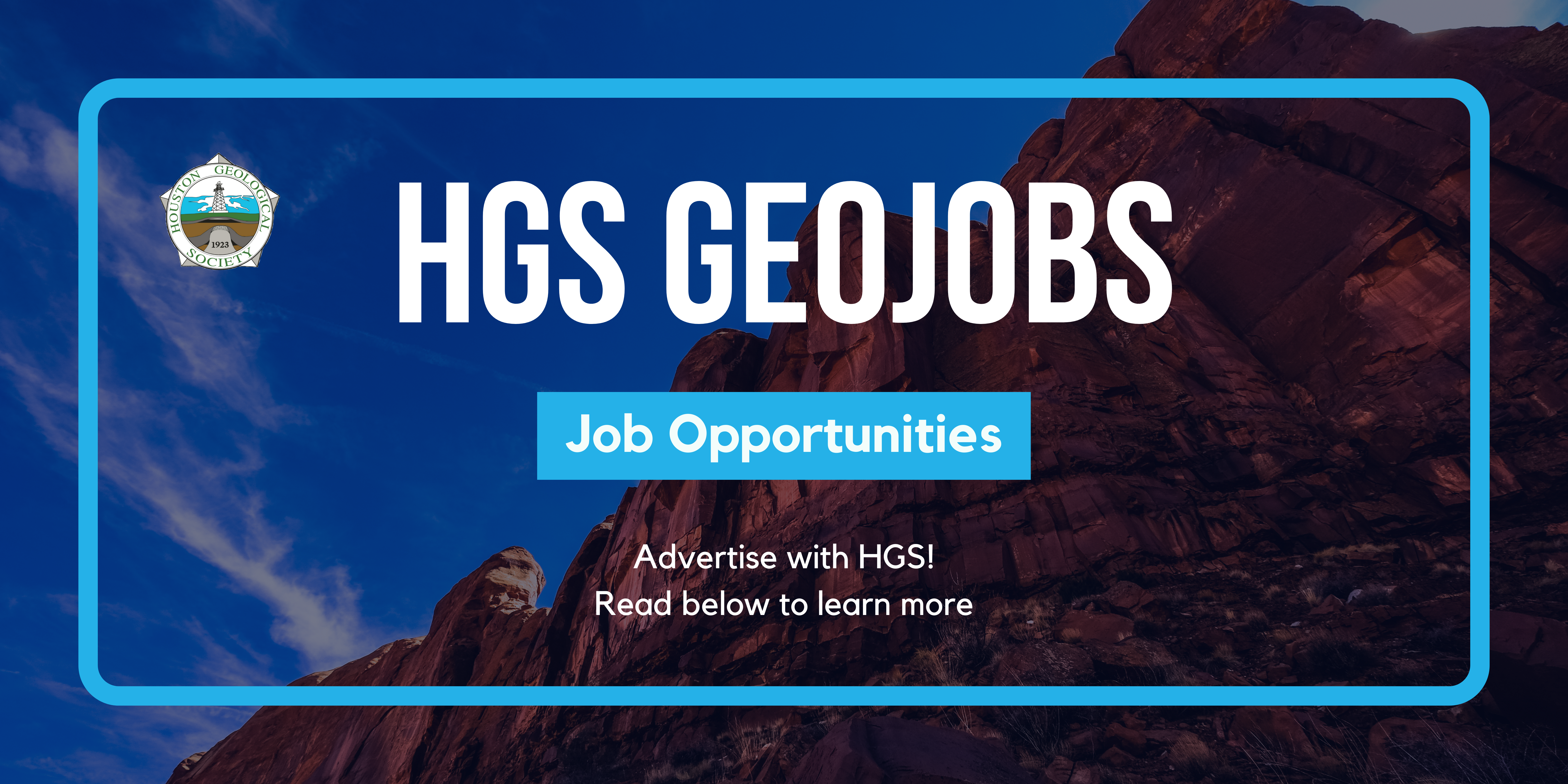 The Houston Geological Society Geo-Jobs section provides:
Employment opportunities

A variety of employment information to interested HGS members and the geological/geophysical community at large

Links to other potential employment opportunity sites
Cost
15 days: $50.00 per ad
30 days: $100.00 per ad
If you are interested in placing an ad, please contact the HGS office at 713.463.9476 or email us at office@hgs.org
*The HGS reserves the right to reject job postings that are not likely to be of interest to our members.*
Current Employment Opportunities
Senior Environmental and Remediation Geologist (Consultant) - WOB 
Summary
The Senior Environmental and Remediation Geologist position requires performing field and office tasks, as well as providing project management support for traditional assessment and remediation projects. Collaboration with Senior Project Managers and Principals will be required to service clients and complete projects on time and on budget.
Position Details
Reports to: Associate Managing Director – Compliance Services  

Location: Texas

Position Type: On-Call          

FLSA Status: Non-Exempt

Pay: Hourly

Compensation: Commensurate with experience

Travel: As needed for projects
Essential Job Functions
Field and office management of soil, soil vapor, and groundwater sampling; health and safety monitoring; and remediation implementation

Development and management of project scopes, schedules, and budgets

Preparation and review of regulatory and technical reports

Client and regulatory agency communications

Perform site visits and prepare Phase I ESAs, Phase II ESAs, and cost proposals related to both

Primary author of Phase I and Phase II reports
Minimum Job Requirements
Bachelor's degree in Geology, Hydrogeology, or Earth Sciences

10-15 years of relevant experience in the environmental industry with demonstrated progression in technical site investigation/remediation and task management.

Strong knowledge of TCEQ waste and clean up programs.

Experience with field characterization and remediation systems.

Knowledge of remediation equipment, processes, and maintenance.

Able to identify Recognized Environmental Conditions utilizing various historical documentation and environmental databases.

Ability to lead contractors, coworkers, and other professionals in task management capacity to complete project scopes on time and on budget.

Strong written and verbal communications with technical writing experience.
Preferred Job Requirements
Master's degree in Geology, Hydrogeology, or Earth Sciences
Work Schedule
On-Call as needed for projects. Flexibility around availability.