Educational Resources Provided by HGS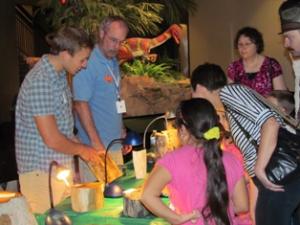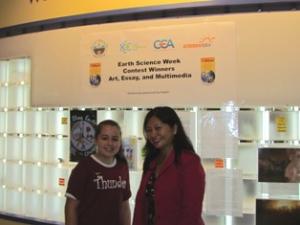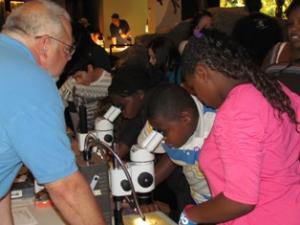 The HGS Science and Education Committees are central to the society's core mission to provide earth science enrichment to both our membership and to the greater Houston area community. Our outreach efforts span the learning spectrum from elementary age to collegiate and professional programs. Many of our programs are offered in public forums and in partnership with area organizations and institutions. HGS is where teachers look for help teaching earth sciences in their classrooms. We provide speakers, docents, and maps in the classroom. If you are interested in volunteering or sponsoring one of these committees, see the summaries below and click on the committee page link.
Please let us know if you are willing to help by signing up for our volunteer list. You can let us know by sending an email to office@hgs.org
AAPG Imperial Barrel Contest Committee - This committee serves as HGS liason for the regional IBA competition administered by the Gulf Coast Association of Geological Societies (GCAGS).The IBA is an international program of the American Association of Petroleum Geologists where geoscience graduate student teams compete for scholarships and university recognition.
Calvert Scholarship Fund Committee - The Calvert Memorial Fund is a scholarship program for U.S. students enrolled in earth science graduate programs in our region. It is managed by a 5 member HGS  board of trustees that provides annual support for graduate studies. The fund welcomes contributions which can be done on-line (here) or sent via mail to the HGS office.
Continuing Education Committee - The HGS Continuing Education committee organizes and presents short courses, seminars and symposia for HGS members and the local geoscience community. We using the efforts of  many talented members of the Houston geoscience community to present high quality, state of the art programs on timely topics.
Earth Science Week Committee - This committee is an HGS educational enrichment program. This committee provides annual programing during national Earth Science week celebrated each year in October including the HMNS Family Energy Festival, public fieldtrips, and the Consumer Energy Alliance Energy Day festival.
Educational Outreach Committee - This committee was formed in 2011 to develop external enrichment programs for K-12, junior-college, and public outreach efforts. The committee is tasked with developing a volunteers and resources for collaborations with educators and education-oriented organizations. This includes the Sally Ride Festival and the Houston Gem and Mineral Show.
Engineering Council of Houston Committee - This committee serves as liason and sponsorship representative for enrichment programs offered through the Engineering Council of Houston. The two societies maintain a close relationship and share volunteers for educational outreach initiatives and programing.
Houston Museum of Natural Science Committee - This committee serves as liaison to the museum and shares responsibility for collaborative programming offered at the museum including HMNS Energy Day Festival and some outreach efforts of the Energy Conservation Club.
Undergraduate Scholarship Fund Committee - This committee serves as trustee for HGS funds directed toward support of undergraduate geoscience students.
With your help we can improve earth science education in Houston!