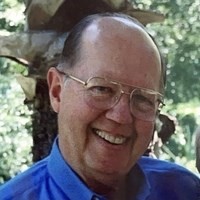 Thomas E. Johnson
1938-2021
Tom spent a lifetime loving his family, his work in the oil industry, traveling, the outdoors, and sports. Tom was born in 1938 in Yonkers, New York. He grew up in Teaneck, New Jersey, where he ran cross country, played ice hockey, and participated in the Boy Scouts and Junior Seabees. He attended Rensselaer Polytechnic Institute (BS Geology 1962)   He served in the U.S. Army in Korea as an engineer, continuing in the Army Reserves for seven more years. He moved to New Orleans to work for Pan American Petroleum and soon after married the love of his life, Peggy. He studied for his Master's Degree at Tulane University.
Tom spent his career as a petroleum geologist, exploring and identifying South Louisiana and Southeast Texas oil and gas prospects. He was a partner at Solatex in Houston before following his heart and moving his family to Steamboat Springs, Colorado. He began Steamboat Exploration Company and spent ample time fly fishing, hiking, and cross country and downhill skiing. After returning to Houston, he worked with Texas Meridian and continued working independently after retirement. Tom was an active member of the American Association of Petroleum Geologists, the Houston Geological Society (Joined 1/1/74), and the New Orleans Geological Society. Throughout his lifetime, he enjoyed the nature around him, setting up multiple model train sets, which thrilled his grandchildren, and building wartime era model airplanes. Tom and Peggy both loved being close to family and also exploring the world, continuing to travel regularly after retirement.
A devoted family man, Tom is survived by his wife, Peggy K. Johnson; 2 sons and one daughter; 9 grandchildren.
Summarized from Sunday, July 11, 2021 Life Tributes Section of the Houston Chronicle.