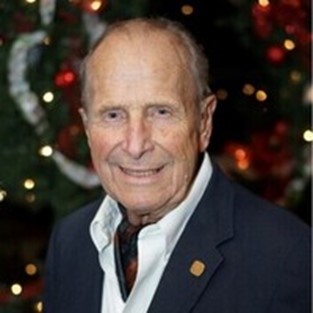 Stewart Chuber
1930-2022
Stewart Chuber of Schulenburg, TX, passed away peacefully from this life on July 1, 2022 in the early afternoon with family members nearby at St. Marks Hospital in La Grange, TX at the age of 91.
Stewart is preceded in death by his wife Martha (Muffin) Anne Chuber and his son Jeffrey August Chuber. He is survived by his daughter Valerie Anne Chuber Salazar, son in law Angel A. Salazar and granddaughters Jasmine Chuber and Camila Salazar all from San Antonio, TX. Other relatives are nephew Eric Chuber from San Antonio, TX and his family, niece Jan Fish and her family of the Woodlands, TX.
Stewart was born on December 22, 1930 in Queens Village on Long Island, NY, to August and Florence Chuber. He was the youngest of three siblings. Stewart and his two siblings, Bruce and Carol were always encouraged by their parents to do their best at any endeavor that they undertook in life. This was a life skill that Stewart practiced his whole life.
Stewart attended South Side High School in Rockville Centre Long Island, NY until graduation. He enjoyed athletics very much. He played on the football and baseball teams for South Side High where he was awarded four letters as a member of the junior varsity and varsity football and baseball teams. Stewart also boxed in the Golden Gloves amateur boxing program and won a jewel studded golden glove and two medals at the age of 17 and a 135 pounds.
Stewart was very active in other school activities such as math club, the French club, and in politics. With his schoolmates he helped to start a new political party called the "Student Elect". They were successful in throwing out the traditional political folks that were in school.
Rounding off his high school years Stewart always loved the beach. He became a life guard at Long Beach and Jones Beach on Long Island, NY that continued through his senior year in high school and during summer breaks when in college.
Stewart was an avid pilot and received his pilot's license in 1956. He has flown collectively hundreds of hours through out his lifetime. Stewart continued to fly recently right up to days prior to his passing. He would fly his plane on the weekends looking out into the peaceful horizon and with a birds eye view all of the geological landscape.
On becoming a geologist, his older brother Bruce suggested he study in college the field of geology or geophysics. He was referred by his high school advisor to attend the Colorado School of Mines in Golden, Colorado. Stewart decided to attend Mines and turned down a four- year scholarship to Amherst. A 2000 mile journey from Long Island, New York to Golden, Colorado to a new life and new beginnings. Who knew that it would lead to a journey in geology that spanned seven decades.
At Mines, Stewart joined the Alpha Tau Omega fraternity and worked in their house as a hasher for a reduced room rate. He also worked as a barber and worked for the railroad to support himself while attending Mines.
Stewart continued to play football his first year, but was too small to go on any further. He was on the boxing team for 3 years and on the swimming team. Stewart also participated in several organizations and in publications.  He joined the staff of the Mines newspaper "The Oredigger", where later he became the editor.
Stewart graduated from Mines in 1952. He furthered his education at Stanford University in California for his masters and doctoral degrees. Stewart met the love of his life Martha (Muffin) Anne Riggs in a square dance band in 1953. They were both attending Stanford and working on their master degree's. They were married June 6, 1953. They were married 64.5 years.
Stewart graduated with his master's degree from Stanford in 1953. After receiving his masters degree he worked for about three years for Mobil Oil Company (of Canada). While working for Mobil, Stewart and Anne traveled to Libya in December 1953 for work. Stewart worked near Garian, Libya, Tripoli and Sirte Basin in central Libya. Stewart found his work in Libya as an incredible experience. They were surface mapping in the desert an area of 340,000 square miles which is the size of Texas and Oklahoma combined.
Stewart and Anne returned to Sacramento, California from Libya. Working in the Sacramento Valley Stewart continued to work for Mobil where he finished his doctoral research at Stanford. Mobil provided Stewart a small salary and jeep to use to do subsurface work. Mobil had helped him substantially. Stewart completed his field work for his doctors thesis in 1961 and was very grateful to Mobil.
Stewart left Mobil and started working for Franco Western Oil Company in Bakersfield, CA. He worked for Franco about 1 year where he was then asked to transfer to Franco Western out of Midland, TX.
This move from California to Texas was a whole new beginning for Stewart and the world of geology for him and his family. Stewart, Anne and their son Jeffrey, born 1961, made the move.  Valerie, was born in 1964, while they were in Texas. They became Texans with a little bit of Yankee accent.
In 1965 Stewart left Franco Western which was bought by Mobil to begin a consulting relationship with Butes Gas & Oil. In 1968 Butes Gas & Oil offered Stewart a job in the Gulf Coast area in Houston, TX. Stewart was their Upper Gulf Coast manager. He wasn't just the manager, but was their entire staff for the region.
The Gulf Coast Region became an area of expertise for Stewart. He worked as an independent and also worked for various Oil & Gas companies. He excelled at generating prospects and selling drilling deals.
In 1978 working as an independent, Stewart, Anne and family moved to Schuleburg, TX.  Schulenburg became home for him and his family. Living and being a part of Schulenburg and it's community for 44 years. Stewart worked extensively in the Hallettesville area out of the Gulf Coast region. He started generating prospects and became associated with Howell drilling.
Stewart and Anne formed and started Mascot Oil and Fayette Exploration on November 14, 1980. Mascot Oil was the operating company for Fayette Exploration. Later Tx Lavaca Pipeline Inc. was established with a joint ownership with Frank Migl of Hallettesville, TX. Currently to this day both companies Mascot Oil & Fayette Exploration are still operational along with Tx Lavaca. Stewart continued his golden years working and generating prospects as it was never a job to him, but a hobby that he loved and enjoyed very much right up to his passing.
Throughout Stewart's life in geology, he has always believed in giving back and helping others become educated. With his philanthropic nature he dedicated himself to the Colorado School of Mines with generous donations for scholarships. He participated in a Geoscience Bootcamp that was hosted by Sub-Surface consultants. The curriculum was a part of their training program. The recipient of Stewart's AAPG Foundation Scholarship was a gentleman named  Joe Dumesnil. Stewart was Joe's mentor for 12 weeks in geology and geophysics. A rewarding experience for Stewart to mentor this recipient.
Stewart was strong in his faith and his friendship with God. He enjoyed being a part of his church, St. James Episcopal in La Grange, TX. Attending almost weekly the Sunday service and bible study. He was also a big supporter to his community. He was a member of Lions Club. He held different positions of office in Lions Club and was ready to volunteer when it was needed.
Stewart believed that professional organizations were the best way to meet new people and establish business contacts, have continuing education for one self and more importantly have great friendships.Throughout his life in geology he was a member of several geological professional societies and held numerous positions amongst these societies. Stewart wrote numerous papers and publications in these societies. He has been honored for his service, generosity, and dedication to the Oil & Gas industry with various achievements and awards.
Stewart has been affiliated with the following professional societies where he has written publications and has received awards for his service and dedication:
PUBLICATIONS: Author or co-author of 31 scientific articles
PROFESSIONAL AFFILIATIONS & ACTIVITIES:
American Association of Petroleum Geologists
Certified Petroleum Geologist; Div. Prof. Affairs, Member; Academic Liaison Com. 1978-79; Continuing Ed. Com., 1978-80; Convention Field Trip Chair, 1979; Convention Short Course Co- Chair, 1989; Vice President, 1994-95; Student Chap. Field Trip & Short Course Chair, 1995 Convention; House of Delegates, 1995-present; House of Delegates, various committees
Society of Independent Professional Earth Scientists
National – Director, 1982-85; Treasurer, 1983; Vice President, 1984; Convention Chairman, 1979; Convention Field Trip Co-Chairman, 1993
San Antonio Chapter – Chairman, 1981, 2006
Geological Society of America
Former Fellow
Society for Sedimentary Geology (SEPM)
Poster Session Award Chair, 1984
Gulf Coast Association of Geological Societies
Transactions Editor, 1973; Athletic Events Chair, 1982; Awards & Nominations Com. Chair, 1988-90; Vice President, 2002-03; President, 2003-04
Permian Basin Section, SEPM
Guest lecturer, 1962; Program Chair, 1963-64; First Vice President, 1964; President, 1965
South Texas Geological Society
Core Workshop Leader, 1986; Continuing Ed. Com. Chair, 1988-2000; Honors & Awards Com. Chair, 1989; Austin Chalk Symposium, Editor, 1991; Guest lecturer, multiple; Vice President, 1999-2000; President-Elect, 2000-01; President, 2001-02; various ad hoc committees
Houston Geological Society
Research Com. Chair; Second Vice President, 1974-75; First Vice President, 1975-76
West Texas Geological Society
Editorial Com. Chair, 1966-67; Field Trip Coordinator, 1967; Oil Study Group, 1963-67; Pennsylvanian Subcom. Chair; Evening Program Chair, 1967-68; Symposium on Cyclic Sedimentation in the Permian Basin, Co-Editor
Sacramento Geological Society
Guest lecturer, multiple
Bakersfield Geological Society
Stratigraphic Seminar, Chair, 1960-61; Guest lecturer, multiple

PROFESSIONAL HONORS & AWARDS:
HGS Best Paper Award, 1971-72
HGS Distinguished Service Award, 1985
GCAGS Distinguished Service Award, 1991
STGS Honorary Membership, 1995
AAPG Distinguished Service Award, 1997
GCAGS Honorary Membership, 1998
AAPG Honorary Membership, 2004
AAPG Foundation Chairman's Award 2021
Stewart Chuber was an exceptional human being. He always had a smile and kind words to all that he encountered in his daily life. Stewart lived with much joy and happiness. We will be celebrating Stewart and his life with a memorial service and inurnment will be held at 11:30 September 24, 2022, at the St. James Episcopal Church, 156 North Monroe Street in La Grange, TX. In lieu of flowers, memorial donations may be made to St. James Episcopal Church, or the Gardenia Jansen Animal Shelter, 240 Svoboda Lane, La Grange, TX.
This obituary was summarized from the Koenig-Belwill Funeral Home & Cremations site on July 19, 2022.
On a personal note, I first met Stu in 1963 when I moved to Midland after graduate studies at Illinois.  Stu was Program Chairman for the Midland Geological Society and invited me to present my MS Thesis to the Society. He was a very friendly and knowledgeable person.
- John Tubb