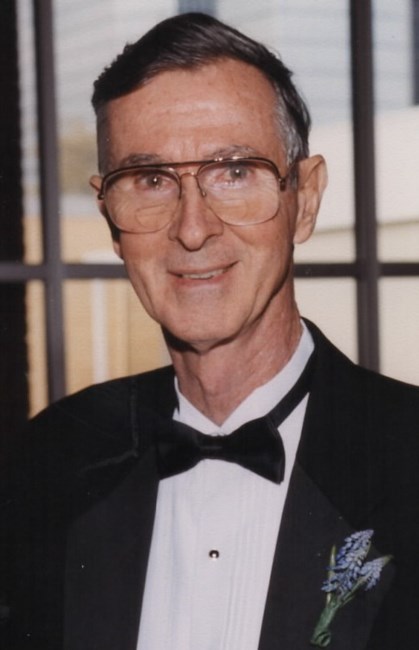 Sabin William Marshall passed away peacefully in his sleep during the early morning hours of Wednesday January 8, 2020. Sabin was born on October 15, 1928 in Houston, attended Lamar High School and was a proud graduate of The University of Texas at Austin with B.S. in Geology, class of 1952. He enjoyed a long career as a geologist with Texas Gas Transmission and was an active member of the Houston Geological Society, serving as its President in 1975. Following a European tour of duty with the US Army, Sabin married the love of his life, Mary, in 1958 and together they raised four children. Sabin and Mary were founding members of St. Thomas More Catholic Church, where he served as an usher for many years.
Sabin was a devoted family man, playing catch in the backyard, coaching little league, taking us to Astros games in the Dome, Indian Guides, and serving as a Scoutmaster. He taught us about fairness, doing the right thing, paying yourself first but always making room for charity, and having compassion for others. Sabin loved the outdoors and travel, taking the whole family on a tour of the country by car every year with the trusty pop up camper in tow. Sometimes we all got along. Other times we didn't, but what an experience, what a gift he gave us. Yellowstone, the Dakotas, Grand Canyon, Monticello, Mt. Vernon, Colorado, New York City, the KOA in Phoenix, and last but not least, driving from Houston to San Francisco and back. His fondness for camping didn't rub off on his children in adulthood but we're all grateful for the opportunities he gave us- to see the country, to meet people different from ourselves and experience things we weren't used to; scary but wonderful at the same time. Life is like that. He knew that long before we did, but he had the wisdom to let us find it for ourselves. The gift a father gives his children.
Sabin was predeceased by his loving wife of 59 years, Mary, brother Ralph Marshall, and brother in law Frank Goban. He is survived by sister in law Mildred Goban, children and spouses David (Marlene), Brian (Rachel), and Darin (Kristen) Marshall, Madeleine Ellard (Jeffrey), grandchildren Chris, Henry, Brendan, and Lillian Marshall, Elaine Ellard, Emily Lessner (Matt), step-granddaughter Maggie Jashinsky (JD), and numerous nieces and nephews.
The family is greatly indebted to and wishes to thank Sid Gerber and his wonderful team of caregivers at Personal Caregiving Services, especially Aida Nieves and Robert Moreno, as well as the staff of The Medallion for their selfless and compassionate care of Sabin during his final months.
A visitation and rosary will be held on Monday, January 13 at 7 pm at St. Thomas More Catholic Church, 10333 Hillcroft Ave., Houston, Texas. A Mass of Christian Burial will be held on Tuesday, January 14 at 10:30 am, also at St. Thomas More, followed by a reception at the church. Interment will follow at 2 pm at Forest Park Lawndale. For those desiring, in lieu of flowers, contributions in Sabin's memory may be made to Catholic Charities.