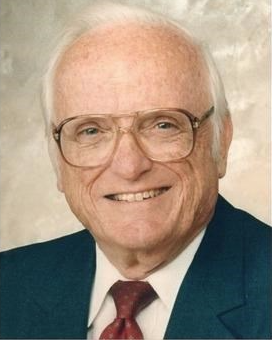 George Sealy
1927 - 2022
George Sealy, Jr. (aka George Sealy III) age 95, died peacefully at home on July 23, 2022. He was born in Galveston, Texas on May 4, 1927, the son of George Sealy and Eugenia Taylor Sealy. George and his family lived in his family home on Broadway known as "Open Gates". They later lived in the Galvez Hotel until their home was completed at 53rd and the Boulevard.
George began school in Galveston but left at the age of eight to live on a ranch outside of Uvalde, Texas with his maternal grandparents. During his four years at the ranch, he attended a one room schoolhouse where he excelled academically. The experiences on the ranch molded George into the unique person he was – one of the last of the real gentlemen, kind, humorous, a true Texan with great integrity, always willing to help a stranger or to brighten their day with a smile and a bit of humor. George later moved with his grandparents to San Antonio, he attended San Antonio Academy and Texas Military Institute where he was National Honor Society President and Cadet Battalion Commander.
In 1944 George entered Princeton University. After one year at Princeton, George's studies were interrupted by WWII. Following OCS, he was sent to the Pacific where, as a 2nd Lt. at the age of 19 and prepared by his 6 years in military school, he commanded a company of the prestigious Philippine Scouts.
Returning to Princeton University, George initiated the formation of Princeton's Rifle Team. He lettered in that endeavor; the team went undefeated. After graduating from Princeton with honors, George began his Masters program at the University of Texas where he earned his Masters Degree in Geology, and where he began dating Ann McSween.
George moved to Houston and began his career with Humble Oil and Refining Company (Exxon Mobil). In 1952 he married Elizabeth Ann McSween of San Antonio. Ann and George raised two sons and twin daughters. The family had many excursions in their RV, spent leisure time at their bay house in Jamaica Beach on Galveston Island, and their farm near Columbus. Ann and George also made numerous trips to England, Scotland and Europe, before her death in 1993.
At Humble (Exxon) George's career began in the Exploration Department, however he spent most of his years in the Production Department. He became Operations and Planning Coordinator for the Production Geological Group in Headquarters, Exxon USA. He loved his work, but in 1985, after 33 years of service, he retired early to travel more with Ann and to manage the Sealy Land Company for his extended family. His last RV was a luxury bus which he took to UT football games, dove hunting trips, visits to the Texas border, and other weekend trips. After Ann's death, George sold his bus but continued his trips with hunting buddies, his tennis group, supper clubs and other friends. In 1995, George and Dorothy Falkenberg began their close relationship. They had worked together at Exxon since 1953. One of George's great loves was to spend weekends at his farm near Columbus, Texas with friends and family and all his farm vehicles.
George and Ann were members of St. Martin's Episcopal Church where George served on the Vestry, was president of St. Martin's Foundation, was on the Board of St. Martin's Endowment, served as Senior Warden, and was presented the St. Martin's Star Award. Other Organizations to which he had belonged included the Kiwanis, Houston Geological Society, American Institute of Professional Geology, Geological Society of America, the American Association of Petroleum Geologists, and the National Geological Honor Society Sigma Gamma Epsilon. He was proud to be a lifelong member of the NRA. He also was a member of the Executive Association of Houston (and past President), The Petroleum Club and The Houston Country Club. He served as the Executive Vice President of The Sealy and Smith Foundation in Galveston. For over 30 years he served as Managing Partner of Sealy Land Company and President of the George and Magnolia Sealy Foundation.
George was pre-deceased by both parents and by his wife of 41 years, Ann McSween Sealy. He was also pre-deceased by his sister Eugenia (Jeannie) Sealy Cross and her husband Oliver Cross of Asheville, North Carolina; by his brother Lane Taylor Sealy and his wife Martha Ann (Marty) Sealy of San Antonio; and by brother-in-law and sister-in-law Paul McSween and Linda Lewis McSween. He is survived by his son George Sealy IV and wife Lita Settegast Sealy of Houston; daughter Amanda Sealy Frenzel and husband Todd Frenzel of Austin; daughter Elizabeth Ann Sealy of Sugar Land; son William Robert Sealy and wife Susan Allen Sealy of Austin. He is survived by six grandchildren: Hilary Sealy Burch and husband Patrick Burch of Houston; Marion Sealy of Houston; George Sealy V and wife Jenny Mueller Sealy of Houston; Kendall Sealy, William Sealy Jr and John Sealy all of Austin; and two great-grandchildren: Patrick Burch Jr. and Thomas Sealy Burch. George is also survived by Dorothy Falkenberg of Houston, who has been his dearest friend and devoted companion since 1995. George is also survived by numerous nieces, nephews, and cousins.
Published by Houston Chronicle from Jul. 30 to Sep. 11, 2022.