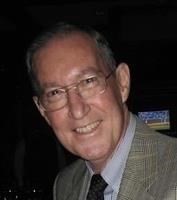 Dionel R. Fuselier
1935-2021
Dionel Ray Fuselier, 86, died peacefully Thursday, Sept. 30, 2021, at Inova Fairfax Hospital in Fairfax VA.
Dionel was a 1953 graduate of Mamou High School and Southwestern Louisiana Institute, now University of Louisiana at Lafayette, in 1957 with a degree in geology.  He was a HGS Member for several years.
Survivors include his wife of 42 years, Tineke Anna Pondaaga of Indonesia, his children, Jeannine Colligan and husband, Gerald of Church Point, LA, Stephanie Richardson of Lafayette, LA, Eric Fuselier of Kinder, LA, Rebecca Eldridge and husband, Ryan of Richardson, TX, Warren Fuselier of Houston, TX, Vanessa Vernon and husband, Zach of Golden, CO, as well as his grandchildren: Jordan Colligan, Mary Kate Colligan, Anne Marie Richardson, Ariel Fuselier, Madeleine Eldridge, Killian Eldridge, Dutch Vernon. He is also survived by a sister-in-law, Masako Fuselier and niece, Tina Fuselier Ray of Lafayette.
He was preceded in death by his parents, Sidney and Lessie Fuselier, his brother Joseph Sherril Fuselier, and nephew, Mark Fuselier.
Dionel was dedicated to his career and spent 40 plus years in the oil exploration industry. His work brought him all over the United States, as well as South America, Europe, Asia, and Africa. He loved to travel and was able to visit many unique places. He also enjoyed photography and took many pictures documenting his travels and his family. Dionel resided in the Houston area for over 28 years: in recent years, he lived in Vienna, VA, near Washington DC. He spent many hours exploring the local history, museums, and scenery. He also became an avid fan of the Washington Nationals baseball team. Dionel enjoyed the culinary experiences of many different cultures, but he was very fond of the traditional Cajun dishes from his early life. His other hobbies include reading and woodwork. Many of his children and grandchildren have furniture made by him in their homes. He was deeply loved and will be greatly missed.