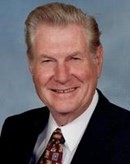 1931-2018
Bill was born June 23, 1931 in Weatherford, Texas.  From the time he was a kid he had an interest in show business. While first attending Texas Christian University, he enjoyed performing with a friend in a duet act.  He continued singing, mainly for weddings and church solos.  He eventually pursued a major in his favorite subject, geology.  Bill attended UCLA and received a BS degree in geology in 1957 and a MA in geology in 1960.   He worked 13 years as a geologist for Atlantic Richfield in Los Angeles from which he moved to Houston.  Beginning in 1973 and for a decade Bill worked for Anadarko Petroleum Company where he headed Anadarko's offshore division from its inception.  From 1983 to 1996 he served in an executive capacity for companies including Mesa Petroleum Corporation, Hunt Oil Company, Sandefer Offshore Company and Midcon Offshore. As a 39-year veteran in the petroleum exploration and production industry, the Offshore Gulf of Mexico was his principal focus, with other areas of expertise including Gulf Coast Onshore, California, Alaska and the Rocky Mountains.  Bill joined HGS in 2008.
He is survived by his wife of 63 years, Nancy, and their three children and spouses.
This Remembrance was summarized from the Life Tribute section in the January 27, 2019 Houston Chronicle.