Submitted by

rawiener

on Tue, 12/12/2017 - 12:00am
Year-End VP Report from Bob Wiener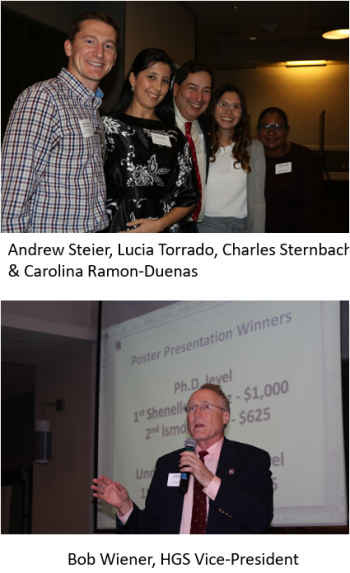 ......Watch out I'm BLOGGING.  Hold on to your hats.
How is that for an introduction?  Tarek Ghazi, our wonderful Treasurer-Elect, told me we need catchier talk titles to go along with the world-class speakers.
Here we are in December; the year is almost over and HGS is going strong.  Speakers are pretty much lined up through April 2018.
The big news is the success of the Sheriff Lecture that was held on November 27, 2017.
The Sheriff Lecture, which is a joint project between the University of Houston and the HGS was a big success.  Craig Shipp, the keynote speaker, is a Geohazard Specialist for Shell International in Houston.  I am not an exact numbers person, but I can tell you that we had over thirty University of Houston student posters, over 100 attendees, plus an excellent talk on a fascinating subject (offshore geohazards), and a ballroom full of geoscientist camaraderie.
I want to congratulate three students who won top prizes for their Sheriff poster sessions:
First Place Shenelle Gomez, Ph.D candidate, Second Place: Ismot Jahan, and First Place Master's category was awarded to Liam Lauckner. Videos of the Sheriff poster session has been uploaded to the HGS YouTube channel https://www.youtube.com/user/HGSGeoEducation.


Dr. Hua-Wei Zhou, Chairman of the Department of Earth and Atmospheric Sciences, and Sheriff Professor in Geophysics, oversaw the technical portion of the evening.  He gave an overview of the Department, faculty, and students, and introduced Dr. Shipp.  After the lecture, he introduced winners of the student poster session, and gave out other Department awards.
See a short video with Craig Shipp on YouTube at https://youtu.be/a7HA4SXq25w.
He was supported by faculty members and staff, who ran a very smooth operation in the background to make the whole evening work.  He asked them to stand for recognition.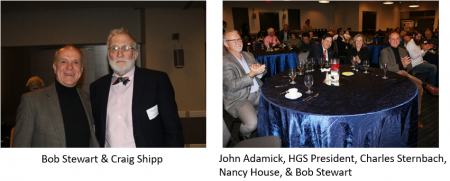 It was great to see so many brilliant students at the meeting.  They are not only the geoscientists of the future; they are the future of the HGS.  We need to keep them engaged with our Society and we need to encourage them to attend other Dinner and Luncheon meetings.  Since Metro Rail now runs past University of Houston, Rice, and other universities, I hope students consider riding to downtown and start attending the HGS Luncheons at the Petroleum Club.
The HGS Board was also well represented at the event. And, of special note the President of the AAPG (Charles Sternbach), the President of the SEG (Nancy House), and the SEG President-Elect (Robert Stewart) also attended. So mark your calendar for the Sheriff Lecture next November.  Be there or be square.
If anybody reading the blog would like to be Vice President next year, please contact the HGS Past-President John Jordan who is in charge of nominations. His email is john.jordan.062255(@)gmail.com.Thanks
Thanks,
Bob Wiener 
rwiener(@)sbcglobal.net