Hurricane Harvey's impact on Houston and the surrounding communities was beyond devastating, but Texans' response to the disaster has been equally immense. For every person who was or knew someone who was affected by the Hurricane, there was another who stepped in to help with the recovery efforts. With the futures of so many still uncertain a group of young professionals in the energy industry, came together with a singular goal – to help.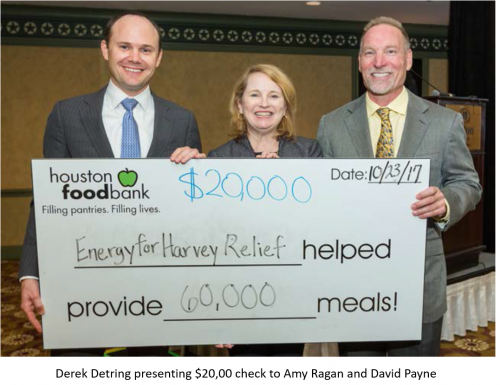 On October 23rd with less than two months of planning and organizing, these volunteers hosted Energy for Harvey, a fundraiser benefiting the Houston Food Bank's Hurricane Harvey relief efforts. Energy for Harvey raised over $20,000, providing 60,000 nutritious meals to families in need. This grassroots event was made possible through the generous donation of time and effort by organizing volunteers, speakers, special guests, sponsors, and attendees. On behalf of the organizing team we would like to thank all of the participants. We appreciate your support and commitment to helping South Texas rebuild.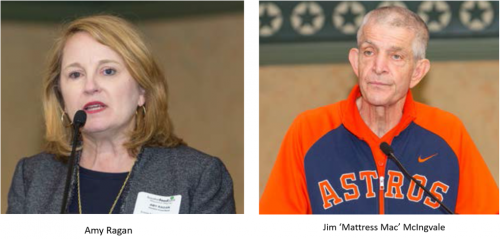 The Event Highlights Glenn Hegar, Comptroller of State of Texas. He spoke about the economic damage caused by Hurricane Harvey, how the State of Texas can move forward, and what lessons we can learn from Harvey to avoid similar damage in the future. Amy Ragan, Chief Development Officer at Houston Food Bank, spoke about the work the Food Bank has done during and since Harvey and how the efforts will continue over the coming months and how Houstonians can get involved and help. David Payne, Vice President at Chevron Corp, and member of the Houston Food Bank Board of Directors spoke about Chevron's experience with Harvey and similar hurricanes, highlighting the ways corporations such as Chevron partner with organizations such as Houston Food Bank. Jim "Mattress Mack" McIngvale, shared a story from the worst night of the Hurricane, where a Gallery Furniture truck was used to save a number of Houstonians from flooding and how neighbors and friends can and should help others in times of need.
The evening was hosted by Lucie Wuescher, Managing Director at KPMG, who was the Master of Ceremonies for the event despite her own house having been severely flooded.
Anastasia Semenova, Miss South Texas 2018 and recent Petroleum Engineering graduate from University of Houston, volunteered to attend and bring further attention to the event.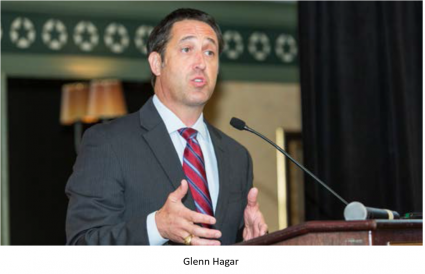 Sponsors & Partners
Detring Energy Advisors – Title sponsor and organizing company
Houston Geological Society & NeoGeos – Silver Sponsor and organizing partner
Hart Energy – Silver Sponsor and Media & Marketing Partner
Gold Sponsor
Derrick
Silver Sponsors
Petrophysical Solutions Inc, Houston Geological Society, Darcy Partners, Hart Energy
Bronze
Star Creek Energy, Taos Resources, Global Edge Consultants, TGS,
Subsurface Consultants Associates, Jordan Consulting
Other Partners
713 Photography, Kimiagar Foundation
Special thanks to Hilton Houston Westchase, who generously donated the venue and dinner.
To host your event at Hilton Houston Westchase (9999 Westheimer)
contact Mike DiLeone, Director of Sales & Marketing (mike.dileone@interstatehotels.com)
Image: