Submitted by

johnadamick@tgs.com

on Fri, 01/05/2018 - 11:27am
Got Time for Lunch (or Dinner)?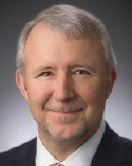 Happy New Year! As we roll out with the old 2017 and in with the new 2018, I thought I'd start this column with an assessment of the market conditions in our industry. At the time that I am writing this article, oil (WTI) is trading at $56.74 per barrel and natural gas is trading at $3.21/MMBtu. Of course, I have no idea what the trading price is on the day you read this article, but global projections range from a nearly balanced market to one that is slightly over-suppled in 2018. It certainly feels to me that market conditions are slowly improving. Hopefully, that trend will continue as we move through the course of the year.
The main topic for this month's column is our technical lunch and dinner programs. When was the last time you attended an HGS lunch or dinner meeting? If it has been awhile you are missing out on an excellent opportunity to learn about the latest technical issues in our industry while also networking with your peers. The HGS has dozens of lunch and dinner meetings on a wide variety of topics throughout the year. We have a General Lunch Meeting downtown, a General Dinner Meeting on the west side and a Northsiders Meeting on the north side each month. The meeting topics are typically general in nature (as the name suggests), but are dispersed around town to make it easier for members to attend. There are also regularly scheduled meetings that focus specifically on International, Environmental and Engineering, and North American topics. Topic specific meetings are combined with general meetings from time-to-time when the talk is appropriate. HGS also has the NeoGeos gatherings that meet periodically and with salient geoscience talks of interest.
Presentations at HGS events are far-ranging and include topics as diverse as regional exploration, detailed case studies, new interpretation methods, geochemistry, water resources, oil and gas economics, space exploration etc. highlighting the broad range of interests of the HGS membership.
The HGS is always in search of quality technical content for our lunch and dinner meetings. If you have a good paper developed, or know of one, please share the information with us! HGS Vice-President Bob Wiener (rwiener@sbcglobal.net) will be more than happy to discuss the possibility of getting your paper into our technical program and published in the Bulletin.
If this is not enough to entice you to the meetings the HGS also has a Vendors Corner program. This program often provides members and vendors access to products or services that are aligned with the presented topic and provides another way to learn about various aspects of the business. All of the revenue generated from Vendors Corner is donated to the two HGS scholarship programs to help fund students through university. We also have recently added a Prospect Corner to the program where people marketing prospects can advertise them on the HGS website and have the opportunity to showcase them during the social hour at technical meetings. If you are a vendor or have prospects to sell, please contact chairman Rich Germano at fastenergydata.com for more information.
Sometimes you want to attend a talk but life gets in the way. If you are an HGS member, don't despair! The HGS video committee led by Linda Sternbach typically records presentations and makes them available on the HGS website under the "Education" tab. Or, you can go directlyto: https://www.youtube.com/user/HGSGeoEducation/videos to review previously recorded talks.
I'd like to close my column today by recognizing two of our members who are active in developing HGS technical programs. Donna Davis and Martin Cassidy currently co-chair the North America Committee and are responsible for developing the technical program for that group. But, they do so much more than that! Donna has been active in the Society since 1986 and has served HGS as Bulletin Assistant Editor, as a member of the Continuing Education committee, as a judge at numerous events, as a member of the HGS-PESGB Africa Conference, and as a member and/or co-chair of the North American Committee since 2008. Martin has been an HGS member since 1966 and active in many ways. He has served on the Research Committee, the International Explorationist Group, and the HGS Africa Conference Committee. He has also has held the office of Treasurer, 2nd Vice President, and President of the Society. Both of these individuals have given their time to the HGS for many years and continue to do so in a significant way. Thankyou both for your continued commitment to HGS!