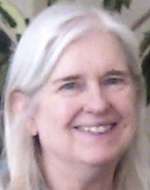 Dortha Lea Dougherty, age 64, of Edmond, Oklahoma, was born May 17, 1953, in Enid, Oklahoma, to Domer Vincent and Treva Jean (Hibbs) Dougherty and passed away June 1, 2017, at Golden Age Nursing Home in Guthrie, Oklahoma.

Dortha attended school in Enid, graduating from Enid High in 1971. She then attended the University of Oklahoma, earning a BS in Geology and a Master's Degree in Geophysics. During her college days, she played softball at OU and was on the first championship team. She remained an avid supporter of the OU Women's softball program and was a member of the Diamond Club.
Her first job was with Mobil Oil in Denver. Her job took her to Libya, where she worked and impressed those she worked with by learning Arabic. She was part of the group to leave Libya when President Reagan ordered all Americans to evacuate. During the evacuation, she was interviewed by Jane Pauley for the TODAY show. She worked for different companies in the petroleum industry, moving from Denver to Dallas to Houston and finally to Edmond. She was employed by Chesapeake Energy in Oklahoma City at the time of her death.

Dortha's interests in life were many. Two longtime passions were softball and horses. Growing up she was a member of the EnidMustangers Round club and the Roy L's softball team, for which she played catcher. She enjoyed riding motorcycles and bicycles as well as horses and participated in 100-mile bike rides while living in Houston. She loved music and played the violin, piano, and guitar. She was an integral part of the Houston Sinfonietta for many years. She volunteered to help evacuees following Hurricane Katrina and participated in pet rescue as well. Professionally, she was a member of the Oklahoma City Geological Society and the Society of Exploration Geophysicists.

She was preceded in death by her parents; brother David; an infant niece; and niece Vickie Dougherty.
She leaves behind a niece, Stephanie Nissley (whom Dortha raised as her daughter) and husband Tim Maxwell of Austin, Texas; three sisters, Diana Thayer and husband David of Dallas, Texas, Daphne Dougherty of Fairmont, Oklahoma, and Denise Dougherty of Crescent, Oklahoma; one brother, Domer Dougherty and wife Jennifer of Bartlesville, Oklahoma; special friend, Alexandra Kelsey of Houston, Texas; two nephews; four great-nephews; five great-nieces; and two great-great-nephews.
A service will be held Sunday, June 18 at the Conservatory at the Will Rogers Gardens in Oklahoma City.