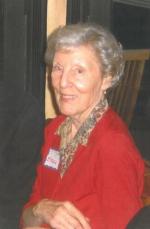 Erna Isabel Muller Revilla, born June 14, 1929 in Tafi Viejo, Argentina. Died May 8, 2017 in Houston Texas. The daughter of Emilio and Betty Stockl Muller, German immigrants to Argentina, Erna was born with a wandering nature. She left her family, brothers Emilio and Rudi, and a piece of her heart behind in Argentina, but the world was waiting and she had places to go.
Her travels were first domestic as she graduated with a degree in history and began her career as a teacher in northern provincial Argentina. She wished to work in a profession with wider prospects, so made the move to the big city – Buenos Aires. Later she worked for Amoco Oil and traveled to Comodoro Rivadavia, where she joined the ex-pat oil community and met her future husband, geologist Charles Revilla. She traveled widely in Europe and moved to New York City where she worked for Amoco Oil and later, the UN. After she and Charles were married in 1966, together they traveled the globe, living in five continents and ten countries. On their far-flung adventures, provided by company assignments, they took many side trips and saw as much of the world as possible, bringing their London-born children, Paul and Bettina, along. In 1978, the family relocated to the Houston area, where Erna lived the rest of her life. In 1992, she became an American citizen.
Wherever she went, Erna attracted a large circle of friends who were drawn to her unique combination of German pragmatism and Latin animation. She loved people and places, and was keenly interested in history, gardening and classic movies. Although a very private person, she was known as a gracious hostess who loved entertaining and made everyone feel welcome and a part of the party.
Erna is survived by her husband of fifty years, Charles Revilla, her children Paul (Laura Dew) and Bettina, her beloved grandchildren Patrick and Graham Revilla and numerous nephews and treasured family in Argentina. Her gentle soul, kindness, and curiosity will be greatly missed by all those who knew and loved her.
A memorial service and celebration of her life will be held Monday, May 15, 2017, at noon at
Greenhouse Community Church,
2425 Greenhouse Road,
Houston, Texas 77084.
In lieu of flowers, please consider a donation to the charity of your choice.