---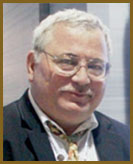 Presidential Ponderings
It's my last chance to ponder. And it is a unique opportunity to wonder and express thanks.

At this stage of my tenure, one might ask why I would wonder. Well, I am an empathetic person. I have gone through my share of downturns and commiserate with those early in their careers who have lost their jobs. I was laid off shortly after my daughter was born and spent several years getting back to that "good" job. I still stayed employed, but it wasn't always what I hoped it might be. As I was rejected by "friends" when I attempted to call, I moved on to the next option or opportunity. When those "friends" later called me, I did not turn them away.

This is not an easy time (I write this in April) with the uncertainty that surrounds us and the shock that has struck many people with six or fewer years' experience in the industry. I can only reiterate what has been in the pages of the Bulletin throughout this year:
Make HGS an integral part of your professional development.
Participate on a committee; our educational outreach groups definitely need members.
Fill a niche; bring your talents to HGS.
It is always hard to write for the future knowing that what is put to paper will be in the past when it is published. However, I want to mention a few items and ask for some feedback.

By the time that this is read, HGS will have had its Continuing Education Seminar "The Resume Doctor is In" at the Schlumberger facility on South Dairy Ashford. Perhaps not everyone could attend. Pride and ego when one is let go can be obstacles that prevent one from participating in outreach support programs. If you missed that event, perhaps you might find the following link of value: http://www.nbcnews.com/feature/maria-shriver/life-ed-how-build-better-re.... The author offers some tips for resumes which I will repeat here:
Show Fit
Be Thoughtful About Page Length.
Create a Strategy for Addressing Obstacles.
Put Yourself in the Hiring Manager's Shoes.
Add Keywords.
Lead with a Summary.
Include Accomplishments.
You have to go to the just mentioned link to get the additional advice. Do you know that active participation in a professional society can be a great training ground to provide experience to address some of these points?

HGS will continue to look into options to assist not only its members, but also the greater Houston geological community. This is where the Society needs your feedback. Back in 1991, HGS hosted a seminar for its unemployed members. The article I wrote for a 1992 issue of the Bulletin resulted from that seminar. Would such a seminar, or a round table be of benefit? Should this be held at one location or several? Would you participate, and at what cost?

What do you think HGS should do to help its un- or underemployed? Would you be willing to run for office or serve on a committee? Let me know.

It's too bad we don't have a Shrimp Peel Committee — this would be a great summer networking opportunity. One wonder I encountered this year was that many NeoGeos did not know what a "shrimp peel" was. That is definitely something lacking in their oilfield education! This probably ranks right up there with the crawfish boils, which I never mastered.

By now our elections have finished and we know our delegates for the AAPG House of Delegates and the incoming Board. For those who have won, I congratulate you. For those who did not get elected, don't consider it a loss, but rather a learning experience that now qualifies you to offer yourself as a candidate for next year! I can tell you that as Nominations Committee Chairman for 2015-16 I am already looking for willing candidates. Remember, you can't build a legacy if you don't start one.

HGS has had a successful year. Financially, HGS has benefitted from several events including the final reconciliation of the 2014 AAPG Convention. The markets have been good and our rainy day funds have allowed us to support many worthy endeavors HGS has funded the foundations by supplementing what they each have raised with matching funds up to $10,000. HGS has fulfilled its commitment to support the Engineering and Science Fair of Houston by providing $50,000 to the Fair's foundation, established at the University of Houston. HGS recognized Ilena Krupala from Bellville as its Teacher of the Year. She was nominated for and has been recognized as the GCAGS 2015 recipient of the Owen R. Hopkins Outstanding Earth Science Teacher Award. She will also be the 2016 GCAGS nominee for the AAPG Foundation's Teacher of the Year. HGS continues to support students by providing three Houston Museum of Natural Science internships and recognizing Outstanding Students from six area universities. Yet there is still more that can be done. HGS needs interested people to fill its Academic Outreach Committee positions. I urge you to look into building your legacy by reaching out to our profession's future.

An HGS year is only as successful as the people who participate and make it so. There are so many people that should be thanked that I am sure to miss someone if I start mentioning names. So that I am not remiss in acknowledging our committees and all of their members I want to thank them all. I may have erred in some committee dealings, but they all succeeded despite my advice!

The office staff keeps HGS running, whether the tires are flat or the tank is out of gas. This year has been especially rewarding as HGS had a significant makeover in its personnel. I encourage you to stop by the HGS office and visit with Andrea Peoples, Jill Kimble, and Brittany Davis-Morris.

I want to thank the 2014-15 Board. John Jordan did a masterful job with the contracts throughout the year. Joe Lynch assured the Board that HGS income met HGS expense requirements and that HGS rainy day funds have been invested to the Society's best advantage. Larry Quandt got a first-hand learning experience with the Board Policy Manual updates. He will be a go-to resource for the Board when policy issues arise in the future. Ashley Garcia did a wonderful job with the minutes, especially when she had to decipher the notes taken by a couple of the officers when she was unable to attend a Board meeting. Dave Miller and Jon Blickwede have been responsible for the continued success of the HGS Bulletin. The HGS Directors have made sure that the Board crossed its i's and dotted its t's. Outgoing members Jim Beck and Allen Mattis did not have an easy year, having to find committee chairpersons while making sure many important committees still functioned. They did a great job. Continuing Directors Penny Patterson and Jim Grubb are applauded for their efforts. Jim has overseen the media committees for this year and the growth in that direction is something truly remarkable. I hope that those committees can teach us multi-media-challenged oldsters some things next year. Penny oversaw our Academic-related committees and was deeply involved in the HGS Teacher of the Year process. HGS might not have had a Teacher of the Year without her efforts. I leave office knowing that HGS will be well led by Deborah Sacrey. Those who know Deborah know of her dedication to the societies that she has served, her willingness to do extra, and her total commitment to the task that she is given. The HGS Board meetings got off to a slow start, but became a well-oiled operation when I implemented some of her suggestions after the first meeting so long ago. Thanks, Deborah.

Lastly I'd like to recognize my daughter Samantha who gave me grammar and punctuation lessons since last September.

So as I hobble into the sunset I leave you with these thoughts:
Change can take us out of our comfort zone.
Change can be good because it can lead to opportunity.
Opportunities come to those who recognize them.
Those who take advantage of those opportunities succeed.
Active participation in HGS can be an opportunity maker, so don't miss out!

I wish you well. It has been an honor to serve you and HGS as your President.