From the President - April 2015
---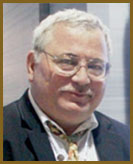 Presidential Ponderings
Unlike last month, the sun is shining, the temperature is nice, but I am still pondering anew. Because of the late 4th quarter downturn, the 1st quarter continuance, and the need to tell members that "It's only over if you want it to be;" I'm pondering the present and the past of oil field employment.
The oil business has changed positively in some respects from last month, depending upon your viewpoint. Saturday's Houston Chronicle (February 14) showed that the price of WTI price was $52.78 (up $7.18 from last month) for March delivery, natural gas was $2.80 (down $0.08 from the previous month, but up from the previous day), and gasoline by my house was $1.99 (up $0.14). Rig utilization rates continued to drop as they were down by 98 from the previous week (2/13/2015) and 400+ from one year ago. This is nothing new, as Bulletin Editor Dave Miller points out in his article this month, when downturns come, companies react. He gave me a preview of his article and it got me thinking. Yogi Berra was known for his aphorisms and his most commonly quoted one (It's déjà vu all over again) can be applied to our current situation.

Back in late 1991 (this should qualify as a "Look Back in Time"), the industry was undergoing one of its surgical revisions. HGS saw a slight uptick in membership and strived to help its un- (and under-) employed members by offering discounts to those members who had been RIF'ed (Reduction In Force) or were underemployed at that time. At that time, one of the things that the Society did was to offer an unemployment seminar. They invited many speakers, "head hunters", human resource types, and individuals who had overcome obstacles in their current job search. The previous June I had just gained full time employment after having been caught up in an earlier (1987) downsizing of the industry. Dave's article this month, together with my wife's recent finding of an article of mine that was published in the Kansas Geological Society Bulletin, set me to searching for an article that I wrote. You can find my commentary in the January, 1992 HGS Bulletin.
That Bulletin article discussed five key points that the author had discovered during his quest for employment. These were re-evaluation, contacts, interviews, spirit, and activity. One of the avenues the author used to gain full employment was his activity (being active) in the Houston Geological Society. Your society has several committees and some web activity that could use volunteers to lead those committees or contribute useful web content. Don't underestimate the power of being a truly active HGS member. The author also offered some secrets for finding a job but also asked, "Are there really any?"
It's not too late to follow some of the advice in that article if you are now in the unemployed or underemployed ranks. This might even include those who have taken early retirement packages. It does bring home the importance of using your local, regional (section), and national organizations for networking, participation, and learning. Vice President John Jordan is working with event coordinators to discount costs for HGS events. Contact him for information regarding pricing for HGS meetings and seminars. AAPG also is looking into offering discounts for some of its upcoming events. Although nothing is confirmed as I write this, some announcements should have been made by the time you read this.

So you ask, what does this mean for your future? As a Young Professional, NeoGeo, or early retiree what can you look forward to in the future? Your future is yours to explore! This is not a case of survival of the fittest. Today's environment is open to the person that does not write "u r wlcm." It is open to candidates who can articulate what they are bringing to the company as the newcomer, the "youngster" caught up in a downturn, the mid-career person who was in the "wrong" play or the wrong political group, or the "old fart" that still wants to work for a company. What this means is that those who succeed in re-evaluating and reinventing themselves will continue to contribute to this industry. Entrepreneurial types will become independents.
Those who need a "company" anchor will concentrate on that task and succeed; I did. But you must re-evaluate before you know which road to follow. There are several HGS Board members, past and present, who could serve as mentors for this evaluation.
I have talked about networking in many ponderings, but the key will be to use that networking to get interviews. What has changed over the years (remember, that 1992 was about 22 years ago) is that it is as important to get an "informational' interview as it is to have the interview for the job. That is part of networking. It is also part of being active in your local geological society. Young professionals, AAPG is a wonderful organization, but if you are going to stay in Houston, HGS may be a better resource.

I can personally attest to the importance of keeping up your spirits. I attended the January Northsiders' lunch. The speaker and one attendee were young professionals seeking employment. They are young, energetic, articulate, and just asking for a chance - as are we all. It is a shame that the lunch was so poorly attended. Next year the Northsiders may move to a Woodlands location. If you are employed in that area, I hope that you will attend those lunches.

If you want to succeed in the down times as well as the uptimes, DON'T NEGLECT YOUR LOCAL SOCIETY. Knowing people at small companies or with small company connections may prevent you from being at the mercy of management, stock manipulation, and Wall Street. Older professionals follow one track for continued employment, young professionals follow another. Remember, just because you are only 25 years old doesn't mean you can't go out on your own.

For the earlier time period prior to the March Bulletin, it looked like HGS would have to cancel the Geomechanics Applied Geoscience Seminar Conference. It appeared that cancellation was our only hope of economic success. However, "great" negotiations conducted by John Jordan and the Westin Hotel got HGS to the point where it can carry through on this conference as a one-day event. Please follow the advertisements for registration information.
If you thought that you knew someone worthy of HGS recognition, it is too late for 2015, but not for 2016. HGS wants to recognize its volunteer contributors as well as its sponsors. If you think someone or some company deserves recognition, send that name to Andrea Peoples.

Elections for Board officers and AAPG delegates start this month. I was disappointed in the turnout of HGS candidates at the February 9th dinner meeting. This was an opportunity for the membership to see its future leaders. You should find the candidates' vitae elsewhere in the Bulletin. Please review this information when you decide who you want to lead HGS in the coming year. I thank Nominations Committee Chairman Barry Katz and his committee as well as the participating past presidents for their efforts.

HGS is a society run by volunteers. Don't be a volunteer only for that short period when you are unemployed. Yes, this has happened in the past. Ideally, members committing to run or serve on a committee serve for at least three years. This provides continuity, makes transitions to new leadership smoother, and provides a "corporate" memory for the committee. One common theme amongst long-time volunteers for HGS committees, or offices is that the effort has been well worth it. Why not join that group? Make HGS part of your professional development program, part of your network, and part of what you want to support and serve.

I hope that you had a chance to attend the Earth and Science Fair of Houston. If not I hope that you will consider HGS Academic efforts as part of your professional development in the future.

The future of HGS lies largely in the hands of the NeoGeos and AAPG Young Professionals. If they won't step up now HGS may not have to worry about HoD elections in the future. Too many "Rising Stars" have disappeared from the sky. The list of Distinguished Service candidates is shrinking. There won't be nominations for Honorary Life Membership if the young members of today aren't willing to participate locally for the long term.

Through the ups and downs of the oil industry in the next eight years, that group will determine if HGS has a 100th anniversary or is even functioning/operating at that time. Those who have preceded the younger members of today's Houston geological population (not only HGS members) have created the opportunities that those younger people now enjoy. I ask the young members, "Don't you want to leave something for those that follow you?"

I am the Nominations Committee Chairman for HGS next year. I'd love to fill a slate with 100% Young Professionals and NeoGeos for HGS offices. The future of our society is in your hands.

Until next month I wish you oil in your wells, porosity in your reservoir, permeability to produce it, and the software of your choice to interpret your seismic data. Twenty some years from now, when you look back in time will it be "Deja vu all over again" or "Look what we did!"