Be part of something fun...HGS President Cheryl Desforges has announced that she is looking for HGS Members who play guitar, drums, or other band instruments to contact her as she wants to create a Jammin Geos band for upcoming HGS events.  The original Jammin Geos was initiated at AAPG by former Executive Director Rick Fritz,  who has a song book and music ready to go. Rick is onboard with Cheryl's idea for the HGS Jammin Geos and offered to provide sheet music and lyrics out of his song book.
President Cheryl D says, "I contacted Rick Fritz to find out how the Jammin Geos group got started and how it functions. He said it was an idea that started in hotel rooms at annual conventions, then moved to larger rooms at the venue when there were too many attendees to fit into one hotel room. All the events are free, but there's a cash bar for attendees. Over the years Rick added a song book after he discovered that at the 1921 Annual AAPG Convention the attendees would often break out in song – always geology-related songs. He said there is no need for the performers to rehearse ahead of time, since each artist or group of artists play songs familiar to them. He hooked me with the idea that we needed to bring music back to HGS events by talented members displaying their musical talent.
Jammin Geos photo from an AAPG Convention courtesy of Rick Fritz and Bill DeMis
There was a time years ago when HGS social events were so popular that attendees were almost shoulder to shoulder. The annual Shrimp Peels during the late 1970s were cases in point. If you were a geo or a friend of a geo in Houston, you didn't want to miss them. Of course there was networking and many new people to meet, but there was also a lot of fun listening to a band and dancing - mostly line dancing. Those were the days the Shrimp Peel was on the north side of town at the old Knight's of Columbus Hall, which we eventually outgrew. Over the years the Shrimp Peel waned, and there were a few years that we didn't have one. But now the annual Shrimp Peel has returned and we want to make them even more fun with Jammin' Geos providing some of the entertainment!With over 3300 members, I suspect there are quite a few talented musical geos. All it takes to join is to express an interest by adding your name to a list of interested parties.
If you want to join the Jammin Geos -email Office@HGS.org.  The HGS Office will keep the volunteer list, so please share your contact information and desire to participate by either calling (713-463-9476) or emailing (Office@HGS.org) the office. The volunteer list will be used for communicating information and getting ideas, such as which songs to include in the song book. Of course, this spring you will need to show up at the Annual Shrimp Peel with your instrument, as well as with your group, if you're in one.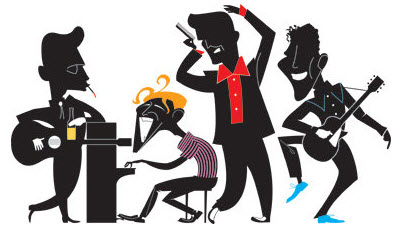 Image: