Interview with Janet Combes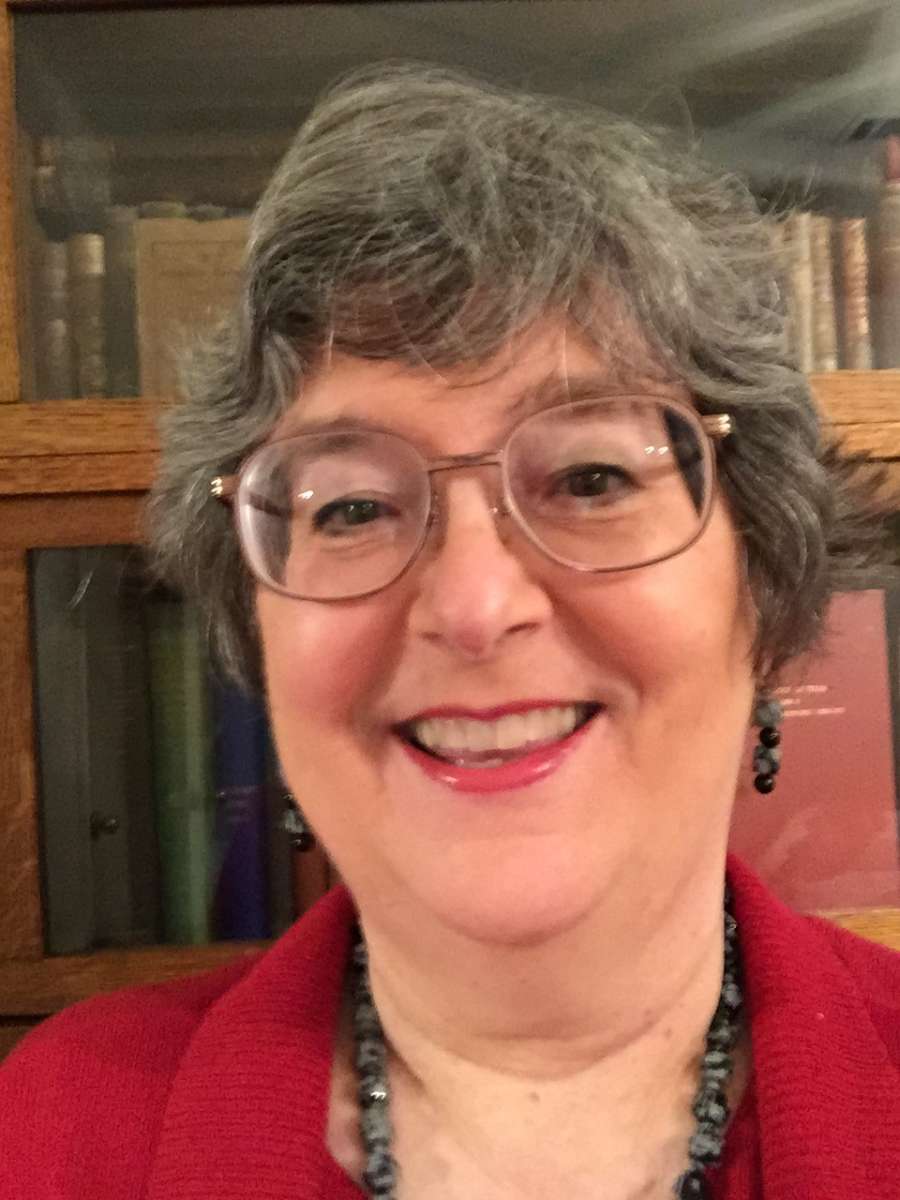 What inspired you to become a volunteer for the Society?
I am a strong supporter and longtime believer in encouraging science in children's activities – the museum committee and the start-up of Earth Science Week were the first of many HGS projects I got involved in. I also like to share what I have learned and learn from others. I have participated in conventions and HGS meetings in organizing and in giving presentations.  
In what way did you find your volunteering experiences rewarding and meaningful for you and for the community that we live in?
When I am at children activities, the grins, the energy, the enthusiasm, the questions and discussions are invigorating and reinforce my love of the science. I often get asked if I work at the museum while I am volunteering – and I say "Yes, but I get paid in grins.". When I am at professional meetings, training courses or conventions, the dynamics of sharing information and getting new ideas from discussions is stimulating. And to quote John Tubb "I would encourage all members to volunteer for HGS activities. Throughout the ups and downs in our industry, the HGS has been steadfast in its dedication to the geoscience community and this has largely been due to the passion of our volunteers."

When did you join the HGS? What are some of the committees that you have worked on and/or Board positions that you have held? What other professional societies are you a member of?

I joined the HGS when I moved to Houston in 1995, transferred from Amoco Tulsa Research to a Houston Exploration group. 
Over time my volunteer activities with the HGS included:
• 1997-2019 HGS Museum of Natural Science Committee volunteer guide
• 1999-2001 Earth Science Week Committee logistics co-Chair
• 2000 Coalbed Methane short course: case study presentation
• 2002-2004 Director of the Board
• 2003-2010 Northsider's Committee initiator / member
• 2003 & 2005 CAST (Science Teachers of Texas annual conference) HGS Chair/co-Chair
• 2001-2019 Earth Science Week Committee
• 2004-2019 HGS outreach booth at HGMS show Chair
• 2010-2019 HGS outreach booth at Sally Ride Festival Chair

HGS does a lot to support and recognize volunteer efforts.  Awards, great and small, give me good feelings.  The HGS has honored me with awards during my membership:
• 2001 Rising Star Award
• 2006 & 2010 President's Award
• February 2006 Volunteer of the Month
• 2008 Distinguished Service Award
• 2016 Honorary Lifetime Member

In 2003 I received the Texas Earth Science Teachers Association Recognition award. The ECH (Engineering, Science, & Technology Council) awarded me the Excellence in Education award in 2007.
I am a member of other professional societies: AAPG, SIPES, SEG, SEPM, AWG, and GSA.  Some of my volunteer efforts with these groups include:
• 1991 GSA Annual Meeting session co-chair
• 1993 SEPM-GCS 14th Annual Research Conference Program Advisory Committee
• 1993-1995 SEPM Building & Headquarters committee
• 1993 & 1998 Petroleum Research Fund proposal reviewer
• 1994 SEPM Executive Director Search chair
• 1995 GSA Annual Meeting abstract reviewer
• 1995 & 2006 AAPG Convention session co-chair
• 1996: Organizing Committee / session chair: International Mining Technology Symposium: Coalbed Methane Development & Application, Xian, China
• 1997-1999 GSA Editor, Sedimentary Geology Division newsletter
• 1998 SEPM Nominations
• 1999-2002 AAPG House of Delegates
• 2007-2009 Thesis committee for University of Houston M.Sc. geology student
• 2008 GCAGS / GSA Houston planning committee – chair, Teachers events.

I have judged science fairs: 1992-1994 Tulsa Monte Cassino School; 1993-1994 Tulsa Science / Engineering Fair judging committee chair; 1994 national science fair; 1998-99 & 2004-06 Houston Science/Engineering Fair. I have judged many convention sessions: AAPG Annual Conventions - 1991, 1992, 1993, 1994, 1999; GSA - 1991 Annual Meeting; and 1992 SEPM Mid-Year Conference.
I have presented multiple talks at various conventions and one for teachers - Earth Science Leadership Institute, Denver Earth Science Project, Tulsa in 1994.  I have published 21 abstracts from presentations, 22 papers or extended abstracts as author or co-author, 11 in-house Amoco publications as co-author.
Where did you grow up? What made you decide to become a geologist? Are you the only geoscientist in your family?
I grew up in New Orleans, attended the oldest girls school in the United States and lived a block from the Mississippi River. I started collecting rocks about first grade. Growing up in New Orleans, rock collecting was hard to do as the only rocks were the gravel pits for road construction. However, my grandparents lived in the Missouri Ozarks and I would focus on the rocks on every summer visit. Over the years on summer vacations, my parents drove us from the Rockies to the Appalachians to Florida and to the Ozarks – and I remember staring out the windows at all those rocks! A great-uncle was a rock hound and he started giving me rocks he found. In school, I liked science, although geology wasn't offered. My father worked for Chevron as a drilling engineer, so I was familiar with the fact that geologists could get jobs.
I am the only geoscientist in a family with 3 drilling engineers, 1 chemical engineer, 1 bio-chemical engineer, 1 aeronautical engineer, 1 transportation engineer, and 1 chemical engineer in college – out of 5 siblings and 5 in-laws and 9 nieces and nephews.

What universities did you attend? Where did you do your college field work?
I attended Louisiana State University for my B.Sc. in geology in 1970-1973. LSU college field camp was in Colorado, just south of Colorado Springs. The students organized carpools to drive all that way and then the camp started out slow on the hikes since everyone had to adjust to the altitude. There was one cabin off to one side that was for the girls – females had only been allowed at camp for a few years.
I attended the University of Houston, 1975-1978, for a M.S. in geophysics. I worked in the industry while I was getting my M.S. and on until 1984, when I went to the University of Texas Austin for a Ph.D. in geology (1990). My dissertation was Depositional Systems and Tectonic / Eustatic History of the Oligocene Vicksburg Episode of the Northern Gulf Coast. The sequence stratigraphy approach was first published during this time. 
What is your favorite college or early career experience/story?
When I started LSU in the fall of 1970, I had about half the funding for tuition and room and board from an Alumni Fellowship Scholarship. I applied for a geology department scholarship to make up the difference. Although my dad was a petroleum engineer, I am the oldest of six children and I wanted to take care of as much of the cost as possible. I was told – sorry, all the geology scholarships are for "young men in the science".  Oh, well. However, that semester one company, Pennzoil United, changed the wording by removing the male requirement and the geology department reassigned various scholarships so that the Pennzoil funding was available for me. I was really happy then and looking back that was a big step for a conservative southern school to open the door for a female geologist in 1971!!
Number of years in the industry? What countries has your career taken you to?
My first summer job was in 1973, then I started graduate school after that summer and put it off for a couple of years. In the meantime, I had contract work for the Louisiana Mineral Board and the USGS in Baton Rouge. When I moved to Houston in 1975, I started a full-time career and enrolled at University of Houston night classes to get a M.S. in geophysics. I worked in the industry for six years after getting my M.S., then while I was working on my Ph.D. I had jobs as a teaching assistant, as a technologist and summer jobs throughout my Ph.D. time. After getting my Ph.D. I worked a year for the Kansas Geological Survey in hydrogeology, then returned to the industry working for several companies, then as a consultant for an overall total of about 45 years. I have worked projects from every continent except Antarctica – mostly from Houston on computers. I have been across the USA and to China, Canada, and Mexico.

What part about being a geologist brings you the most joy? In your opinion, what has been the best/most interesting technological advancement within the geoscience industry?  
I think of the interpretation process, integrating geological and geophysical information, as solving 4-D puzzles! This is exciting and joyful. Drilling a successful well really makes it great. The BEST technological advances have involved 3D seismic and all the fancy processing and attribute analyses, computer interpretation and mapping, the ongoing development of AI work.
What is the coolest/ most unique rock or mineral in your personal collection?
My favorite rock is one of the first fossils I collected – a crinoid stem piece in chert from Flat Creek in the Missouri Ozarks. I remember finding it in the gravel bar and putting it in the middle of the picnic blanket and when we were packing up to go back to town, someone shook out the blanket. I refused to leave until we found my fossil….
Image: