The Trump administration on January 4 proposed opening nearly all U.S. offshore waters to oil and gas drilling, a move aimed at boosting domestic energy production.  A draft proposal is being considered to offer offshore blocks to oil and gas drillers in almost all of the U.S. outer continental shelf. This move would allow drilling in the Atlantic and Pacific oceans. The US Interior Department announced plans to offer blocks in the Arctic, Atlantic, and Pacific oceans for oil and gas exploration in an ambitious new five-year offshore lease plan. The plan would open the door for drilling in areas far beyond the U.S. epicenter of offshore drilling in the central and western Gulf of Mexico, giving oil and gas companies the opportunity to explore areas left out of leases for decades. (Sources: CNBC, World Oil articles)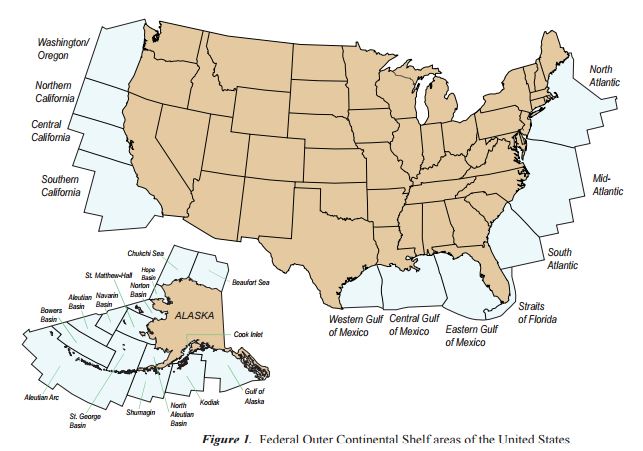 Interior Secretary Ryan Zinke said the draft proposal for offshore leasing between 2019 and 2024 would offer about 90 percent of the U.S. outer continental shelf, the largest lease sale ever.  The department's draft National Outer Continental Shelf Oil and Gas Leasing Program for 2019 to 2024 would make over 90 percent of the outer continental shelf's total acreage available for leasing to drillers, a national record.25 of 26 planning areas on the Outer Continental Shelf will be considered for leasing, covering all U.S. coastlines. Proposed sales include 19 off the coast of Alaska, seven in the Pacific, 12 in the Gulf of Mexico and nine in the Atlantic Region. The last offshore lease sales for the East and West coasts were in the 1980s. The only area that will not be included is the North Aleutian Basin in Alaska.
Want more geological information on the Atlantic Margin? You may want to log on to AAPG Datapages and download the 1980s paper "Exploration History and Future Prospects of the US Atlantic Margin" by Joel S Watkins (Texas A&M), Anthony M Pytte, Robert E Houtz (Gulf Research).
Oil Industry May Wait and See
Many offshore drillers are focusing on trying new wells in the Gulf of Mexico to existing infrastructure, rather than investing billions in new offshore platforms. Offshore drilling faces competition from onshore U.S. shale drilling, which can be started up and shut down quickly as oil prices fluctuate.
Image: