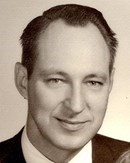 April 22, 1929 - August 13, 2019
Edward Fabra Haye died on Tuesday, the 13th of August 2019, from a fall doing what he loved to do - powerwalking in his neighborhood.  He attended McKinley Grade School and Mark Twain Junior High, Central Catholic and Alamo Heights high schools in San Antonio. He briefly enrolled at Trinity University and then transferred to University of Texas in Austin. He graduated in 1951 with a BS degree in Geology.
He went to work for Standard Oil of Texas, now Chevron in 1951. He started his own gravity meter company, Photogravity, in 1959.  Ed sold Photogravity in 1977 and started Benchmark Exploration, Inc. where he developed and sold oil and gas prospects to the oil industry.  Ed joined Houston Geological Society in 1960. 
Edward is survived by his wife Janice, two daughters, a son and five grandchildren.
This Remembrance was summarized from the Life Tributes section of the Houston Chronicle dated August 16, 2019