Houston Geological Society Partnership
Houston Gem & Mineral Society - Rock, Mineral & Fossil Sets Available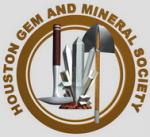 The Houston Gem & Mineral Society, sponsored by ConocoPhillips, has sets of rocks, minerals and fossils available for use to illustrate lectures, talks, and school projects. Individuals participating in such activities can sign-out and pick up the sets at the HG&MS clubhouse, use them at the school, and leave them with the school when the lecture or project is complete.
The sets usually consist of 25 to 30 numbered and boxed specimens with identification keys. The type of sets available are Basic Minerals with a hardness set, Rock-Forming Minerals, Economic Minerals and Rocks, Rocks (igneous, sedimentary, and metamorphic), Fossils, and Fluorescent Minerals. If the school does not have a fluorescent light and fluorescent mineral set, these sets with a light may be borrowed and returned to the HG&MS. These special fluorescent rock loan sets are kept in the library at the clubhouse.
The Houston Gem & Mineral Society is located at 10805 Brooklet on the corner of Rockley and Brooklet Streets "HGMS" is visible on the side of building in the Highway 59 - Beltway 8 area of southwest Houston behind the Holiday Inn on the north side of Highway 59. The clubhouse is open most Saturdays from about 11 a.m. to 4 p.m. and evenings when there is a meeting. The sets are on the racks just inside the back door. Be sure to sign out for them, and it is probably best to call first to make sure the set type you want is available.
While visiting the clubhouse, you might be interested in seeing the Dudley Rainy Core Collection in the main lecture hall which consists of a lighted case containing sections from over 35 five-inch cores from various salt domes of the Gulf Coast. These cores illustrate the various caprocks, their minerals (sulfur, barite, calcite, pyrite, hauerite, gypsum, etc.), brecciation, salt-anhydrite contact, solution, and even a fossil. Most of these cores were collected between the late 1960s and middle 1980s by Dudley Rainey, the former Texas Gulf Coast Chief Geologist at Boling, Texas and are of both geological and historical interest for the Gulf Coast, particularly now that all onshore sulfur mining has ceased. Most of the cores are from Boling Dome, but Fannett, Moss Bluff, and Long Point are also represented, plus salt cores from Mexico and Bully Camp in Louisiana.
For further information contact Art Smith at 713-774-1689 or the Houston Gem & Mineral Society clubhouse at 281-530-0942.