Submitted by

jwtucker

on Thu, 03/07/2019 - 4:06pm
Find Your Passion, Find Your Niche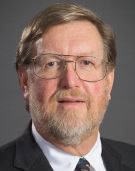 The above words were spoken by Bobby Ryan at the recent HGS Scholarship Night, during his presentation and discussion with Cindy Yeilding. I encourage you to listen to it if you were not there, on the HGS YouTube channel (https://www.youtube.com/channel/UC4E1jMy025zyFJ2ZxPEv0Ug ). They discussed their careers and experiences and provided quite a bit of advice to early-career geoscientists. I thought the talks and the questions and answers afterward were inspirational for early-career colleagues and stimulating for the rest of us. Look for a summary article in the coming months.
March is another busy month, starting with the Applied Geoscience Conference at Anadarko's offices in the Woodlands on 5-6 March, recognized in our cover illustration. We hear a lot about data analytics these days, and the information during these two days should help sort out what it is all about and where it is useful in our jobs. And students will be presenting posters on this coming field.
March is a busy month at the local university geoscience departments. The University of Houston Department of Earth and Atmospheric Sciences will be holding their annual public day session on 20 March, with lots student posters for discussion in the afternoon, and the Dobrin Lecture in the evening (looks like a good one). This is always a stimulating event and looks for more information in this Bulletin issue. The following two days, the Rice University Earth, Environmental and Planetary Sciences Department will be hosting its annual Industry-Rice Earth Science Symposium (IRESS) over 21-22 March. In addition to the technical presentations on the theme Minerals and Energy: Science, Economics and Policy, there will be lots of student posters and a dinner presentation on what we learn from exploring other planets. Look for more information elsewhere in this Bulletin.
The awards for volunteers who have contributed to HGS success through the past years during their careers are awarded annually in June at the President's Dinner. With so many Members, it is important that we gather recommendations from everyone in the HGS. Awards Chair Mike Deming has an article reviewing the awards in this issue, so please give this important recognition opportunity some thought, and send nominations to Mike or to HGS.
My apologies for the delay in getting this issue to you this month. Our brilliant graphics consultant, Lisa Krueger, has been in the hospital recently and should be out soon. You see her excellent eye in the layout and composition of the Bulletin every month, so our thoughts are with her.
Volunteer for something this month