Submitted by

apeoples

on Thu, 09/07/2023 - 12:00am
Who are HGS Members?  
This is one of the first questions I explored since commencing my term as Editor of the HGS Bulletin. I am interested to learn about members' interests, so that the society can better adapt to meet the needs of current and future members. I am approaching editorship as a scientist: asking a question and collecting data.
First, I consulted the HGS member database. Although many members do not update their profiles on a routine basis, the database serves as a starting point for better understanding information such as role and company type, location and years of membership. In addition, I have interviewed both long-serving members and recently-joined members to get their direct feedback. I share some of their stories in this edition and will also continue to highlight member profiles in future editions of the Bulletin, too.
WHAT I HAVE LEARNED FROM THE MEMBERSHIP DATABASE
Over 70% of HGS members are located in Harris County. Members are dispersed throughout the ~1700 square miles of the county, however, the highest concentration of membership addresses is in zip codes along the I-10 corridor between the Heights and Cinco Ranch Figure 1. Each of the 20 zip codes in this area has ~30-60 members. One zip code in the Woodlands has a similarly high concentration of membership addresses. Nearly 70 other zip codes spread throughout the county each contain 10-30 membership addresses.
Figure 2 shows that the majority, nearly 40%, of HGS members work as independent contractors or consultants. Many of these members have eponymously named LLCs and many appear to be serving oil and gas clients. Nearly 30% of members work for Exploration & Production (E&P) companies in the Oil & Gas (O&G) sector. Of those E&P employees, 15% work for smaller-sized companies, such as Red Willow Production, Walter Oil & Gas and Southwestern Petroleum. 11% work for mid-sized and Majors, such as Oxy, Chevron and ExxonMobil. Students and professors comprise 13% of the members, and 11% are retired. Members working for environmental geology companies, government agencies and other groups make up the remaining 11% of the membership.
WHAT I HAVE LEARNED FROM TALKING TO MEMBERS
I have recently conducted over 12 hours of interviews with geologists, including members who joined the society as early as 1967. A few themes have emerged. First, members attribute value to the professional networking and friendships that they have developed through HGS. Members have leveraged those connections to get jobs or investors. Second, members choose to get involved in HGS in different ways. Some, but not many, have served on committees or held Board roles. Others have chosen to focus more on attending social events.
The third insight is that members are concerned that junior geologists are not developing strong a technical skill base. Interviewees attribute the lack of skill set to over-reliance on technology and exclusive exposure to unconventional resource production. Interestingly, even interviewees not working in oil and gas cite the shale boom as contributing to a lack of technical skills. Furthermore, multiple members highlight the concern that many university programs have moved away from a traditional hydrocarbon exploration curriculum, and that many students do not see a future in oil and gas. Finally, the members I have talked to love their science and their profession. This is evidenced by their desire to stay in an industry that has caused them challenges including multiple layoffs and multiple relocations. They have adapted to the challenges by leveraging skills they acquired adject to their geology technical work: business acumen, negotiation and influence, communication, managing multi-disciplinary projects, and prioritization among multiple competing projects.
FOR THE NEXT STEP
To build on the insights from the membership database and interviews with members, I propose a short survey to capture a broader population of members and non-members. You can find the link to the survey by using the QR code in this letter: if reading electronically click the QR code; hover the camera of your phone over the QR code and click the link; or by clicking the link in the weekly newsletter sent from the HGS office. Responses will be collected through October 1, 2023. n
About the Editor: Caroline has extensive experience managing and executing complex subsurface projects and has explored, developed and produced resources worldwide. She spent 15 years with ExxonMobil, where she led multiple cross-functional teams identifying and evaluating resources throughout West Africa, the Caribbean and Caspian regions. In 2021, she explored roles at small start-up companies and then pivoted to Carbon Capture, Utilization and Sequestration (CCUS) with Oxy. She recently became a Professional Geologist licensed in Texas.
In addition to volunteering with the HGS and AAPG, Caroline is an active Girl Scout Troop leader for her two young daughters and 20 of their friends.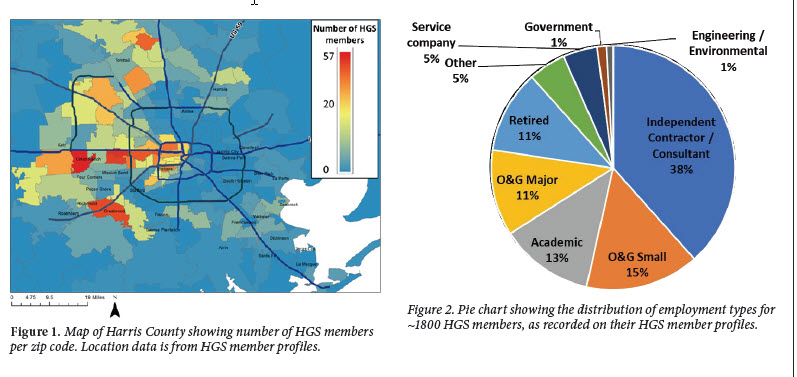 Figure 1. Map of Harris County showing number of HGS members per zip code. Location data is from HGS member profiles.
Figure 2. Pie chart showing the distribution of employment types for ~1800 HGS members, as recorded on their HGS member profiles.
Please share your thoughts on the HGS by filling out the survey at this link: or use the QR image
https://forms.gle/sjZb6HqrkGdyLENY8