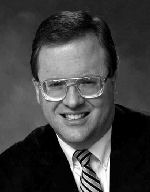 DWIGHT McClintock "CLINT" MOORE
Dwight "Clint" Moore passed away suddenly on Tuesday, October 1, 2019.  Clint, as he preferred to be called, will be sorely missed by his many friends and the many people he touched, which includes, but not limited to many in the Oil and Gas Industry. Clint was a tireless, quick thinking doer, who served a breathtaking number of communities. He was a multifaceted person who excelled in everything he set his mind to do and that was a lot.
His great passions included geology, government, helping other people including via involvement in the Susan G. Komen organization, and diving. Clint managed to often combine his passions in much of what he achieved. He was a grass roots activist in both professional and political organizations. In his core, he strongly believed that individuals, not autocracies, could govern themselves and be the driving force behind human progress.  He did not just give lip service to his belief of a bottom up driven source of governance. He was a tireless volunteer, and more often than not, a leader who showed his fellow colleagues and citizens how to be involved and make things happen. 
Clint's passion for geology started at an early age as he learned geology from his father, who was an independent Petroleum Geologist.  His professional career started with his first job in 1978 at Diamond Shamrock as a Junior Geologist, subsequently rising to District Geologist and Senior Business Analyst by the time he left in 1987.  He then joined Anadarko Petroleum Corporation for around a 15-year tenure as a Senior Geologist, rising to Exploration Supervisor. He interrupted his career as a geologist in 2003 to make an unsuccessful run to represent the Texas 2nd Congressional District in the U.S. House of Representatives, coming in 3rd out of 5 primary candidates.  From 2004 until 2006 he hung out his shingle as an Exploration-Business Analysis Consultant, which was followed by a couple of yearlong tenures at Murphy Oil as Manager of Business Development during 2007 and as the President of DiamondStar Drilling from 2007 to 2008.  Those situations were followed by more than 5 years from 2008 to 2013 as the Vice President for Corporate Development at ION Geophysical Corporation. He left ION during 2013 to co-found GulfSlope Energy, Inc.  He initially served as Vice President and Corporate Secretary, while simultaneously serving as Officer of the Corporation, as well as Chief Administrative Executive and became Vice President – Geophysics, Geology, & Exploration in 2018.  
Clint was a widely respected geoscientist in the Gulf Coast who was an active leader in the geoscience community at the  local level with Houston Geological Society (HGS), as well as the regional level through the Gulf Coast Association Geological Society (GCAGS) and at the national level as an Active Member of the American Association of Petroleum Geologists (AAPG).  He was a Licensed Professional Geoscientist in the State of Texas, a member of AAPG's Division of Professional Affairs (DPA) and has held scientific and management positions with several petroleum exploration companies during his 40-plus-year professional career. For over the last 20+ years, Clint presented and published many talks, lectures, and speeches, to his many professional organizations.
Clint's leadership and commitment in the geologic community was extensive. His service to the Houston Geological Society included Vice President (1992-1993), President-Elect (1993-1994), and being the youngest president of the HGS (1994-95), after which he also served on the HGS Nominations Committee.  His impact and active participation in HGS were recognized by his colleagues. He received HGS's highest awards, including the President's Award (1993), Distinguished Service Award (1996) and Honorary Life Membership (1999). 
In addition, Clint was a leader for more than 30 years at the regional level for the Gulf Coat Association of Geological Societies.  This was recognized in 2019 when he was awarded the Distinguished Service award for his work bringing high quality technical presentations to the GCAGS annual conventions.  Previously he served on the GCAGS Board of Directors (1994-1995), the AAPG Advisory Council Representative for GCAGS, and often as a GCAGS Convention Session Chair (2019, 2015, 2014, 2012).
Clint's participation on the national-global level included representing GCAGS and HGS as a Delegate in the AAPG House of Delegates (HoD). He was a member of the HoD's Constitution and Bylaws, Credentials, Future Directives and Nominations and Election committees. He was awarded both the Distinguished Service Award and the HoD's highest award of Honorary Membership.
His service to American Association of Petroleum Geologists (AAPG) included membership on the AAPG Executive Committee as AAPG Treasurer (2004-06); AAPG Investment Committee Chairman (2009-2013) and Vice Chairman (2007-2010), Audit Review (2004-2006) and Career Services Committee Vice-Chairman (2009-2013) and Chairman (2006-2009 and 2013-2015), Budget Review Committee (2004-2006), All Member Survey Committee (2003-2006), Constitution & Bylaws Committee Chairman (1999-2000), and finally, AAPG Foundation Military Veterans Scholarship Program Committee (2013-present)
Clint's AAPG colleagues and peers recognized his efforts when he received six Certificates of Merit (2016, 2013, 2006, 2004, 1999, 1997), DPA Distinguished Service (2010), DPA Distinguished Service (2001) and John W. Shelton Search and Discovery award (2011), House of Delegates Long Service Award (2012), and AAPG Honorary Member of the House of Delegates Awardee (2018).
Clint was also a mover and shaker in Republican politics both in Texas and on a National level. Clint combined his diving, government, geology and the petroleum industry passions when, in October 2005, NOAA's National Marine Sanctuary Program Management appointed Clint as the "Oil & Gas Production Representative" to the Sanctuary Advisory Council (SAC) of the Flower Gardens Bank National Marine Sanctuary, and was he reappointed in January 2008 to the term limit of a four year term that ran through May 2012. In March 2014, he was reappointed to a new 3-year term through March 2017 and reappointed in May 2017 to a new 3-year term through December 2020. He was elected in May 2015 to a two-year term as Chairman of the Sanctuary Advisory Council (SAC) and re-elected again as SAC Chairman to an additional two-year term limit that ended May 2019. While serving on this citizen Council, Clint was elected by the Council to serve as Chairman of the 1st Boundary Expansion Working Group, as well as the Charter Revision Subcommittee, and as Co-Chairman of the current Boundary Expansion Working Group.
In the government arena, in June 2006, Texas Governor Rick Perry appointed Clint as a Committee member from Texas of the Interstate Oil & Gas Compact Commission (IOGCC), where he served the State of Texas on the IOGCC's Energy Resources, Research, and Technology Committee. He was elected by the Texas State Republican Convention six times in a row from 1996 through 2016 to serve as a Republican National Convention Delegate.
On a State level, he served as the Texas Senate District 7 Representative on State Republican Convention Rules Committee 13 times from 1994-2018, as well as the
State Republican Executive Committeeman - Senate District 7 from 2004-2012 and the State Party Assistant Parliamentarian from September 2019 to his death. He served as a former Republican Senate District Chairman for Senate District 7 and 15. He was honored in 2012-13 as State Party Volunteer of the Year – Senate District # 7, and in 1994-95 as State Party Volunteer of the Year – Senate District # 15. From 1989 to present he was served as the Executive Committee Member, and Precinct # 520 and # 110 Chairman. Clint was quite a lobbyist for all the causes he believed in. He once commented that he felt the best thing he had done in his life was to help shepherd through the 2019 Texas law requiring Texas insurers to cover diagnostic breast cancer screenings at no additional cost to patients. He also lobbied on behalf of establishing and reauthorizing the Texas Geoscience Act, which established the Texas Board of Professional Geoscientists (TBPG) and therefore licensing in Texas of Geoscientists who are engaged in work that protects public health, safety, welfare and the state's natural resources. In the most recent Sunset episode, Clint was solely responsible for pushing the reauthorization through the governor's office against significant resistance.
In Harris County Clint was the Assistant to the Harris County Republican Party Chairman 2004-2008 and 2012-14. He was a member of the Conservative Coalition of Harris County and a Member of Board of Directors and Candidate Review Committee.
Clint's service did not stop with professional societies and government. He served as Director of the North Harris County Regional Water Authority from 2000-2002 where he is credited with negotiating favorable water rates with the City of Houston. He also served as the Director of the Spring Lakes Homeowners Association 2003-2007 (President 2006-07) and was the Director Harris County Municipal Utility District # 249 (2004-2007).
He was an avid diver with over 450 dives and 100 to Gulf of Mexico Banks and Platforms. He belonged to the Texas Gulf Coast Council of Diving Clubs where he was awarded the Lifetime Achievement Award – 2018, and held multiple PADI Certifications for Open Water, Advanced Open Water, Enriched Air (NITROX), Manta Ray Awareness (YAP), Maldivian Manta Ray Conservation.  From 1997-2001 he served as the Production Advisor on IMAX Film "Ocean Oasis" a journey into the Baja California desert and Sea of Cortes.
For his extended family, he was the President from 1997-Present of the Rodeham Moore Descendants Association.
Clint graduated from Cranbrook College Preparatory School in Michigan. He served as the 1999 and 2004 Reunion Committee Co-Chairman. He went on to study at Southern Methodist University (SMU) in 1974 and he graduated in 1978 with a dual degree in geology and business administration, and with a minor in economics. He was the Vice President and President of the SMU Alumni Association – Houston Chapter from 1982-1986.
Clint is survived by his wife, Diana Moore. To honor Clint, and in lieu of flowers, Diana asks that people make donations to the AAPG Foundation's Military Veterans Scholarship Program.  Clint was particularly proud that he was able to help setup that program.  To do this, please go to https://donate.aapg.org/Core/eDonation.aspx/ and from the "Designate Fund" select "Military Veterans Scholarship Program" and please dedicate your donation in memory of Clint Moore.