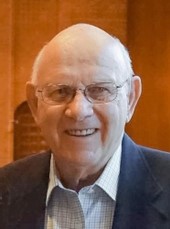 Richard Joseph Callaway
1936 - 2022
Richard Joseph "Dick" Callaway was born in Beacon, New York on the 26th of March 1936, and died suddenly in Houston on Friday, the 2nd of September 2022, at the age of 86.
Dick grew up in Teaneck, New Jersey; attended Teaneck High School and graduated from Yale University in 1958 with a degree in geology. He served for two years as a Lieutenant Junior Grade in the U.S. Navy aboard the USS Pillsbury. After his naval service, Dick earned a master's degree in geology from the University of Minnesota.
He worked in the domestic and international oil and gas exploration industry in New Orleans and Houston in increasing positions of responsibility, starting as a geologist and ultimately retiring as Vice President and Exploration Manager.
Dick volunteered for over fifteen years at the Houston Museum of Natural Science and particularly enjoyed spending time in the Cockrell Butterfly Center. He enjoyed playing golf with his senior group, watching sports – both in person and on television, reading crime novels and planning and taking trips both in the US and abroad.
He is survived by his wife of 58 years, Mary Courtright Kemp Callaway; his daughter, Catherine Callaway James and her husband Brian of Houston; his son, Thomas Kemp Callaway of Campbell, California; and his son, Andrew Richter Callaway and his wife Melissa, and their children, Meghan Jean and Anna Catherine of Richland, Washington.
Summarized from Life Tributes Section of the Houston Chronicle 09/11/22.