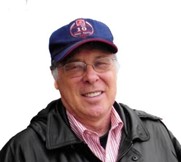 Michael John Switek, Jr.
1941-2022
Michael John Switek, Jr. of Houston, TX, passed away on January 26, 2022 at the age of 80 after a courageous, two-year fight against cancer. He was born on October 30, 1941 in Passaic, NJ to Michael John Switek Sr. and Estelle Hicswa Switek. Michael was a devoted husband, father, and grandfather who always came home whistling. He was a teacher to his children and grandchildren, passing on ghost stories, ways to identify trees or geologic formations, and where to find the best fruit in town. He was a geologist who pulled the car over in the middle of nowhere to point at some rocks. He could beat anyone at Trivial Pursuit. He lovingly tended his citrus trees. He led Boy Scout Troop #640 through Dutch-oven spaghetti and a victorious banner competition. Michael was an adventurer who worked in Siberia, Mexico, Denmark, Colombia, and Kazakhstan; he'd return to Texas and say, "The nicest people live in (fill in the blank)", but their kindness was surely a reflection of his own. He knew the location of every Dairy Queen between Houston and South Bend. When he travelled, he preferred to forge his own path rather than stay on the tour. At 18, he hitch-hiked from South Orange to the University of Notre Dame where he was a first-generation college student on an Army ROTC scholarship. Subsequently Michael served as a notification officer who consoled next-of-kin during the Vietnam War. He believed angels walked among us and would tell of the angel who found Michael and his five young children lost and hot in Lower Manhattan, gave them all Italian ices, then mysteriously disappeared. Michael was a gentle and generous soul.
Michael received a BS Geology from Notre Dame in 1963, and a MA Geology from Oregon in 1967.  He worked for Lukoil-Aik Joint Ventures.  Michael joined Houston Geological Society in 1980.
Michael was preceded in death by his parents Michael John Switek Sr. and Estelle Hicswa Switek. He is survived by his wife of 57 years Sally Frances Marnen Switek; his children Michael John Switek III and wife Mam, Elizabeth Switek Deans and husband John, Daniel Switek and wife Elizabeth, Judith Switek, and Mary Switek; his grandchildren Noah, Jacqueline, Jacob, Danielle, Emily, and Adam.
Summarized from Life Tributes section of the Houston Chronicle on Jan. 30, 2022.