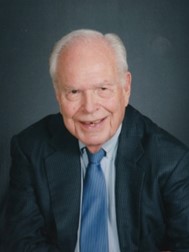 Leonard Charles "Charlie" Davis
April 1, 1933 – September 23, 2022
Leonard Charles "Charlie" Davis was born in Alamo, Texas on the 1st of April 1933 to Leonard Cecil Davis and Helen Mary (Martin). God opened his arms to Charlie peacefully, surrounded by family at his home in Missouri City, Texas on the 23rd of September 2022. Our hearts are broken with the loss of a wonderful husband, loving father, strong brother and uncle, doting Papaw, witty (often hilarious) friend and an honest, hardworking man.
Charles, as he was known by family, graduated in 1950 from Tivy H.S. in Kerrville, Texas. He went on to serve 4 years in the U.S. Navy 1951-1955. A wartime veteran of the Korean War, Charlie returned from the Philippines aboard the USS Midway, which he was able to step foot on again just 9 years ago. After service to our great country, his college education began at Schreiner College in Kerrville. After 2 years, he transferred to Texas A&M University in College Station, graduating in 1960 with a B.S. in Geology. He's worn that Aggie ring proud ever since!
Charlie led a long career in the oil and gas industry and was recently recognized for 50 years as a Certified Professional Geologist by the American Institute of Professional Geologists. He joined Houston Geological Society on 1/1/77. Companies he worked for include Sinclair, Arco and Houston Oil & Mineral. Charlie's work was his passion. He taught us that hard work pays off and doing what you love is most important. He wrapped up his career with a great group of Aggies at W. D. Von Gonten & Co., retiring one day before his 83rd birthday.
A round of golf, a hunting trip, a beer with a buddy, or watching sunsets in South Padre, Charlie made the most of his free time. Cheers to a one of a kind, irreplaceable man!
He is now reunited with his father and mother, his sisters, Mary Alice, Joan Hill, Betty Rhodes and his son, Michael. Charlie leaves behind his bride of 43 years Dolores "Dee;" their daughters, Danielle and Anita (Johnny) and his sister, Marian Drummond (Jerry). He is also survived by his son, Kelly; his brother-in-law, Malcolm Rhodes; his nieces, Mary Alice "Allie" Wallace (Dan), Barbara Gaiser (Chuck), Donna, and Marie; his nephews, Kirk Drummond and Charles Drummond (Kay); his grandchildren, Kaelynd, Alex and Siena and many more great-nieces, great-nephews and dear friends.
Summarized from Earthman Southwest Funeral Home obituary notice on 9/30/22