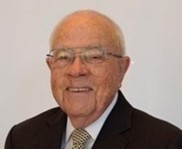 Gerald Gene Burkett
1929 - 2023
Gerald Gene Burkett of Houston, known to family and friends as "Gerry", passed away on Tuesday, the 14th of February 2023, at his home with his wife and family by his side.
Gerry was born in Newcastle, Oklahoma, on the 22nd of December 1929, to Ed and Auda Burkett, the youngest of seven siblings. Gerry graduated from Newcastle High School and enrolled at Oklahoma University where he obtained an undergraduate degree in Geology. After graduation, Gerry applied for the Air Force Pilot training program. Gerry attained the rank of 1st Lt. in the Air Force and served four years, where he flew B-29s.
During his last assignment, he was stationed in Albany, Georgia, where he met the love of his life, Betty Adams. After dating for a year, they were engaged and married two weeks later in Morgan, Georgia. Gerry and Betty then moved back to Oklahoma where Gerry again enrolled at Oklahoma University and earned a Masters of Geology. He started his career with Atlantic Refining Company, moved to Midwest Oil, Tesoro Petroleum and finally McCormick Oil and Gas. Throughout his career he lived in Cody, Wyoming; Jackson, Mississippi; Lafayette, Louisiana; and finally Houston, where Gerry and Betty planted permanent roots.
Gerry's passions were God and church, his family, his friends and sports. Gerry's love for his family was unmatched. He adored Betty with all of his heart and embodied the spirit of a servant husband. He doted on his children and grandchildren and never missed a sporting or school event that someone was playing in. He coached his children in their little league sports and played recreational basketball and softball with them into his 60s. Gerry was so proud of his boys, and he would talk on and on about them to anyone who would listen. He loved planning annual trips with the family where he could spend more time with them. He was the kindest and most friendly man you had ever known and always offered words of wisdom for people who needed help. He served as an active member of Tallowood Church for almost 50 years. During that time, he taught and led many classes and was an active member of the deacons. Gerry was always true to his faith and was a man of integrity.
Gerry is survived by his loving wife of 66 years, Betty; sons, Greg Burkett and wife Janet of Katy, and Tim Burkett and wife Danna of Houston. He was affectionately known as "Papa" to his four grandchildren and four great-grandchildren: Brett Burkett, Blake and Erin Burkett and their three boys, Davis, Thomas and Beau; Parker and Mary Burkett, Preston and May Burkett and their daughter Hallie. He was preceded in death by his parents and his six brothers and sisters.
Summarized from Life Tributes Section of the Houston Chronicle on Sunday February 19, 2023.