Submitted by

acushing

on Wed, 09/01/2021 - 9:05am
From the Editor
Scott Sechrist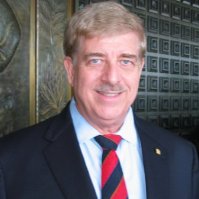 Welcome to year 98 of the Houston Geological Society! Our HGS 100th Anniversary is coming up in 2023, and long-term planning volunteers are hard at work maintaining headway towards our Big Celebration in the face of tumultuous change.
The profession of Petroleum Geology is at a crossroads in this second year of the COVID-19 Pandemic.
Now, over a year and a half into the Covid Pandemic, we all are wondering 'what does the future look like'… for HGS members, the Petroleum Geology profession and the world's Petroleum based Energy industry?
Most importantly, our current dues paid HGS membership has recovered to nearly 2200 members from a low near half that a year ago. As recently as mid-2019, we had nearly 4000 members. Through grassroots, person -to-person contact, we are bringing HGS members back.
We are also, carefully, bringing back in-person meetings, such as the HGS Shrimp Peel and Crawfish Boil in May 2021. The recent Hybrid UrTec, OTC and NAPE Conventions in Houston were remarkable successes with good in-person and strong virtual attendance, given the Covid-19 Delta variant resurgence. Be sure to look for the HGS Baseball family Sunday Funday October 3rd!
Now our National Professional Societies move to merge and survive in this new world of condensed activity, reduced advertising, shedding office overhead and merging major convention events.
The AAPG and SPE Executive Committees have announced Discussion of a merger of equals. Not a Fait Accompli, but a year's evaluation ahead, at all levels: should we? How and what, where and why? It has been proposed by many for decades, but the challenge is to smoothly merge our friendly but disparate organizations. In the last few days, even the SEG has reached out to their members with a survey to consider the possibility of a three-way merger with AAPG and SPE; potentially creating a single upstream Geoscience and Engineering Society. These ideas are in the rough design stage; and nowhere near a "Done Deal".
Our local HGS members can interface thru their local AAPG House of Delegates fellow members. HGS Member concerns and the 'NewOrg' upside opportunities from all aspects are being evaluated and considered. This is still a work in progress… and the HoD needs your input!
One of the KEY points to remember throughout this entire process is that your Houston Geological Society is an INDEPENDENT, Affiliated Society. We are not controlled nor owned by AAPG, even though HGS is the world's Largest Local Geological Society Chapter. Our Undergraduate and Calvert Graduate Scholarship programs remain equally independent; ALL controlled locally, and ONLY by your elected HGS Officers and Board members.
As we face the torrent of change rushing around the world media and extreme weather, we will all benefit from science-based facts and observations. Dr. Jory Pacht leads off our September HGS Bulletin with the latest updates to his Energy 101 presentation. Addressing the latest ESG challenges and changing economic and social positions on the 'Energy Transition', Jory shares his science and fact-based observations of practical responses to a world calling for a wide variety of changes.
Please be sure to share with your family, friends, business associates and your children's teachers. The HGS is dedicated to 'stimulate interest and promote advancement' in geology for the Houston area; and to aid and encourage academic training in the science of geology with proven, science-based fact. Visual proof is found in Steve Earle's Grand Canyon Trip Photos; these are must-see classics!
Finally, it is a great honor to serve as your HGS Editor for the 2021-2022 year. I look forward to all article submissions, ideas, suggestions, constructive feedback and, most of all, your questions. All the HGS Officers, Directors and our dedicated HGS Office Staff are working hard to provide Members with the best HGS yet as we rebuild our 'New Normal', preparing for our 100th HGS Anniversary in 2023!
Wishing All great success and the best of health!
HGS Editor 2021-2022
Scott C. Sechrist