Daniel L. Smith
1936-2020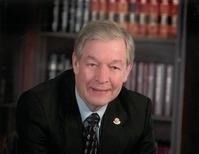 Daniel Lester Smith, age 84, passed away on Wednesday, the 23rd of December 2020, in Houston.  A native Houstonian, Dan was born on the 23rd of August 1936. He graduated from Lamar High School in 1954. He attended and graduated from the University of Texas-Austin with a BS in geology in 1958.
Dan met Laura Ney Rosemary Heath while attending UT, and they married on the 7th of March 1960. They were married for 53 years, until Laura's death. Dan then married Betty Joan Hall on the 31st of August 2013. They were married until his death.
Dan was a widely respected and prominent member of the oil and gas industry in Houston and around the world. Upon graduation from UT, Dan began his long and distinguished career at Amoco, moved to Roberts and Whitson Corporation, and eventually became Executive Vice President and Exploration Manager for Texoil Company, including having a part ownership of the company. He moved to Texas Meridian Resources Corporation in 1992, where he served as Vice President, Exploration. Dan then joined Sandalwood in 2001 and was still serving as the Executive Vice President of Exploration for Sandalwood Oil & Gas, Inc. when he passed.
Dan held numerous scientific societies leadership positions at the highest level, including Chairman of the House of Delegates for American Association of Petroleum Geologists (AAPG); stints as both President and Chairman of the AAPG; Secretary of the Society of Independent Professional Earth Scientists (SIPES); President of the SIPES Foundation; and President of the Houston Geological Society. He also contributed his time and leadership skills to GCAS, AIPG, NOGS, and LGS.
In addition to being an AAPG Honorary Member, Dan's extensive list of accolades includes being a Distinguished Member of the AAPG House of Delegates, an AAPG Certificate of Merit, a DPA best paper award, the SIPES Outstanding Service Award, HGS Distinguished Service Award, and the HGS Gerald A Cooley Award for "Service above and beyond the call of duty over many years." His greatest achievement was receiving the 2011 Halbouty Outstanding Leadership Award, given in recognition of outstanding and exceptional leadership in petroleum geosciences.  Dan joined HGS in 1958.
Dan was passionate about promoting education in the field of Petroleum Geology and mentored numerous young geologists through the years. He was a long-serving trustee and former Chairman of the University of Texas Geosciences Endowment Fund and Member of the Geology Foundation Advisory Council for the Jackson School of Geosciences. Those who have worked with Dan found him a true example of inspiration for humility, ethics, diplomacy, and above all, getting the job done. He was the epitome of outstanding leadership.
Most importantly, he was able to share his experiences with his son and grandsons.
His love for geology extended into his extracurricular activities where family vacations became educational, rock-hounding excursions. His wit and fun-loving spirit provided hours of entertainment for his family. His annual trips to the Canadian Rockies were the perfect setting for his greatest interests...hiking, studying rock formations, and taking in the beauty this area has to offer.
A devoted and generous father and grandfather, Dan is preceded in death; wife, Laura Ney Rosemary Heath Smith; and a granddaughter. He is survived by his wife, Betty Joan Smith; 4 children and 1 step-son, 6 grandchildren; 2 great-grandchildren,
In lieu of customary remembrances, memorial contributions may be directed to the scholarship programs of the following organizations: American Association of Petroleum Geologists, 1444 S. Boulder Ave., Tulsa, OK, 74119; the Society of Independent Professional Earth Scientists, 1401 N. Central Expwy., Suite 105, Richardson, TX, 75080; and the UT-Austin Jackson School of Geosciences, 2305 Speedway, Suite C1160, Austin, TX, 78712, Houston Geological Society, 14811 St. Mary Lane, Suite 250, 77079.
Summarized from the Life Tributes Section of the Houston Chronicle dated January 3, 2021.