HGS Field Trip Columbus Trail | Kayaking & Geology Scouting Wilcox Outcrops Along Banks of Lower Colorado River
HGS Field Trip
Columbus Trail | Kayaking & Geology
Scouting Wilcox Outcrops Along Banks of Lower Colorado River
Sunday January 27, 2019 | 8AM-8PM | 15 Seats Available | $300/person | Activity Level: Vigorous
Colorado River (red, reddish in Spanish) near Columbus, TX displays a mix of gently sloping to steep reddish sandy banks of Eocene to Quaternary age. During this day-long kayaking field trip, we will investigate the presence and quality of Eocene Wilcox Fm., Claiborne Fm., and Carozza Fm., and Miocene-Oligocene Fleming Fm. and Goliad Fm..
Modern sedimentary processes will be reviewed, and elements of meandering streams will be observed (including meandering bends, sand and gravel bars, point bars, steep outer banks, low inner banks). Colorado River was a deep canyon in Pleistocene Ice Age when sea level was approximately 50 ft lower, coastal plain extended further into Gulf of Mexico, climate was wetter, and river transported more water and sediment load, on average, than today. The river balanced all these factors by downcutting into the coastal plain.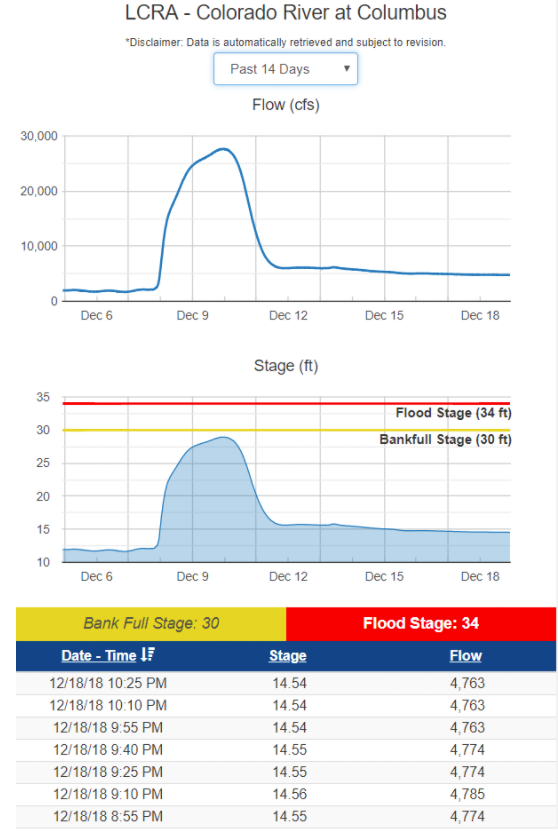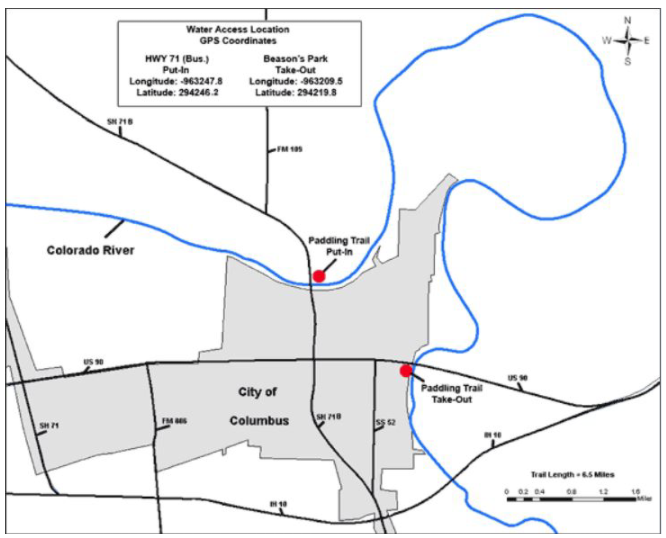 Colorado River originates near Lubbock, TX and flows southeast into Matagorda Bay on the Gulf of Mexico. At ~860-miles long is considered one of the great rivers of United States (18th longest) and the longest river in Texas with both its source and mouth within Texas. Colorado River with its impressive drainage basin represents an important source of water for farming, cities, recreation and electrical power production with 11 large-size reservoirs along its way.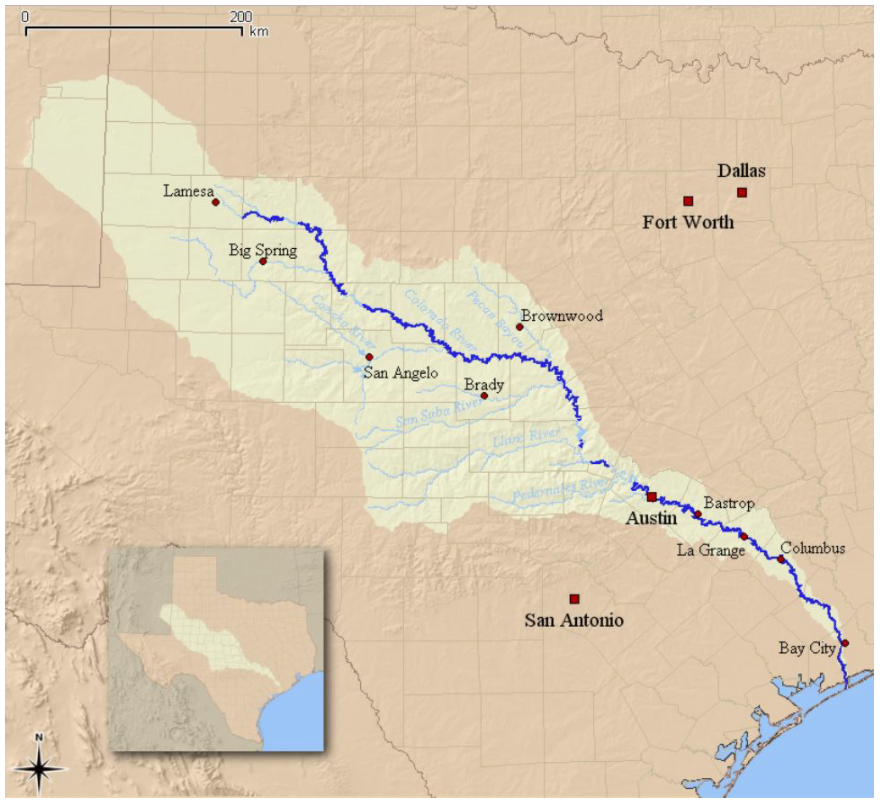 Paddling this portion of the Colorado River is considered a light Class I river. It is mostly flat with two short sections of light rapids and multiple islands great for study breaks. A strong south wind can cause the river to become choppy and difficult to navigate. Paddling the Columbus Trail is an enjoyable, peaceful experience. Trail length is ~7 miles, float duration is 3-5 hours depending on water conditions. For safety reasons, if the river stage in Columbus exceeds 15 ft. this trip will be rescheduled (plus banks will be submerged).
Regular Cost: $300/person. Student Cost: $200/person. Unemployed member cost: $200/person (please call office for this price)
Cost covers:
Rental of

top

of the line tandem kayaks, carbon-fiber paddles, adjustable life-vests, dry bags

15 passenger van transportation HGS Office – to Columbus and back

Shuttle and tag-along emergency vehicle

Logistics, Kayak Instruction, First Aid

On water lunch,

post trip

snacks

Insurance
AGENDA
8:00AM: Meet at HGS Office (14811 St Marys Ln., Houston, TX 77024), park personal car, board the van
8:30AM: Depart towards Columbus, TX (~1 h drive, ~ 60 miles away)
9:30AM: Arrive at boat ramp/put-in (804 Robson St, Columbus, TX 78934), unload kayaks, get set
10:30AM: Safety meeting and wet paddles (set for 7 miles, 3-5 hours float & hikes)
12:00PM: Lunch break on the point bar/sandbar
5:00PM: Take out Beason's Park, 3614 US-90, Columbus, TX 78934
6:00PM: Load kayaks, depart towards HGS Office Houston
8:00PM: Arrive home
Activity Level: Vigorous. Minimum physical flexibility to get in and out of kayaks is required.
Field Trip Leaders: Constantin Platon and Annie Walker
Contact HGS Office to register. Registration closes at noon on Friday January 25, 2019.
Registration includes signing a waiver. Trip runs only if minimum 8 people signup.
For inquires contact: Constantin Platon # 832-686-3231 and constantin@oakgeosciences.com
SAVE THE DATE: NEXT HGS FIELD TRIP
FEBRUARY 15-17, 2019
Weekend camping and investigation of Eocene Fm. displaying fossils at Somerville State Park.
Details to follow.
When
January 27th, 2019 8:00 AM through 8:00 PM
Event Fee(s)
| | |
| --- | --- |
| member/non-members | $ 300.00 |
| student | $ 200.00 |
Event Attachments
| | |
| --- | --- |
| Sponsorship Opportunities | |
Event Filter Informations
---