AAPG Super Basin Leadership conference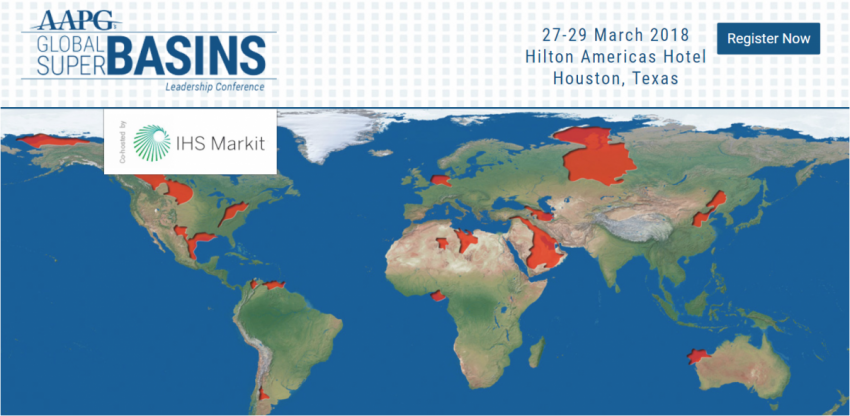 Topics:
What makes each super basin unique and what can we learn from it?
What is the exploration/ production history and what are the major plays with remaining potential, including conventional, unconventional, and field growth?
What are key innovations in each super basin: adoption of horizontal drilling, hydraulic stimulation, completing and drilling techniques, and seismic imaging that helped unlock the potential and what is needed for further growth?
How do "above ground" issues like politics, access, mineral ownership, and geography influence realizing the full resource potential of each super basin?
Will a basin be a regional or global disrupter?
What are the critical geoscience elements that contribute to success?

Speakers – With more to come!
Americas Unconventional Energy Opportunity – An Update, David Gee, The Boston Consulting Group
Super Basin Concept Overview and Evolution, Scott Tinker, Tinker Energy Associates, LLC
Gulf of Mexico, Cindy Yeilding, BP America
COP Operator Stimulated Rock Volume, Greg Leveille, ConocoPhillips
Venture Capital Leading Edge Technology, Trond Unneland, Chevron
Super Basins, Bob Fryklund, Pete Stark, IHS Markit
Permian Basin, Scott Sheffield, Pioneer
Anadarko Basin, Rick Fritz, Council Oak
Going Beyond the North American Murdock Super Basin Plays: The Unconventional Development of Conventional Reservoirs, Richard K. Stoneburner, Pine Brook Partners
Williston Basin, Mark Williams, Whiting Petroleum Corporation
The Western Canadain Super Basin, a Confluence of Science, Technology, and Ideas, Paul MacKay, Shale Petroleum Ltd.
California, San Joaquin, Kurt Neher, Berry Petroleum Company, LLC
Mexico, Tampico Mizantla Basin and Sur Este Basin, Ivan Sandrea, Sierra Oil and Gas
Appalachian Basin, William A. Zagorski, Range Resources
Global Overview, Robert Ryan, Chevron
Alaska- North Slope, David Houseknecht, USGS
Neuquén Basin, Carlos Macellari, Tecpetrol
North Sea, John Underhill, Heriot-Watt University
The Arabian Basins, Ibraheem Assa'adan, Saudi Aramco
North Africa, Jonathan Craig and Andrea Cozzi, ENI
Brazil Pre Salt, Santos Basin, Mario Carminatti, Petrobras
Western Siberia Super Basin, Alexei V. Milkov, Colorado School of Mines, Vladimir Vyssotsky, BP Russia, and Andrei S. Bochkov, Gazprom Neft
Big Picture Geophysics and Reservoir Packages, Brian Horn, ION
TBA, Dick Leonard, Core Lab
General Chair:
Charles Sternbach, President, AAPG
March 27th, 2018 8:00 PM through March 29th, 2018 3:00 PM
Event Attachments
| | |
| --- | --- |
| Sponsorship Opportunities | |
Event Filter Informations
---