HGS General Dinner- Greece: Onshore and Offshore New Ventures
Monday, December 11, 2017
Ballroom A • Norris Conference Center • 816 Town and Country Blvd #210
Site Map • Floor Plan
Social Hour 5:30–6:30 pm
Dinner 6:30–7:30 pm, Presentation 7:30- 9:00 pm
Member/Emeritus/Honorary Life: $40.00
Student: $15.00
Non-Member: $45.00 WALKUPS: $45.00
To guarantee a seat, you must pre-register on the HGS website and pay with a credit card.  You may walk up and pay at the door if extra seats are available.  Please cancel by phone or email within 24 hours before the event for a refund.  Online & pre-registration closes Monday, December 11, at 5:00 a.m.
Speaker: Stan Patniyot
Company: TBA
 
Greece: Onshore and Offshore New Ventures
This talk reviews the hydrocarbon potential of Greece, including current and future exploration play concepts.  Greece is located in the East-Central portion of the Mediterranean region (Figure 1, Regional map of Mediterranean area). Greece has recently received more exploration attention because of its attractive financial terms, its recovering Economy, and its proximity to large fields recently discovered in the Eastern Mediterranean. 
Historical exploration has proven the existence of active petroleum systems in Greek basins.  The Early Miocene Shale, Cretaceous Pelagic Limestone, and Early Jurassic Posidonia Shale sections contain source rocks that are capable of generating large volumes of hydrocarbons, and nearby analog fields indicate the attractiveness of the country.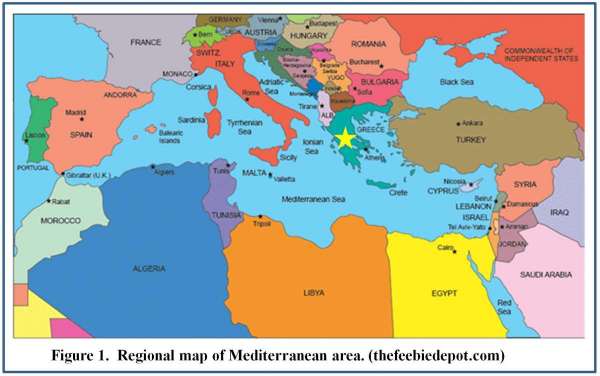 Oil seeps have been known since antiquity and three hundred wells have been drilled in the country.  Modern exploration began with the 1971 discovery of the 289 MMBO in place Prinos Field and the 1974 discovery of the Kavala Gas Field in eastern Greece, offshore Thasos Island.  These fields produce from Miocene sediments (Figure 2, Map of Greece with areas of exploration indicated and Figure 3, Generalized stratigraphic column of Greece).  These two discoveries were followed by the discovery of the 40 MMBO Katakolon oil field (1981) and the Epanomi gas field (1988).  Because of the mid-1980's collapse in oil prices, exploration stopped during the late-1980's.  But by then productive petroleum systems had been proven in the eastern and western parts of the country.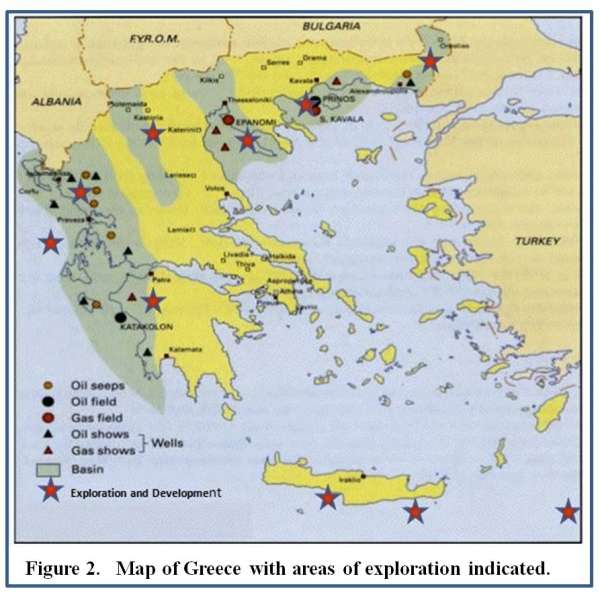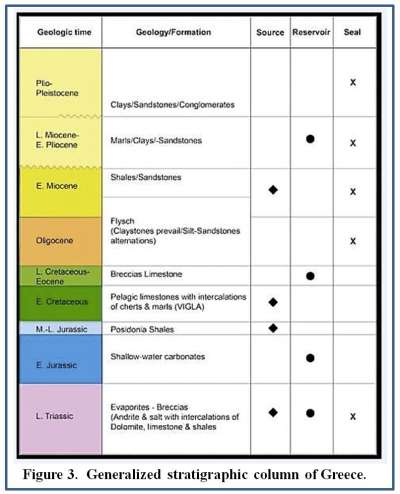 In 1996 Greece held its first international licensing round, wherein licenses were granted to Enterprise Oil and Triton Ltd. By 2000-2001 each company had withdrawn because of mergers and low oil prices.  A new Hydrocarbons Law was completed in 2011 that governs exploration and production activities. Also, a new entity called Hellenic Hydrocarbon Resources Management Company S.A. (HHRM) was created.  Its job is to find investors, organize and oversee oil and gas exploration and production activities, and monitor activities on behalf of the Ministry of Environment and Energy.
Under this new legal structure, Greece held a licensing round in 2014 and Energean O&G acquired three blocks in western Greece.  Recently discovered giant gas fields, Leviathan field, offshore Israel (19 TCF and 34 MMBC) and Zohr field, offshore Egypt (40 TCF) have generated interest in the hydrocarbon potential offshore southern Crete.  A joint venture representing Total, Exxon, and Hellenic Petroleum recently signed leases for blocks in the Ionian Sea, offshore southern Crete. The South Adriatic in Italy and the North Ionian region represent other analogs. 
Greece has launched an ambitious program to add more oil and gas reserves, partly spurred on by its protracted financial crisis.  The clear message from Government Ministers is that Greece welcomes additional onshore and offshore exploration.  Greece should be on your list of new venture exploration areas of interest.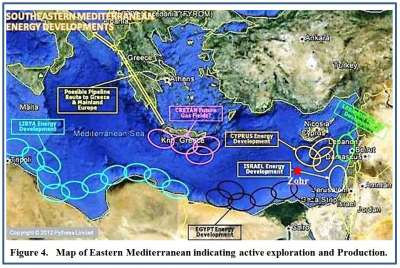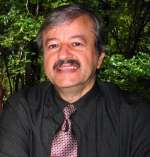 Stan Patniyot (Stratos Patiniotis) was born in Greece but raised and educated in Melbourne, Australia.  After graduating from the School of Earth Sciences at the University of Melbourne with a major in Geophysics, he was hired by Schlumberger Services. Following three months of onshore training, he began his career in the petroleum industry as a wireline logging engineer.  This has lead to an adventurous life.
His first assignment was logging exploration wells on Australia's NW shelf, 200 miles from the coast, in a rough and tough oil field environment. International assignments followed with a promotion to Field Service Manager. Next he joined Esso Australia (Exxon) as a petrophysicist based in Sydney.  That was fine but not adventurous enough so he joined Gearhart and moved to Peru as the operations manager of a Gearhart/Halliburton joint venture.  Then came moves to Caracas, London, and Houston. From Houston Stan went to work as an advisor to PDVSA-INTEVEP in Caracas under a technology sharing agreement with Halliburton. With the collapse of the Venezuelan government he returned to Houston and worked as a Senior Petrophysicist on Shell's Niger Delta exploration team.  When that contract ended he went back to Schlumberger and worked in Moscow, Rio de Janeiro, KL, Mumbai, and Stavanger as a petrophysics advisor.  For the past 5 years he has worked in the new ventures group of Halliburton in Houston screening unconventional oil and gas properties worldwide.
Stan stays at the forefront of logging technology and interpretation; he has authored and co-authored many technical papers, and has even "QC'd originals of logs run by the Schlumberger brothers and other key founders on Lake Maracaibo."
Stan speaks several languages including Spanish and Greek. And he is very active in Houston's Greek community.
He is a member of:  HGS, AAPG, Society of Petroleum Engineers of AIME, Society of Professional Well Log Analysts, and Society of Core Analysts.
December 11th, 2017 5:30 PM through 9:00 PM
Norris Conference Center




816 Town & Country Blvd., Suite 210




Houston

,

TX

77024




United States
| | |
| --- | --- |
| HGS member | $ 40.00 |
| Non-member | $ 45.00 |
| Emeritus/Honorary Life | $ 40.00 |
| Student | $ 15.00 |
Event Attachments
| | |
| --- | --- |
| Sponsorship Opportunities | |
Event Contact
| | |
| --- | --- |
| Contact Phone | (832) 978-8123 |
| | |
| --- | --- |
| contact Email | rwiener@sbcglobal.net |
Event Filter Informations
| | |
| --- | --- |
| Event Owner | General Dinner |
---