HGS North American Dinner - Distribution and detachment level of salt keels in the deep water northern Gulf of Mexico
Monday, October 16, 2017
Ballroom A • Norris Conference Center • 816 Town and Country Blvd #210
Site Map • Floor Plan
Social Hour 5:30–6:30 pm
Dinner 6:30–7:30 pm, Presentation 7:30- 9:00 pm
To guarantee a seat, you must pre-register on the HGS website and pre-pay with a credit card.  You may walk up and pay at the door if extra seats are available.  Please cancel by phone or email within 24 hours before the event for a refund. Monday scheduled HGS meetings need to be canceled the Friday before by 2 pm. Online & Pre-registration closes Monday, October 16, at 5:00 a.m..
Speaker:  Carl Fiduk
Independent Research Scientist
Distribution and detachment level of salt keels in the deep water northern Gulf of Mexico: insights into canopy advancement, salt sediment interplay, and evidence for unrecognized mass sediment displacement.
By Carl Fiduk, Vivian Robertson, Marianne Clippard, George Jamieson, & Sarah Power
Extension-related salt keels observed in the deep water northern Gulf of Mexico can be organized into three categories based on the stratigraphic level at which associated extensional movement occurs. The first category of keels have faults which detach within Oligocene-to-Eocene strata. The second category of keels have faults which detach into deep salt. The third category appears to be directly associated with basement level deformation. Oligocene-to-Eocene (O-E) detached keels are the most important economically and the main focus of examination.
The distribution of O-E detached keels can itself be subdivided into two groups. Group 1 keels are well delineated by mapping of the base salt canopy. These keels form a trend parallel to the Sigsbee Escarpment but offset shelfward (updip). The trend extends over 200 kilometers across the Keathley Canyon OCS area and into the Alaminos Canyon OCS area. The canopy over these keels was emplaced in the late Miocene to early Pliocene. Group 2 keels, previously unrecognized as keels, lie updip of the Sigsbee Escarpment but basinward of the ascension zones where salt rises from the primary autochthonous salt basin(s). This group of O-E keels is not easily delineated by mapping of the base salt canopy. The canopy in this area was emplaced in the early to middle Miocene. 
The distance between the group 1 O-E keel trend and the Sigsbee Escarpment varies from 10-30 km. The trend as mapped is not a single discrete continuous structure but a series of linked shorter keel segments with a few gaps. Linkage style between keel segments appears similar to that seen for growth faults (i.e. relays). In eastern Keathley Canyon the location for detachment initiation is often found in close relationship with deeper salt structures. Some of these deeper salt structures appear to have moved/adjusted at about the time of O-E keel faulting. In western Keathley Canyon deep salt is absent below the O-E keels. Available well data and mapping constrain the timing for displacement, which must occur after emplacement of the shallow canopy, to late Miocene-early Pliocene but initial movement could be younger.  Observations suggest that the canopy needs to reach a thickness of ~1-1.5 km before the underlying weak O-E detachment layers near the Sigsbee Escarpment fail.  Failure at shallower levels may occur early as frontal thrusts under minimal cover near the sea floor.
Salt loading (gravity) on a weak detachment is the main driver of extension forming O-E keels.  Another component believed critical is the absence of deep structures basinward of the detachment.  Non-critical but contributing components include the ability to detach towards basement and/or bathymetric lows, the ability to detach onto basinward flanks of deeper structure and drive from up-dip sediment loading. One result of strata displacement by keels may be the creation of overpressure or gumbo zones below the canopy.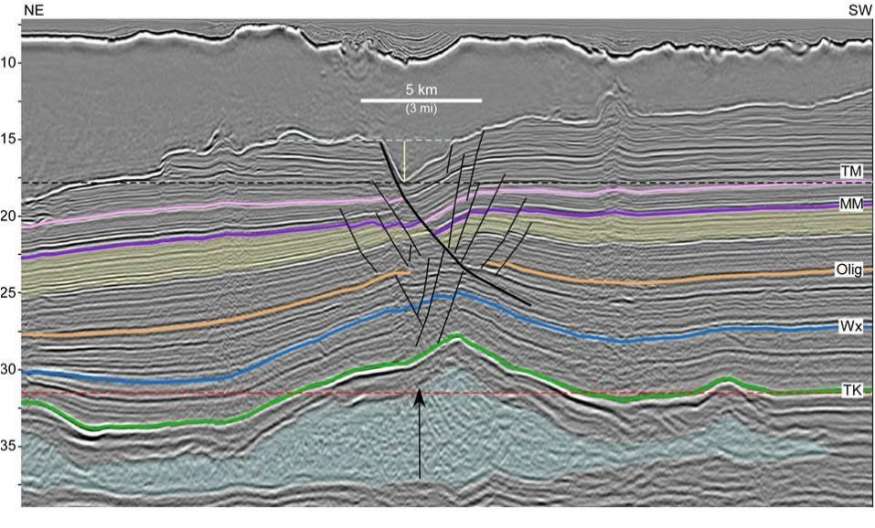 Figure 2.  Seismic line showing example of simple group 1 O-E detached keel.  The red dashed line shows the top Cretaceous regional level.  The light blue dashed line shows the canopy emplacement level at keel.  The black dashed line marks the regional level of the top Miocene horizon which is below regional in the keel hanging wall.  The yellow vertical line shows the keel displacement below canopy.  The black arrow points to a graben formed by late salt movement related to keel displacement.  The yellow shaded interval shows thinning of middle Miocene over deep salt structure.  Horizon abbreviations:  Basement – BSMT (red), near top Lower Cretaceous – LK (magenta), top Cretaceous – TK (green), top Wilcox Formation – Wx (blue), top Oligocene – Olig (orange), lower Miocene – LM (light green), middle Miocene – MM (violet), top Miocene - TM (pink).  Depth scale in 1000s of feet.  Vertical exaggeration ~2:1.  Seismic data provided courtesy of Schlumberger Multiclient.
Reference:  Fiduk.et.al_2016.GCAGS.Journal.v5.03.p47-63.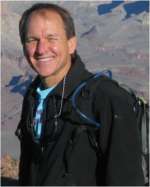 Dr. Carl Fiduk is currently an independent research scientist and consultant. He has held industry or academic positions at Freeport-McMoRan Oil and Gas, Schlumberger, CGG, CGGVeritas, the University of Colorado, the Texas Bureau of Economic Geology, Discovery Logging, and Gulf Oil. He earned his B.A. and M.S. in geology from the University of Florida, an M.B.A. from The University of Texas Permian Basin, and a Ph.D. in geology and geophysics from The University of Texas at Austin. His research interests include salt tectonics, basin analysis, marine depositional processes, petroleum systems analysis, fluvial and deltaic deposition, and restoration of complex structural settings. Carl has published more than 90 peer reviewed abstracts and papers and is a past AAPG Distinguished Lecturer.
vendor corner
---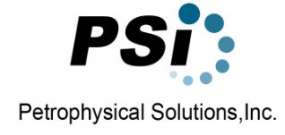 PSI provides petrophysical consulting services including single-well analysis, field studies, and quality controlled petrophysical databases. We work closely with clients in data rooms and bid rounds and provide mentoring and best practices in petrophysics for the industry.
PSI also offers a growing Deepwater Gulf of Mexico database, which is a collection of fully interpreted data, from almost 2,100 wells spanning the entire Gulf, with sets of data curves that are more meaningful to geologists, geophysicists, and engineers – giving them the answers they're looking for…faster.
October 16th, 2017 5:30 PM through 9:00 PM
Norris Conference Center




816 Town & Country Blvd., Suite 210




Houston

,

TX

77024




United States
| | |
| --- | --- |
| HGS Member | $ 40.00 |
| Non-Member | $ 45.00 |
| Emeritus/Life/Honorary | $ 40.00 |
| Student | $ 15.00 |
Event Attachments
| | |
| --- | --- |
| Sponsorship Opportunities | |
Event Contact
| | |
| --- | --- |
| Contact Phone | 281-759-8403 |
| | |
| --- | --- |
| contact Email | geology@texas.net |
Committee
| | |
| --- | --- |
| Committee | North American Explorationists |
Event Filter Informations
| | |
| --- | --- |
| Event Owner | North American |
---