HGS General & North American Dinner: Rice University Lecture- Sedimentary Records from Another World: Exploring Gale Crater Basin with the Curiosity Rover
Monday, March 5, 2017
Live Oak Room • Norris Conference Center • 816 Town and Country Blvd #210
Site Map • Floor Plan
Social Hour 5:30–6:30 pm
Dinner 6:30–7:30 pm, Presentation 7:30- 9:00 pm
Member/Emeritus/Honorary Life: $40.00
Student: $15.00
Non-Member: $45.00 WALKSUPS: $45.00
To guarantee a seat, you must pre-register on the HGS website and pay with a credit card. You may walk up and pay at the door if extra seats are available. Please cancel by phone or email within 24 hours before the event for a refund. Online & pre-registration closes Monday, March 5, at 5:00 a.m.
Speaker: Kristen Siebach, Ph.D.
Company: Rice University

Sedimentary Records from Another World: Exploring Gale Crater Basin with the Curiosity Rover
The Mars Science Laboratory rover, Curiosity, landed on the floor of Gale crater, Mars, on August 5, 2012. In the last 5.5 years, Curiosity has traversed over 11 miles (18 km) to explore 1200 ft (370 m) of basin-fill stratigraphy exposed as layered sediments preserved around the craters' central peak, a 16,000 ft (5 km) tall stack of sediments dubbed Mount Sharp.

Along with this traverse, Curiosity has not only collected tens of thousands of images of the Martian surface, but has also collected 500,000 laser shot-based chemistry analyses, 600 bulk chemistry analyses, and 15 drilled samples observed with both a mass spectrometer and an x-ray diffractometer, sending the data back to Earth on a daily basis. The instrument suite onboard Curiosity has enabled the highest resolution ever achieved in in-situ imaging of planetary surface samples, the first age date on another planet, ongoing chemostratigraphy based on multiple scales of compositional measurements, and ten robotic Martian selfies.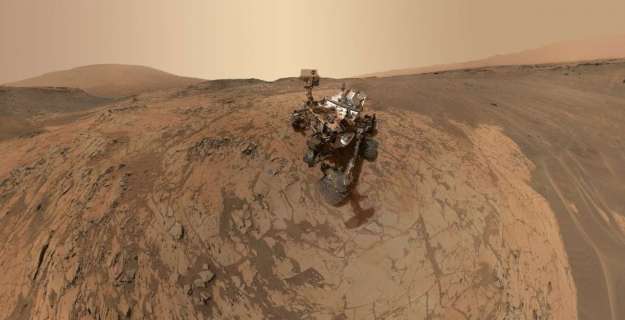 Kirsten Siebach is an Assistant Professor in the Rice University Department of Earth, Environmental, and Planetary Sciences. Her work focuses on understanding the history of water interacting with sediments on Mars and
early Earth through analysis of sedimentary rock textures and chemistry. She is currently a member of the Science and Operations Teams for the Mars Exploration Rovers and the Mars Science Laboratory.
Kirsten completed her PhD in Geology at Caltech with Professor John Grotzinger with a dissertation titled "Formation and Diagenesis of Sedimentary Rocks in Gale
Crater, Mars", and then did postdoctoral research in geochemistry of Martian sediments with Professor Scott McLennan at Stony Brook University. Prior to Caltech, she attended Washington University in St. Louis, where she worked with Professor Ray Arvidson and graduated summa cum laude with a B.A. in Earth & Planetary Science and Chemistry. She is also actively engaged in promoting education and outreach related to Earth and Planetary science and regularly presents at schools and outreach events.
March 5th, 2018 5:30 PM through 9:00 PM
Norris Conference Center




816 Town & Country Blvd., Suite 210




Houston

,

TX

77024




United States
| | |
| --- | --- |
| HGS member | $ 40.00 |
| Non-member | $ 45.00 |
| Emeritus/Honorary Life | $ 40.00 |
| Student | $ 15.00 |
Event Attachments
| | |
| --- | --- |
| Sponsorship Opportunities | |
Event Contact
| | |
| --- | --- |
| Contact Phone | (832) 978-8123 |
| | |
| --- | --- |
| contact Email | rwiener@sbcglobal.net |
Event Filter Informations
| | |
| --- | --- |
| Event Owner | General Dinner |
---