HGS General Dinner- Geoscientists Without Borders®: Adventures in Geoscience for Global Sustainability and Building Community Resilience
Monday, October 2, 2017
Live Oak Room • Norris Conference Center • 816 Town and Country Blvd #210
Site Map • Floor Plan
Social Hour 5:30–6:30 pm
Dinner 6:30–7:30 pm, Presentation 7:30- 9:00 pm
Member/Emeritus/Honorary Life: $40.00
Student: $15.00
Non-Member: $45.00 WALKSUPS: $45.00
To guarantee a seat, you must pre-register on the HGS website and pay with a credit card.  You may walk up and pay at the door if extra seats are available.  Please cancel by phone or email within 24 hours before the event for a refund.  Online & pre-registration closes Monday, October 2, at 5:00 a.m.
Speaker: Robert K. Merrill
Company: Catheart Energy, Inc.,
 
Geoscientists Without Borders®:  Adventures in Geoscience for Global Sustainability and Building Community Resilience
Geoscientists Without Borders® (GWB) is a program of the Society of Exploration Geophysicists (SEG).  Following the 2004 Tsunami in Southeast Asia, members of the SEG recognized that geophysics and geology could make significant contributions to worldwide humanitarian efforts.   In 2008 GWB was initiated by Craig Beasley with Founding Sponsor, Schlumberger.  Today, a variety of sponsors and partners, including the AAPG Foundation as well as individuals and corporations, primarily from the oil and gas industry, support GWB's programs of up to eight humanitarian projects around the world each year. 
GWB's mission is to support humanitarian applications of geoscience around the world by funding projects that benefit communities in need facing environmental hardship and natural hazards due to resource shortages, and natural and human-induced disasters.  To meet this mission there are four important characteristics that we look for in each project.
Does the project:
1. Strengthen global geoscience and engineering application through multidisciplinary projects with humanitarian impacts and provide training to the next generation of geoscientists;
2. Make a significant difference to the lives of those in need with special attention to community improvements;
3. Have a plan to collaborate project activities with local community and state governments and other humanitarian organizations;
4. Empower participating community residents, students, and scientists to work together and share knowledge.
Since 2008, GWB has funded approximately 33 projects in over 27 countries.  These projects cover a broad range of topics including:
• Geological and geophysical studies to build tsunami preparedness programs in Indonesia
• Geophysical surveys to enhance agricultural productivity and livelihoods of smallholder farmers through improved groundwater management in Laos and Ghana
• Seismic imaging to help understand and manage water quality in Benin, West Africa
• Geophysical studies to better understand active faults and earthquakes in Haiti, Jamaica, and Timor Leste for earthquake preparedness
• Hydrological and geophysical studies to utilize and manage groundwater resources in Australia and Eastern and Southern Africa
• Geophysical and geological work to define landslide hazards in eastern Europe and Brazil
• Geophysical studies to build volcano preparedness in Central America
• Pollution mitigation efforts in Eastern Europe.
Geosciences without Borders® projects are designed to benefit communities in need, where applying geoscience and engineering technology is critical to improving conditions of poverty, or where dangerous conditions and hazards can be mitigated or removed using applied geoscience technology.  It is expected that every project should have a lasting impact on the community and engage students and introduce them to the broad range of geosciences careers while also strengthening university programs in geophysics and the geosciences by building bridges between the academic geoscience community and the geoscience and engineering industry.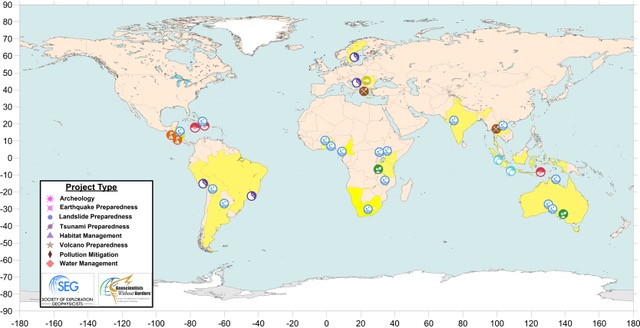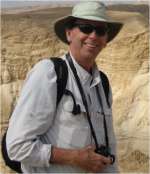 Dr. Robert Merrill has over thirty years of industry experience where he has worked for American Stratigraphic Company, Cities Service Company, Occidental, Unocal and Samson in various domestic and international exploration and staff positions.  He formed Catheart Energy Inc. in 2005 as an independent exploration and consulting company to actively pursue oil and gas opportunities and is currently active in several conventional and unconventional oil and gas plays, and also maintains a consulting practice focused on evaluating exploration portfolios.  Additionally, he currently teaches a course entitled "Visual Rock Characterization."  Since 2015 he has served on the Society of Exploration Geophysicists Geoscientists Without Borders Committee.
He is past president of the American Institute of Professional Geologists, active in the American Association of Petroleum Geologists, a Fellow of the Geological Society of America, a Chartered Geologist with the Geological Society and has served on committees for the American Geological Institute.  Dr. Merrill has his PhD and MS from Arizona State University and his BA in Geology from Colby College.
October 2nd, 2017 5:30 PM through 9:00 PM
Norris Conference Center




816 Town & Country Blvd., Suite 210




Houston

,

TX

77024




United States
| | |
| --- | --- |
| HGS member | $ 40.00 |
| Non-member | $ 45.00 |
| Emeritus/Honorary Life | $ 40.00 |
| Student | $ 15.00 |
Event Attachments
| | |
| --- | --- |
| Sponsorship Opportunities | |
Event Contact
| | |
| --- | --- |
| Contact Phone | (832) 978-8123 |
| | |
| --- | --- |
| contact Email | rwiener@sbcglobal.net |
Event Filter Informations
| | |
| --- | --- |
| Event Owner | General Dinner |
---