HGS General Lunch- Petroleum Systems in the Permian Basin: Targeting Optimum Oil Production
Wednesday, January 24, 2018
The Petroleum Club of Houston
1201 Louisiana Street, Houston, TX
- The top floor of Total Building
- Access to the Downtown tunnel system
Social 11:15 AM, Luncheon 11:30 AM
Cost: $35 pre-registered members; $40 for non-members/ALL walk-ups;
$35 for Emeritus/Life/Honorary; $15 for HGS student members if pre-registered and pre-paid.
To guarantee a seat, you must pre-register on the HGS website and pre-pay with a credit card.  You may walk up and pay at the door if extra seats are available.  Please cancel by phone or email within 24 hours before the event for a refund.  Online & pre-registration closes Tuesday, January 23 at 5:00 AM
Speaker: Dan Jarvie
Company: TCU Energy Institute
Petroleum Systems in the Permian Basin: Targeting Optimum Oil Production
Identifying different completion targets is dependent on innumerable factors, but this presentation focuses on geochemical factors.  Tight oil hybrid systems such as found in the Permian basin have inter- and intra-formational targets.  The source rock itself is usually a target as are juxtaposed organic-lean intervals as well as conventional reservoirs. 
Conventional pay zones are often overlooked or bypassed and unconventional plays were entirely bypassed until the Mitchel Energy breakthroughs in completing the Barnett Shale and subsequent application of completion and horizontal drilling technologies.  While these open the door for drilling such tight oil systems, identifying the optimum zones for completion remain a challenging task.
Production from shales is not a new phenomenon. It has been ongoing for over 100 years, albeit from open fractured shales.  Reservoir stimulation and horizontal drilling is not new to shale plays. This kind of drilling was used in the Upper Bakken Shale in the 1980s-90s.  What is different is the ability to complete tight oil horizons effectively with impressive recoveries. 
The first unconventional well attempted in the Permian basin was drilled in 2005 for shale gas in Reeves County, Texas.  The vertical well tested the Barnett Shale and flowed minor amount of gas (50,000 scf/d) and a few barrels of condensate per day.  The location of the well was determined to be in the middle oil window.  Further drilling of deeper wells at significantly higher thermal maturities resulted in the production of high volumes of gas.  With low gas prices in 2007, a shift was made to tight oil plays..
There are several petroleum systems and tight oil plays in the Permian Basin. They vary by age, maturity, source rock type, and play type (conventional vs unconventional).  Analysis of over 500 oils and 2500+ rock samples has allowed further delineation of the Permian basin petroleum systems.  The source rock systems with organofacies are listed in Table 1.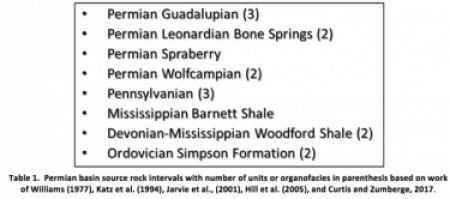 A key advantage of geochemical analysis is that the actual produced petroleum is evaluated and not inferred.  The source rock type, thermal maturity and related composition of petroleum (bitumen) are geochemical factors affecting producibility.  In addition, petroleum composition varies by expulsion, migration, and production resulting in the fractionation of petroleum (Fig. 1).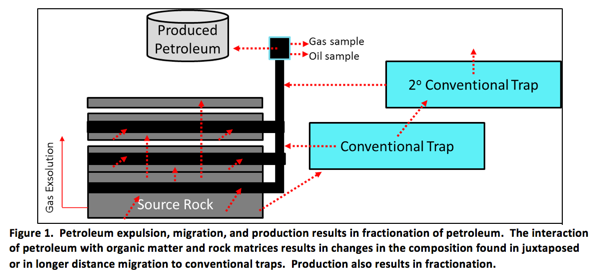 Fractionation of petroleum can be observed in the changes of SARA composition (Saturates, Aromatics, Resins, Asphaltenes).  These fractions have different chemical properties and differ in polarity.  In black oil maturity tight oil plays the SARA composition affects recovery of petroleum.  Resins and asphaltenes are viscous, high polarity constituents that occlude pore throats by affecting wettability.  This is exacerbated in higher TOC systems where the thermal maturity is in the black oil window.
The polar constituents (resins and asphaltenes) also affect wettability.  Such compounds have ability to interact with water-wet surfaces as a result of hydrogen bonding enhanced by the presence of sulfur and oxygen.  As these polar compounds interact with water wet surfaces they occlude pore throats.  These polar compounds are in higher concentration in marine carbonate as compared to marine shale source rocks. At high thermal maturity these compounds crack yielding higher amounts of saturated hydrocarbons and increased API gravity.  This is demonstrated by data showing the yield of saturates increasing with the simultaneous decrease in resins and increase in API gravity (Fig. 2). Similarly the presence of intervals with high resins and asphaltenes may act as baffles to stimulation.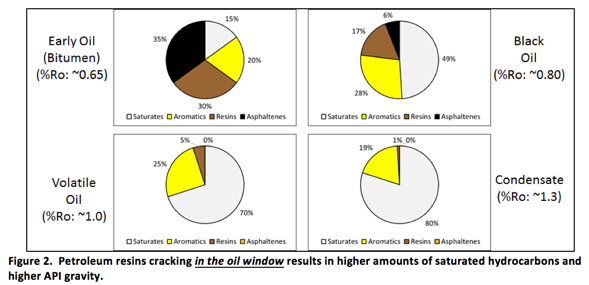 One of the key characteristics for a good return-on-investment in a tight oil play is the determination of the volatile oil window and the yield of petroleum liquids in the early gas window. While many techniques are available for maturity assessments, one of the most accurate and reproducible techniques is quantitative aromatic hydrocarbon analysis (Hill et al., 2004; Rocher et al., 2015).  Using this technique the determination of specific oil and gas windows may be determined such as black oil from volatile oil and condensate windows as well as the rich and lean, wet gas and dry gas windows.  This technique can be utilized on rocks samples and oils so a specific correlation between rock and petroleum properties can be made when both are available.
Restoration of the 'lost' oil content in either a dead oil or from oil extracted from a rock sample allows a better estimate of the total oil content in a reservoir compared to measurements made by Rock-Eval S1 oil yields.  Holba et al. (2014) have used this to predict oil API gravity from rock extracts.  The slope of the unevaporated normal alkanes can be extrapolated and represent the restoration of the total petroleum.  This allows estimation of the amount of petroleum lost due to evaporation and added to the measured oil content for the total oil content.  This restoration process also allows prediction of oil quality such as API and GOR (Fig. 3).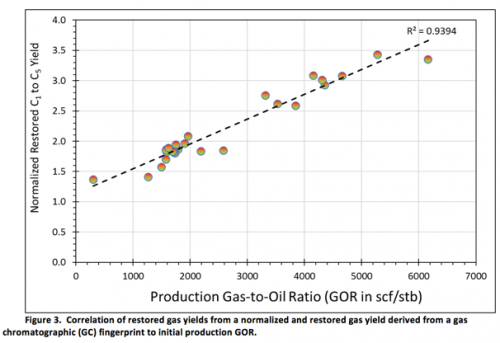 Download Dan's presentation HERE!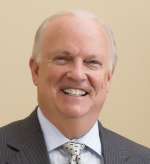 Dan Jarvie has worked in organic geochemistry since 1982 in various positions in laboratories as well as in the interpretation of data.  While his early involvement was primarily in instrumentation and laboratory analyses, he has specialized in the assessment of unconventional shale resource system over the last two decades.  He founded and was president of Humble Instruments and Humble Geochemical Services from 1987 to 2007, which were sold to Weatherford in 2007.  Dan was Chief Geochemist at EOG Resources, Houston, Texas until April 2015.  Currently, he is working the onshore Tampico-Misantla basin, Mexico for Renaissance Oil and has various pro bono research projects underway.
He was in the U.S. Navy from 1968-1974 and graduated from the University of Notre Dame in 1976.  He was mentored in organic geochemistry by Wally Dow and Don Baker of Rice University.  He is an adjunct professor at TCU and a member of the scientific board for TCU's Energy Institute.  His residence has been on top of the Humble Salt Dome since 1981
January 24th, 2018 11:15 AM through 1:00 PM
TOTAL BUILDING




1201 LOUISIANA STREET




Houston

,

TX-77002




United States
| | |
| --- | --- |
| HGS Member | $ 35.00 |
| Non-Member | $ 40.00 |
| Emeritus/Honorary Life | $ 35.00 |
| Student | $ 10.00 |
Event Attachments
| | |
| --- | --- |
| Sponsorship Opportunities | |
Event Contact
| | |
| --- | --- |
| Contact Phone | (832) 978-8123 |
| | |
| --- | --- |
| contact Email | rwiener@sbcglobal.net |
Event Filter Informations
| | |
| --- | --- |
| Event Owner | General Lunch |
---