HGS General Dinner - Relationship between Anticlinal Folding and the Evolution of Mechanical Stratigraphy, Rock Mechanics Properties and Reservoir Quality in the Tensleep Sandstone at Alcova Reservoir, Central Wyoming, USA
Important! Please do not create a duplicate login if you already have one. If you have forgotten your password click the "Request new password" tab above to reset your password.
Monday, April 13, 2015
Westchase Hilton • 9999 Westheimer
Social Hour 5:30–6:30 p.m.
Dinner 6:30–7:30 p.m.
Cost: $45 pre-registered members; $50 for non-members/walk-ups;
$40 for Emeritus/Life/Honorary; $10 for students if pre-registered and pre-paid.
To guarantee a seat, you must pre-register on the HGS website and pre-pay with a credit card.  You may walk up and pay at the door if extra seats are available.  Please cancel by phone or email within 24 hours before the event for a refund.  Online & pre-registration closes Monday, April 13, at 5:00 a.m.
Speaker:  Peter Hennings
This is your opportunity to see the 2014 AAPG Matson Award Paper from the 2014 AAPG Convention.
 
Relationship between Anticlinal Folding and the Evolution of Mechanical Stratigraphy, Rock Mechanics Properties and Reservoir Quality in the Tensleep Sandstone at Alcova Reservoir, Central Wyoming, USA
Anticlines of Pennsylvanian Tensleep Sandstone are the most prolific oil-producing reservoirs in the Laramide Rockies. While the Tensleep's eolian and mixed carbonate lithologies are typically of excellent reservoir quality, the patterns of local production performance are complex being attributed to diagenetic variations and degree of natural fracturing. Based on our outcrop study (Figures 1 and 2) we find that deformation-triggered processes leading to cementation and other diagenetic effects occur synchronously with fracturing. We also observe that the mechanical stratigraphy of the Tensleep Sandstone which governs fracture formation and character becomes more finely mechanically-layered as the folding process evolves (Figure 3). These effects must be studied in tandem while characterizing these reservoirs for field development and management.
At Alcova Reservoir the Tensleep Sandstone crops out in the gently-dipping homocline of the Sweetwater Arch, herein referred to as the undeformed domain (U), and continuously in an oil field-scale basement-rooted fault-propagation fold (backlimb (B), forelimb (F), and crest (C)). (Figure 2). Within the context of these structural positions we compare porosity and permeability, petrographic character, outcrop fracture intensity, and geomechanical properties of samples obtained from the same bed of eolian subarkose sandstone (>75% quartz). We find that there is a systematic evolution of diagenetic and deformational characteristics that consistently tracks in the sequence U->B->F->C. In this sequence φ decreases by 50%; K decreases by 103; and fracture intensity, UCS, and Y increase by 6x. The fractures are dominantly strata bound and incompletely mineralized. Compaction bands are common at F and C. In this sequence petrographically, the matrix displays greater degrees of intragranular penetration and pressure solution, fractured grains, and cement overgrowths (mainly qtz) (Figure 4). In positions F and C, gouge-bearing shear zones are common in thin section and as deformation bands on outcrop.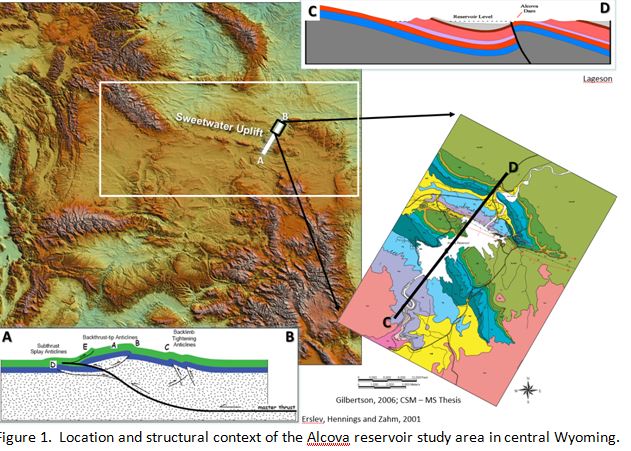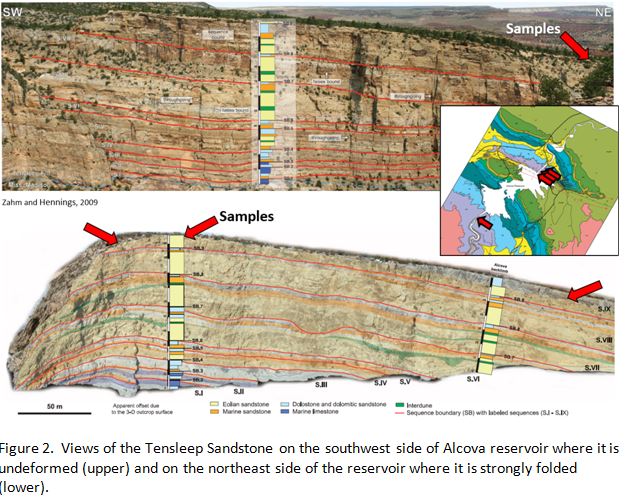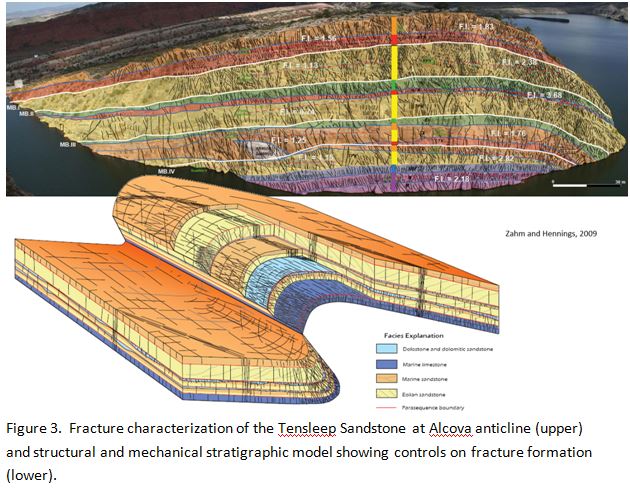 We conclude that the stress path due to folding produced a complex diagenetic and rheological response resulting in an overall degradation in reservoir matrix properties as the rock became cemented, stronger, and presumably more brittle. However, fracturing from grain- to bed-scale became pervasive which would greatly enhance bulk reservoir performance. These processes are a strong function of structural position, mechanical stratigraphic fabric, and presumably lithology, which makes it feasible to predict this behavior in the subsurface.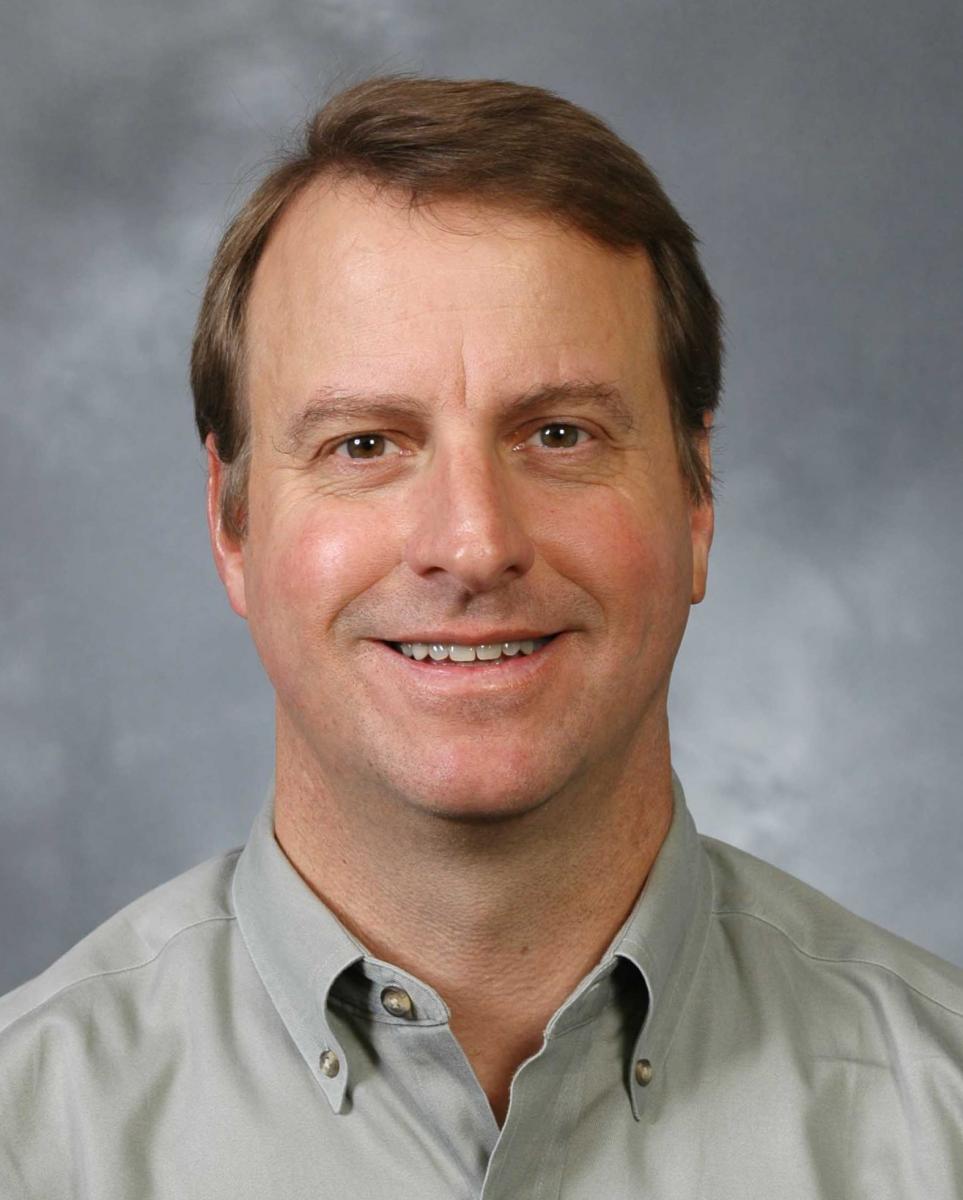 Peter Hennings is Manager of Structure and Geomechanics, ConocoPhillips Technology and Projects.  He leads a group of structural geologists, petrophysicists, geophysicists, and rock mechanicists who support ConocoPhillips' global exploration and production businesses through
research, technology development and application, consulting, and knowledge sharing activities. Peter's areas of expertise include the formation and evolution of petroleum systems; architecture and effectiveness of structural traps; the internal architecture, pore pressure, and stress state of reservoirs and their overburden; characterizing and modeling deformation and fluid flow in stress-sensitive, faulted, fractured and compliant reservoirs; and deriving detailed models of subsurface stress and rock strength for horizontal drilling and stimulation of low permeability reservoirs and ensuring asset operational integrity.Peter is Consulting Professor of Geophysics at Stanford University with a focus on reservoir geomechanics and is Adjunct Professor of Geology at the University of Wyoming with a focus on the petroleum geology of the Laramide Rockies. Peter is the Founder and current Chair of the AAPG Petroleum Structure and Geomechanics Division, is an AAPG distinguished lecturer, and a GSA Honorary Fellow. Peter is the recipient of the 2015 George C. Matson Memorial Award, which is given each year at the annual convention of the Association in recognition of the best AAPG paper presented the previous year at the annual convention. Peter received his Ph.D. in Geology from The University of Texas and his B.S. and M.S. in Geology from Texas A&M University.
When
April 13th, 2015 5:30 PM through 7:30 PM
Location
Westchase Hilton




9999 Westheimer Rd




Houston

,

TX

77042




United States
Event Fee(s)
| | |
| --- | --- |
| HGS Member | $ 45.00 |
| Non-Member | $ 50.00 |
| Emeritus/Life/Honorary | $ 40.00 |
| Student | $ 10.00 |
Event Attachments
| | |
| --- | --- |
| Sponsorship Opportunities | |
Event Contact
| | |
| --- | --- |
| Contact Phone | 713-594-5648 |
| | |
| --- | --- |
| contact Email | john.jordan@anadarko.com |
Event Filter Informations