EAGE-HGS Conference on Latin America
Important! Please do not create a duplicate login if you already have one. If you have forgotten your password click the "Request new password" tab above to reset your password.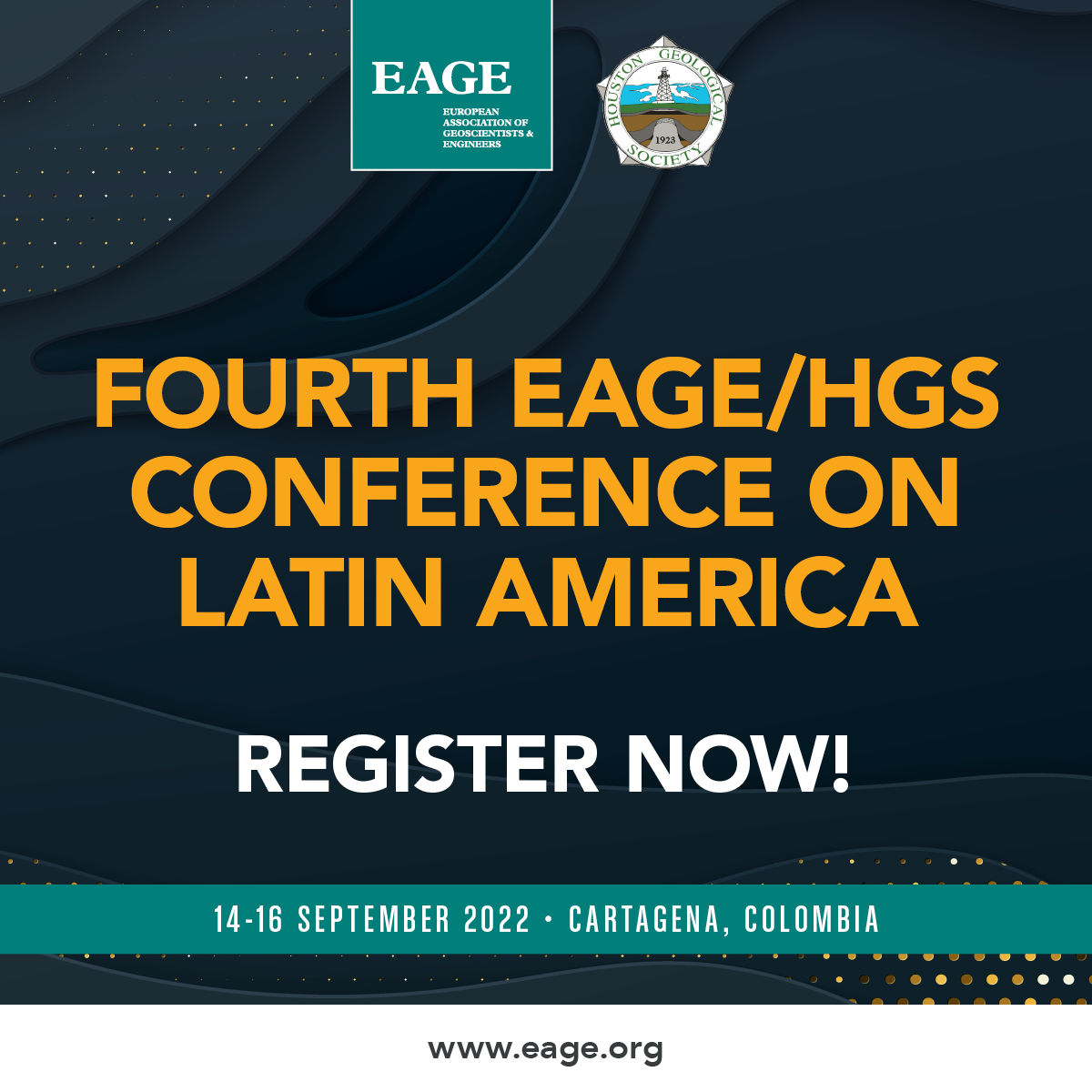 Welcome to the Fourth EAGE/HGS Conference on Latin America:
"Exploring Latin America's role in the Future Energy Mix"
On this occasion, the EAGE/HGS will bring this event to Cartagena, Colombia aiming for the first fully in person conference since the first event. Considering recent developments taking place in the world since 2019, the aim of the Technical Committee is to deliver to the audience, an integrated and exceptionally enriched conference on Latin America, offering a forum to explore relevant topics affecting the future of energy supply and the key role Latin America can play in the future energy mix to tackle energy poverty.
Topics
The Technical Committee invite practitioners, innovators and industry experts to contribute to this workshop and share their achievements and challenges, lay out big innovative ideas and seek new alliances to jointly develop a road for the future.
Contributors are welcome to submit abstracts of 2-4 pages in length. Submission for posters & oral presentations is welcome on all topics. Professionals, Bachelor, Master or PhD students are invited to share their work.
Abstracts should be submitted via the EAGE website using the downloadable template.
The papers must follow the Abstracts Submission Instructions
The deadline for abstract submission is 25 June 2022.
Please submit abstracts on the following topics:
The Geology of Latin America
· Latest insights from Mexico, the Caribbean, Central and South America.
· Conjugate Margins and relevant global analogues: cutting-edge ideas from geology and geophysics.
Seismic Imaging in E&P
· State-of-the-art methods
· Acquisition and interpretation success stories
· Challenges
Applications of non-seismic Geophysical Methods
· Potential Fields: Gravity and Magnetics
· Multibeam and seabed coring
· Sea surface oil slick evaluation
Petroleum Geoscience for Conventional and Unconventional E&P
· New fields
· Key reservoirs and source rocks both offshore and onshore
· Best practices and hurdles in exploration and development
· Maximizing recovery
. Frontier and deep-water exploration
. Infrastructure Led Exploration (ILX) / Advantaged Hydrocarbons
Machine learning present and future role in exploration through to exploitation in Latin America
Commercial/Above Ground
. Fiscal Terms
· Acreage Licencing Models (Licence Rounds)
· Cross border collaboration
Special Session: Energy Transition
. Carbon intensity of different plays
. Environmental Sustainability: highlighting responsible and sustainable exploration and development.
. Critical minerals for energy transition, resources in Latam.
. Geoscience and engineering for developing the offshore wind potential in Latam.
. Net zero: methane emissions abatement and other strategies.
READ MORE ON THE EVENT WEBSITE
When
September 14th, 2022 12:00 AM through September 16th, 2022 11:59 PM
Event Attachments
| | |
| --- | --- |
| Sponsorship Opportunities | |
Event Filter Informations