HGS-PESGB Africa Conference - The Future of G&G in Africa's E&P: Skills, Transition, & Resources
Important! Please do not create a duplicate login if you already have one. If you have forgotten your password click the "Request new password" tab above to reset your password.
HGS-PESGB Africa Conference
"The Future of G&G in Africa's E&P: Skills, Transition, and Resources"
26-28 September 2022
Houston, TX & Online
Submit abstracts to: africa2022@hgs.org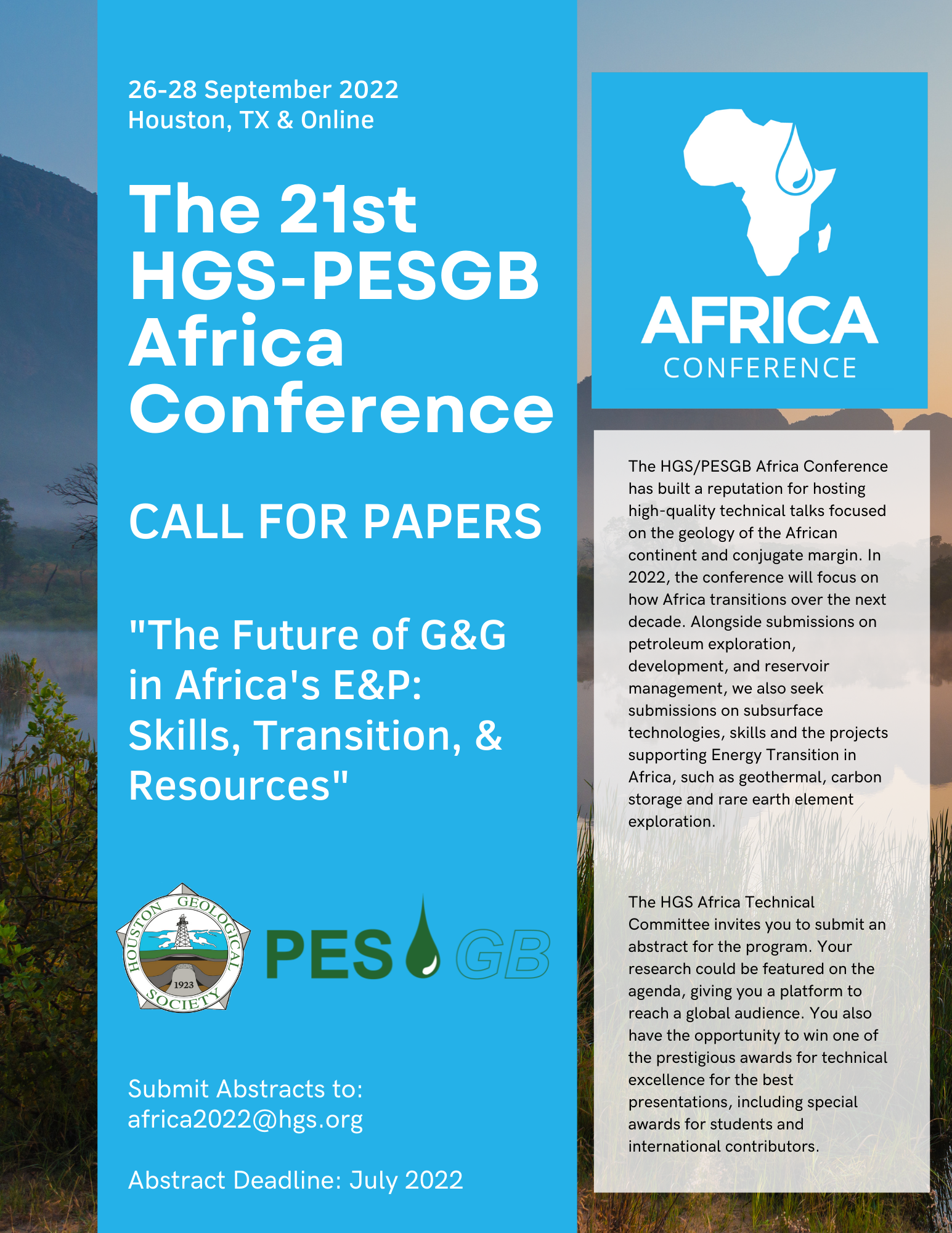 Join us for the 21st annual HGS-PESGB Africa Conference! This year the conference will be held in Houston, TX with an in-person networking reception and dinner on September 26th, and online with virtual presentations September 27th and 28th.
The HGS/PESGB Africa Conference has built a reputation for hosting high-quality technical talks focused on the geology of the African continent and conjugate margin. In 2022, the conference will focus on how Africa transitions over the next decade. Alongside submissions on petroleum exploration, development, and reservoir management, we also seek submissions on subsurface technologies, skills and the projects supporting Energy Transition in Africa, such as geothermal, carbon storage and rare earth element exploration.​
The HGS Africa Technical Committee invites you to submit an abstract for the program. Your research could be featured on the agenda, giving you a platform to reach a global audience. You also have the opportunity to win one of the prestigious awards for technical excellence for the best presentations, including special awards for students and international contributors.
Submit abstracts to africa2022@hgs.org
Abstract deadline: July 2022
When
September 26th, 2022 8:00 AM through September 28th, 2022 4:00 PM
Event Attachments
| | |
| --- | --- |
| Sponsorship Opportunities | |
Event Contact
| | |
| --- | --- |
| Contact Phone | 713-463-9476 |
| | |
| --- | --- |
| contact Email | office@hgs.org |
Event Filter Informations