HGS Virtual International Dinner - AAPG's Giant Fields Database
Important! Please do not create a duplicate login if you already have one. If you have forgotten your password click the "Request new password" tab above to reset your password.
HGS International Dinner - Monday, October 18, 2021
Virtual Event via Zoom
6:00pm - 7:00pm

Member- $15 Non-Member- $30 Students - $10

A confirmation email will be sent upon registration with meeting links.
**Non-Members can submit an application and pay their dues before registering to get the member price. Please call the HGS office at 713-463-9476 to be registered only AFTER your application and dues are submitted.**
Speaker: John Dolson
Company: DSP Geosciences and Associates, LLC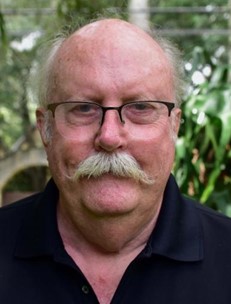 John C. Dolson is the Director of DSP Geosciences and Associates in Miami, Florida. He received a B.A. in Natural Sciences from Colorado College in 1971 and an M.Sc. in Earth Sciences from Colorado State University in 1981. John has over 40 years of global experience in both conventional and unconventional plays. This includes exploring and living in Egypt for 8 ½ years with Amoco/BP, 1 ½ years in London with a BP basin review team and a Senior Advisor in Moscow, for 4 years with TNK-BP.
After 28 years with Amoco and BP, he formed DSP Geosciences and Associates in 2008 and has worked globally with over 30 companies, primarily in basin and play analysis and high-resolution sequence stratigraphy (with his late partner, George Pemberton). He joined Delonex Energy in 2013 as Senior Geological Advisor, focusing on onshore exploration in Africa. His 'side effort' is serving as an Adjunct Professor at the University of Miami, teaching petroleum geology.
John has published extensively, with over 90 presentations and papers, and 3 books on a wide variety of topics. In 2016 he decided to bring his life-long learnings into a book, Understanding Oil and Gas Shows and Seals in the Search for Hydrocarbons (Springer-Verlag). He has two public service awards and an AAPG Distinguished Service award and a past Vice President (2006-2007)
He became interested in giant fields in the late 1980's, adopting the belief that you 'can't have too many analogs in your kit'. For the last 5 years he has been updating AAPG's Giant Fields GIS database, adding over 1000 references, hundreds of new fields and many revisions to some of the prior field data. The learning continues 40 years later and continues to provide creative insight into evolving exploration techniques.
Through all this work, he credits his wife and travel companion for her patience, support, ability to keep things in perspective, while basking in the tropical paradise of home in Coconut Grove, Florida.
Two Decades (2000-2020) and Five Paradigm Shifts Gleaned from AAPG's Giant Fields Database
There have been 248 giant fields (> 500 MMBOE) found since 2000. Information gleaned from studying these giant fields data has shown that the industry has undergone at least five major paradigm shifts in the last 20 years.
First, unconventional and tight gas exploration has transformed the industry. It is expanding to South America, Oman, Bahrain, China and other countries.
Secondly, creaming curves show step changes in success in finding giant combination and stratigraphic traps. These traps now comprise 60% of the volumes, up from 10-15% historically, and attributed to improved seismic imaging. The most important trends are salt-sealed carbonate reef complexes in the Caspian Basin, Egypt, Brazil and Turkmenistan. Of equal importance are passive margin turbidites, often de-risked with AVO and 3D seismic reservoir imaging.
Third, ultra-deep drilling to 5-9 kilometers below mudline is finding oil, rich liquids and porosity. Some of this can be explained by lowered geothermal gradients beneath thick salt, but other oils occur at temperatures of 160-180 C with very high pressures. We discuss new concepts to explain these deep liquids from the standpoint of PVT data and fractionization during migration.
Fourth, giant fields have been found overlying oceanic crust, breaking a long-held paradigm that these kinds of plays don't work. Lastly, deep, over-pressured upward hydrodynamic flow and tilted hydrocarbon contacts has been documented in many basins. This may ultimately turn out to be more of a 'norm' than an exception.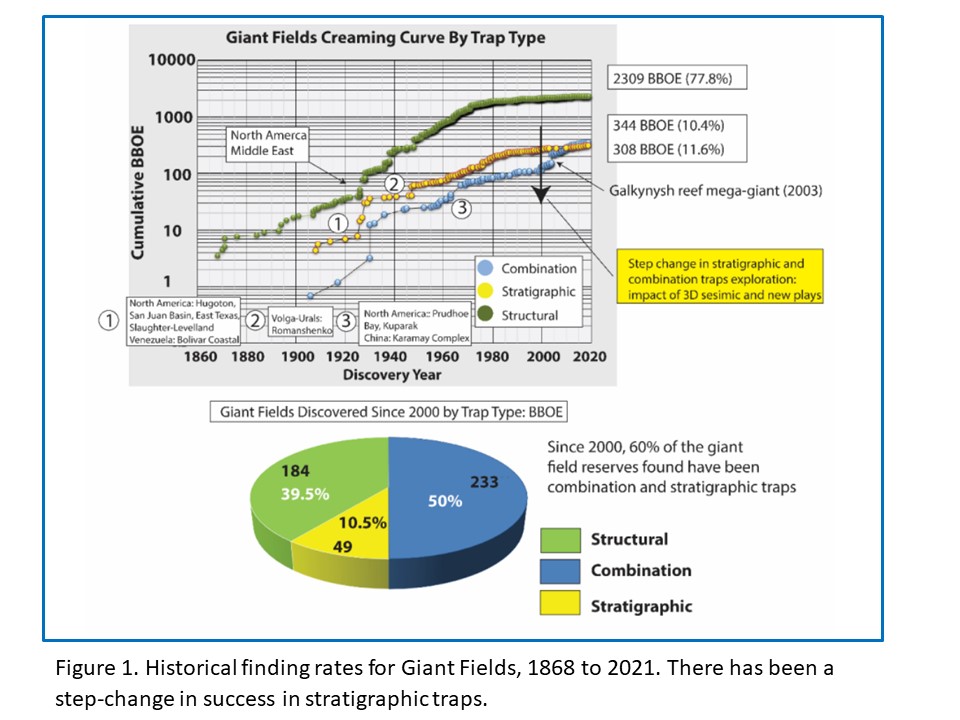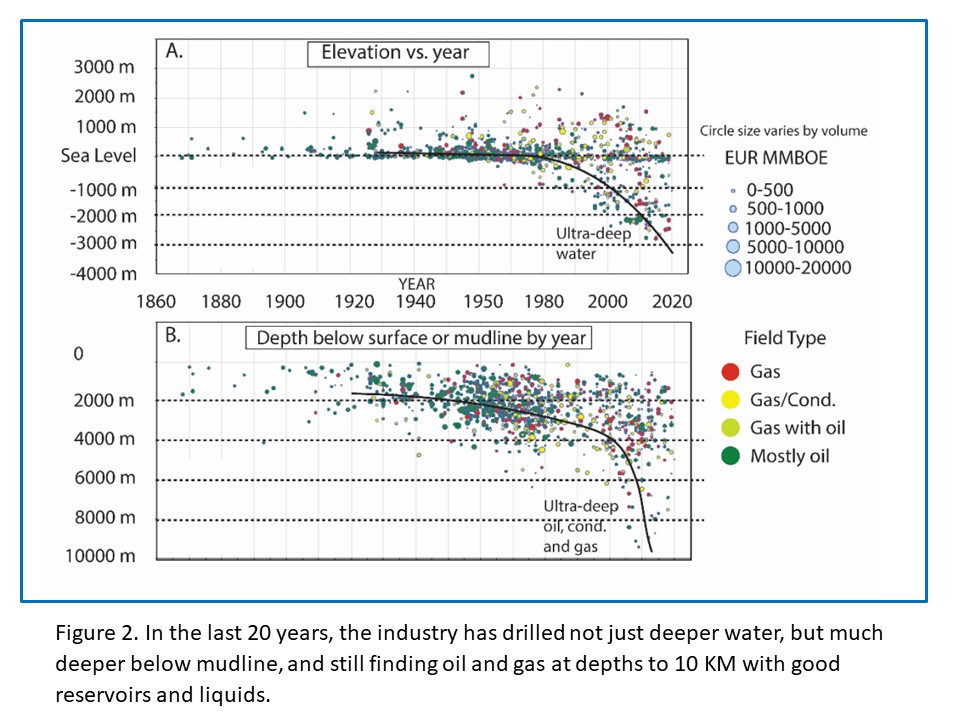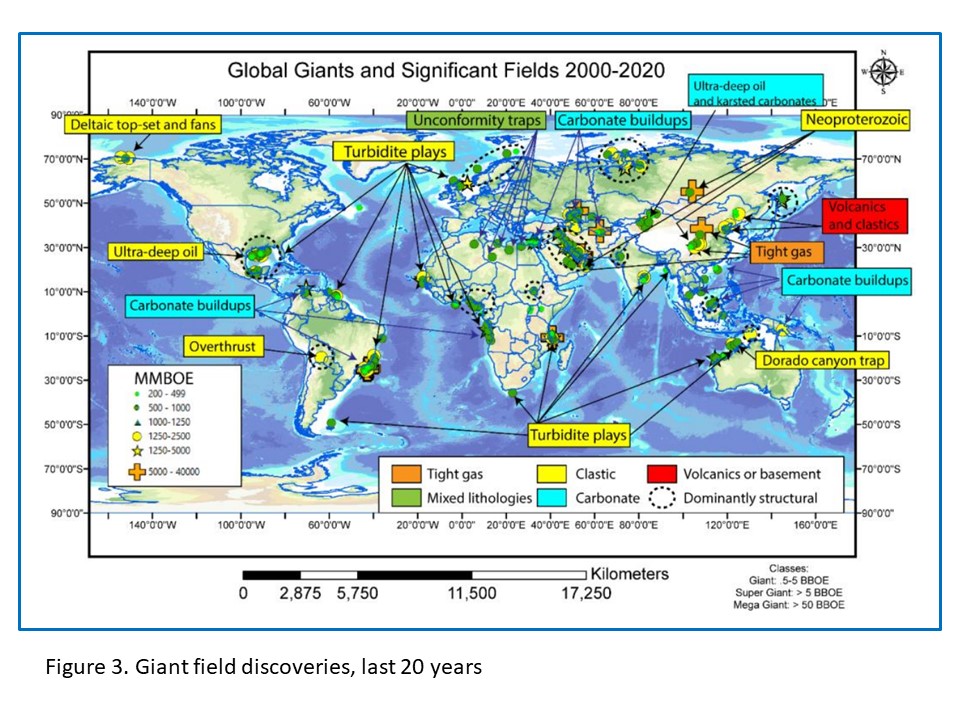 When
October 18th, 2021 6:00 PM through 7:00 PM
Event Fee(s)
| | |
| --- | --- |
| Virtual Event Fee | |
| HGS Member | $ 15.00 |
| Non-Member | $ 30.00 |
| Student | $ 10.00 |
Event Attachments
| | |
| --- | --- |
| Sponsorship Opportunities | |
Event Contact
| | |
| --- | --- |
| contact Email | slgetz@outlook.com |
Event Filter Informations