HGS Short Course: Advanced Surface Logging
A 4-hour Virtual Technical Workshop and Tour by Managers, Product Champions, and Domain Experts of GEOLOG.
HGS Short Course: Advanced Surface Logging - Wednesday, November 18, 2020
Virtual Event via Zoom
8:00am - 1:00pm CST

Attendees will receive a Certificate of Continuing Education for 4hrs PDH

HGS Member: $30 Non-Member: $60 HGS Student Member : $25

Registration will close Tuesday, November 17 at 4:00pm. Meeting links will be sent at this time to the "Primary" email listed on your HGS account.
**Non-Members can submit an application and pay their dues before registering to get the member price. Please call the HGS office at 713-463-9476 to be registered only AFTER your application and dues are submitted.**

Geolog International (GEOLOG) is a world leader in oilfield services delivering solutions and expertise to national, international and independent oil, gas and geothermal operators globally. Since its founding in Milan, Italy in 1982, GEOLOG has developed effective and cost-effective alternative solutions to complex and expensive downhole measurement tools. Through the optimization of formation, fluid and reservoir analysis, well construction is improved, well delivery optimized and production delivery accelerated. By utilizing these in or near real-time rigsite applications, operators are able to mitigate risk and reduce cost. As part of its strategy to become the global supplier of choice, GEOLOG has gained experience in over 70 countries worldwide, performing services and assisting operators onshore and offshore, during exploration, development and appraisal programs in shallow to ultra-deep water, HP/HT, unconventional oil and gas and geothermal wells.
Course Description
Wellsite surface logging while drilling has always provided early and significant insights into drilling issues, reservoir geology, rock properties and hydrocarbon type and saturations.
This workshop will bring the attendees up to date with the latest academic and case-studies from the field of the advanced surface logging technologies. The course will cover:
Basics of surface logging for formation evaluation while drilling

Reservoir characterization from Advanced Mud Gas Logging

Tools and Techniques for Wellbore Stability and Cleaning

Drilling Optimization

Real-time Isotopic Analysis δ13C of C1 , C2 and C3

Source Rock Characterization

Inorganic geochemistry of rocks

Headspace and Interstitial gas measurements and analysis

Bit-Wear Analysis § Fracture Analysis from Advanced flow measurements
Course Agenda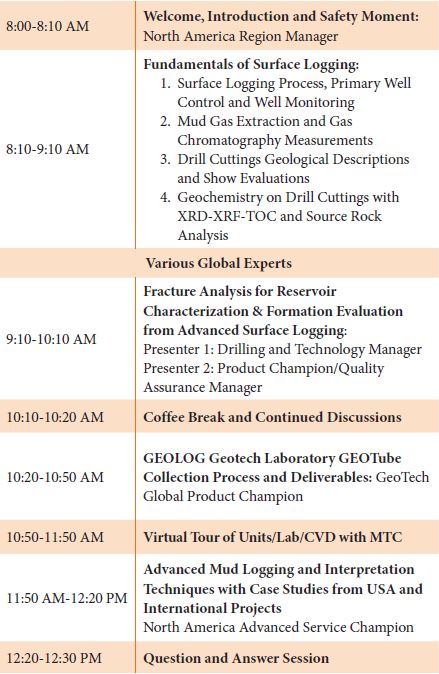 Presenters
Ettore Carcione | Gas Product Champion & Quality Assurance Manager
Ettore Carcione joined the oil & gas industry in 1989 as well site logging geologist for Geoservices (France), after completing his Masters in geology at the University of Catania (Italy). He has worked as a well site-logging engineer in several countries in Europe, Asia, Africa and Latin America particularly focused on the development of gas equipment and interpretation methods. He was an instructor for well site advanced gas logging specialist within the Technical Department in France. In 1998 he joined OMV as consulting well site geologist and successively (2007) joined the Global Operations Geology Group as staff geologist with the main duty of coordinating the Global WSG activity of the company; As part of the Well Engineering Department he has been responsible of the Geological Work Program optimization and actively monitoring mud logging activity through a RTOC (Real Time Operation Monitoring). Ettore Joined GEOLOG in 2015 as gas specialist and special project coordinator in the R&D Department. Currently, he is gas product champion and quality assurance manager within the Surface Formation Evaluation and Reservoir Optimization Team.
Isaac Easow | North America Domain Champion for Formation Evaluation
Isaac Easow joined the oil & gas industry in 1991 as a well-site logging geologist after completing his Masters in Geology from University of Mumbai, India. He worked as a field engineer in various oilfield drilling locations in India, SE Asia, Middle East and Africa as a well-site logging geologist, gas while drilling specialist and formation pressure evaluation engineer. Since 2006 he joined the formation evaluation team to support real-time drilling monitoring and operations in North America, Latin America and West Africa. Since 2011 he has focused on interpretation and operations support for conventionals and unconventionals in North America as a domain champion for formation evaluation providing technical support and real-time reservoir characterization services, based in Houston, Texas. Currently, Isaac is active in promoting and executing reservoir characterization services utilizing advanced surface logging, organic and inorganic geochemical techniques for projects in U.S. onshore and offshore.
Andres Matheson | North America Region Manager
Andres Matheson has 23 years experience in the oil & gas industry; after completing his degree in mining engineering at the Technical University of Nova Scotia, he worked as wireline field engineer in Canada and the USA for BPB/Reeves Wireline. He later moved on to becoming a district area wireline manager before moving into a role for wireline technical sales in 2001. The company later was acquired by Precision Drilling and then Weatherford where he continued his role in technical sales. After the acquisition of Datalog Surface Logging, Andres became the Canadian Region Unit manager for Weatherford SLS looking after both Western Canada and Newfoundland operations. In 2011 he became the North America Region Unit manager for surface logging before moving back to Canada and taking over a new role as the Canadian sales and marketing manager. In 2014 he joined GEOLOG and moved to Milan, Italy to take on the role of global sales and marketing manager. As the expansion of the North America market started to grow Andres brought his previous North America experience with him to return to the USA and take over the role of North America Region manager since 2016.
Alberto Martocchia | Product Champion, Drilling Support Services
Alberto Martocchia has 17 years experience in the oil & gas industry; after completing his Master Degree in Geology at the University of Milano Bicocca in Italy, he worked as mud logger and data engineer in Italy and Libya. In 2007 he moved to Tripoli Base (Libya) where he has been assigned initially as base technician, moving to the Operation Department and a country manager. In 2011, he joined the Drilling Team in GEOLOG headquarters in Milan, Italy as the product champion supporting the global deployment and delivery of drilling support services. He has extensive experience with flow meter installations including working in shipyards in South Korea and Singapore and designing surface lines during the construction of drilling ships and jack-up.
Placido Franco, PhD | R&D team of Geolog-Geotech
Placido Franco graduated in organic chemistry at the University of Bologna and got a PhD in analytical chemistry at the same University. During the PhD he specialized in the use of chromatography and mass spectrometry techniques for the analysis and characterization of complex mixtures. He joined the R&D team of GEOLOG-GeoTech (Milan) on May 2018 with the role of R&D scientist. He is involved in the development and optimization of new analytical instruments for field deployment, as well as the development and application of laboratory methods aimed to improved reservoir characterization by means of geochemical tools. His activity focuses also on interpretation and operational support, both in conventional and unconventional. He is co-author of
10 published articles in peer-reviewed journals, as well as contributor to a number of national and international congresses. He was also member of the directorial board of the Young Group of the Italian Chemical Society as representative of the Analytical Chemistry Division.
Filippo Casali | Domain Expert for Inorganic Geochemistry
Filippo Casali has been with GEOLOG Srl for 5 years, where he started as field engineer and wellsite geochemistry specialist. Then joined the R&D department, following the advanced surface logging data acquisition and interpretation. Today he is the domain expert for inorganic geochemistry. He obtained his BSc and MSc in applied geological sciences at the University of Pavia, Italy.
When
November 18th, 2020 8:00 AM through 1:00 PM
Event Fee(s)
| | |
| --- | --- |
| Cont. Ed. Virtual Short Course Nov. 18 2020 | |
| HGS Member | $ 30.00 |
| Non-Member | $ 60.00 |
| HGS Student Member | $ 25.00 |
Event Attachments
| | |
| --- | --- |
| Sponsorship Opportunities | |
Event Contact
| | |
| --- | --- |
| contact Email | cheryldesforges@hotmail.com |
Event Filter Informations