Field Trip Friday: Death Valley California - Gold Mines & Ghost Towns
This will be a Zoom event, please check your email before the event for meeting details. Registration will close at 4pm on Aug. 6th.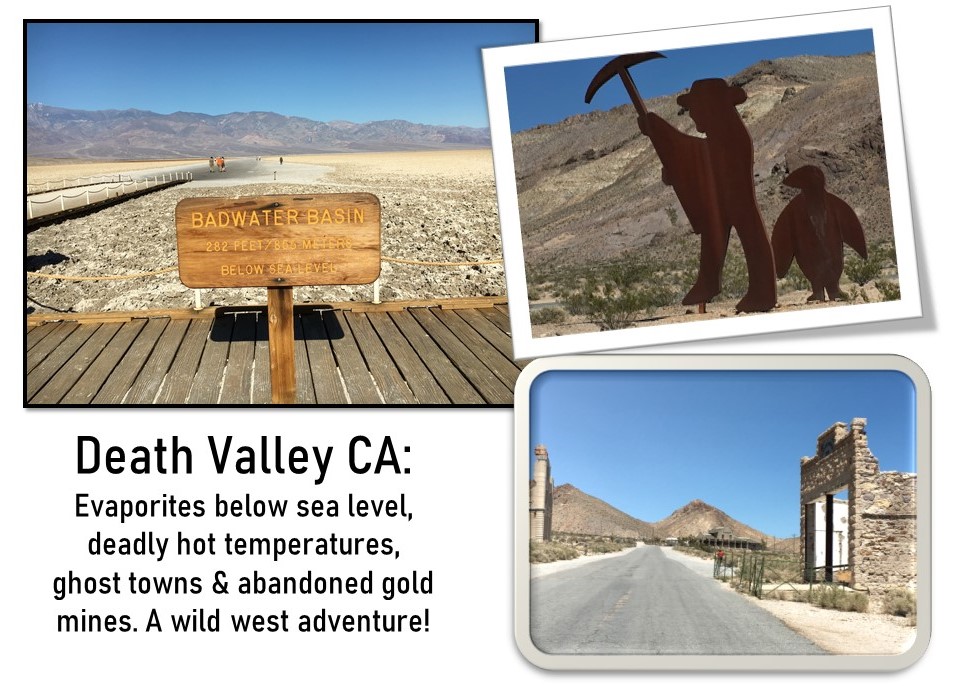 Join us for a virtual video tour of Death Valley National Park, located on the border of Nevada and California. Jim Rutkofske of the University of Texas at El Paso will join us and talk about the geology and tectonics. We will see the Badwater Basin (282 ft below sea level) and touch newly formed gypsum crystals and walk out onto a surface that can experience deadly high temperatures in the summer. The videos will explore the towns of Furnace Creek, the ghost town of Rhyolite, and visit an abandoned gold mine that made its owners rich.
The complex structural geology of Death Valley reveals PreCambrian, Paleozoic, and Tertiary rocks, cross cut by intrusive coarse grained basalts. The igneous rock known as diabase, or dolorite, is associated with gold-rich veins. We will also hike some large sand dunes with modern day ripples.
COST:
HGS Members: $5.00
Non-Members / Lapsed Members: $35.00
Lapsed members can pay their dues before registering for this event to get the member price.
Registration will close August 6th @ 4pm!
*Please provide an email address when registering, or make sure the email on your account is up to date. If you do not provide an email address or a correct email address, you will not be able to receive the Zoom link needed to join this event. Please make sure you also check your spam folder for an email with the Zoom link. *
When
August 7th, 2020 11:00 AM through 11:45 AM
Event Fee(s)
| | |
| --- | --- |
| Event Fee(s) | |
| HGS Members | $ 5.00 |
| Non-Members | $ 35.00 |
Event Attachments
| | |
| --- | --- |
| Sponsorship Opportunities | |
Event Contact
| | |
| --- | --- |
| contact Email | linda.sternbach@gmail.com |
Event Filter Informations