2019 AGC- 1st Subsurface Intelligence and Analytics Conference


Workshop Overview:
The 1st HGS Applied Geoscience Conference / Workshop on Subsurface Intelligence / Digital Oil and Gas will be held in The Woodlands, TX in March 2019.
Oil and gas digital transformation - hype or hope? When you ask an industry professional to define digital transformation, you find that the words mean something different to everyone. However, one idea permeates, this could be a potential paradigm shift in the industry. How do we get from bytes to barrels, particularly in the Applied Geosciences field?
A report from the World Economic Forum in 2017 states that Digital Transformation in the Oil and Gas industry could generate between $1.6 to $2.5 trillion for the industry, customers, and greater society over the next decade. The Economist (May 6, 2017) recently stated that "the world's most valuable resource is no longer oil, but data." What direction is the industry heading? What initiatives are currently ongoing?
The 2-day workshop will cover the questions above and key issues related to the Applied Geosciences field: big data and advanced analytics, reliability and productivity, data storage, the changing workforce and digital transformation of the Geoscience disciplines. The workshop is open to a variety of topics and ideas, both from the industry and academia.
Workshop Objectives:
The main objective of this workshop is to achieve a better understanding of current digital workflows in the Geoscience disciplines as well as the latest advancements in utilizing new Digital technologies. We hope to create a collaborative environment between Geoscience and Industry professionals to present and discuss the Digital Transformation and fresh ideas that may apply to your workflows.
Who Should Attend?
The list of workshop topics will focus on Applied Geosciences and new digital technology but will include discussions across the E&P lifecycle. Consultants, Academics, Technology, and Industry professionals will all be suited for this event.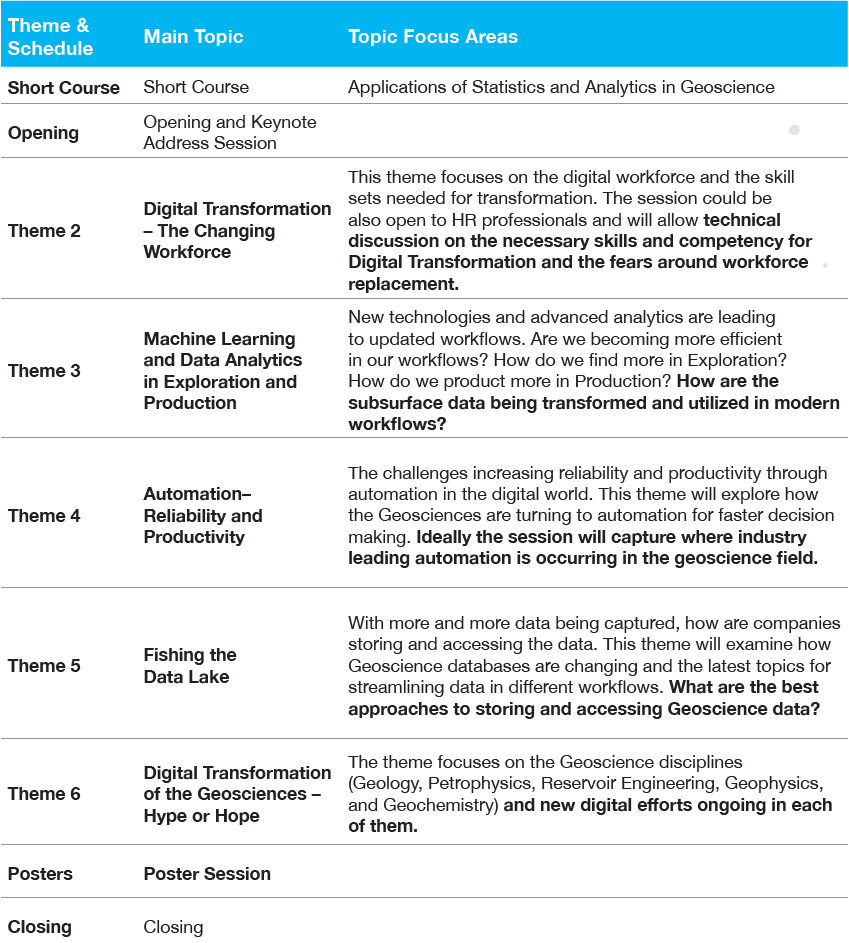 Submission Guidelines:
We welcome submissions of all types, such as papers, case studies or reviews of new industry digital trends. We invite speakers to submit an abstract of maximum one (1) page (not exceeding 300 words). The information contained in your abstract is the basis for the acceptance of your paper into the program. The technical committee will look for content containing strong technical and innovative content.
We ask you to refrain from commercialism and focus on the promotion of subsurface intelligence and digital transformation as it applies to Geoscience. Submissions will be accepted online by emailing us at AGC2019@hgs.org Abstracts submission deadline is Friday 14th September 2018.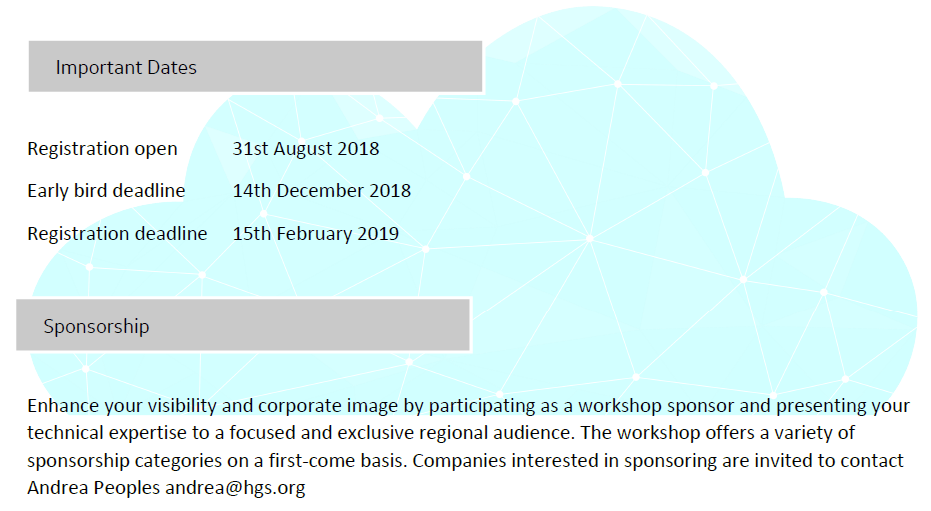 Click HERE to download the submission guidelines
March 4th, 2019 7:30 AM through March 6th, 2019 4:00 PM
Event Attachments
| | |
| --- | --- |
| Sponsorship Opportunities | |
Event Filter Informations
---