HGS E & E - The Moon: Stepping-Stone to the Planets
Wednesday, May 10, 2017
Black Lab Pub, Churchill Room • 4100 Montrose Blvd.
Social 5:30 p.m., Dinner 6:30 p.m.
Cost: $30 Pre-registered members; $35 non-members & ALL walk-ups (Credit Cards Now Accepted)
$15 Emeritus/Life/Honorary; HGS Students Members: FREE
To guarantee a seat, you must pre-register on the HGS website and pay with a credit card.  You may walk up and pay at the door if extra seats are available.  Please cancel by phone or email within 24 hours before the event for a refund. Monday scheduled HGS meetings need to be cancelled the Friday before by 2pm.  Online & pre-registration closes Wednesday, May 10, 2017, at 5:00 a.m.
There will be a 15 Minutes Ethics Talk before the meeting.
Speaker:  William A. Ambrose
Bureau of Economic Geology, Jackson School of Geosciences, The University of Texas at Austin, Austin, TX
The Moon: Stepping-Stone to the Planets
Although a human mission to Mars is currently the focus of much current discussion, a host of technical challenges for safe and successful future human settlement of Mars have yet to be addressed. These challenges include (1) risks of ionizing radiation during long-term transit in interplanetary space, (2) aerobraking in the Martian atmosphere with potential Mars lander instabilities, (3) surface-radiation and weather hazards, and (4) resource extraction. These challenges can be quickly and more cost-effectively addressed with lunar missions that involve similar tasks to those on Mars—construction of living facilities, in situ resource utilization (ISRU), and protection from radiation both during transit and residence. Technology for shallow-subsurface habitations to reduce radiation and temperature flux has already been developed for the Moon. These habitations include inflatable dome structures and sinterhabs composed of lunar regolith fabricated on the lunar surface. Other shallow-subsurface habitations can be located in collapsed lava tubes, both of which occur on the Moon and Mars. Stress testing of these habitats on the Moon can result in more resilient structures for Mars. Lessons learned from resource extraction on the Moon can also be applied to Mars. Ice exists on both the Moon and Mars and can serve as raw material for both breathing atmosphere and for rocket fuel. Lunar metals such as titanium, magnesium, and iron occur in basaltic mare, and along with helium-3 and hydrogen (potential sources of rocket fuel), as well as thorium (potential power source) can be mined and extracted with currently available technology. Lunar orbital depots for fuel and life-support materials have benefits for mission economics and can also serve as temporary accumulation areas for materials transport to Earth's surface. Future advances in technology and planetary engineering on the Moon, a perfect proving ground, will offer humans a steppingstone to Mars, ultimately leading to a sustained human presence in space.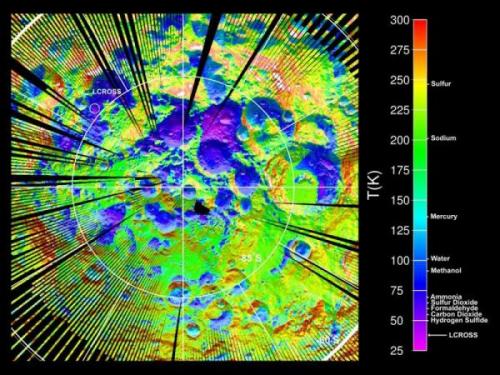 Temperature map of the lunar south polar area in degrees Kelvin (T/K), including Lunar Crater Observation and Sensing Satellite (LCROSS) impact site, indicated by a small white circle in the upper left part of the figure. Also shown are condensation temperatures for various volatile elements and compounds. Image courtesy of National Aeronautics and Space Administration.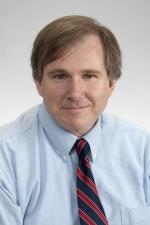 William A. Ambrose is a Research Scientist at the Bureau of Economic Geology, the University of Texas at Austin, where he holds a Master of Arts degree in geological sciences. He is currently the principal investigator of the Bureau's STARR (State of Texas Advanced Oil and Gas Resource Recovery) program, past president of the Energy Minerals Division (EMD) of AAPG, chair of the EMD Coal Committee, and vice chair of the AAPG Astrogeology Committee. Mr. Ambrose's research interests in lunar geology include crater morphology and mapping secondary craters associated with large impact basins. Ambrose has given numerous presentations on planetary science at meetings of the LPSC (Lunar and Planetary Science Conference), GSA (Geological Society of America), and AAPG. He is Co-editor of GSA Special Paper 477, "Recent Advances and Current Research Issues in Lunar Stratigraphy" and AAPG Memoir 101 "Energy Resources for Human Settlement in the Solar System and Earth's Future in Space". His contact information is email: william.ambrose@beg.utexas.edu , telephone: 512-471-0258, address: Bureau of Economic Geology, The University of Texas at Austin, University Station, Box X, Austin, TX, 78713-8924.
May 10th, 2017 5:30 PM through 7:00 PM
| | |
| --- | --- |
| HGS Member | $ 30.00 |
| Non-Member | $ 35.00 |
| Emeritus/Life/Honorary | $ 15.00 |
| Student | $ 0.00 |
Event Attachments
| | |
| --- | --- |
| Sponsorship Opportunities | |
Event Contact
| | |
| --- | --- |
| Contact Phone | (713) 777-0534 |
| | |
| --- | --- |
| contact Email | mrcowan1@hal-pc.org |
Event Filter Informations
| | |
| --- | --- |
| Event Owner | Environmental & Engineering |
---