HGS E & E - Upper Cambrian Microbial Reefs, Mason, Texas: The making of Virtual Outcrops using Drone Imagery
Wednesday, March 8, 2017
Black Lab Pub, Churchill Room • 4100 Montrose Blvd.
Social 5:30 p.m., Dinner 6:30 p.m.
Cost: $30 Pre-registered members; $35 non-members & ALL walk-ups (Credit Cards Now Accepted)
$15 Emeritus/Life/Honorary; HGS Students Members: FREE
To guarantee a seat, you must pre-register on the HGS website and pay with a credit card.  You may walk up and pay at the door if extra seats are available.  Please cancel by phone or email within 24 hours before the event for a refund. Monday scheduled HGS meetings need to be cancelled the Friday before by 2pm.  Online & pre-registration closes Wednesday, March 8, 2017, at 5:00 a.m.
Speaker:  Pankaj Khanna (Andre Droxler, Paul M. (Mitch) Harris, Daniel Lehrmann)
Department of Earth Science, Rice University, Houston, TX, United States.
Department of Geosciences, Trinity University, San Antonio, TX, United States.
Upper Cambrian Microbial Reefs, Mason, Texas: The making of Virtual Outcrops using Drone Imagery
The discovery of hydrocarbon reservoirs in pre-salt microbial accumulations offshore Brazil and Angola, in addition to a significant microbial component in some of the world's largest carbonate reservoirs in the Pri-Caspian Basin, has renewed interest in microbial deposits. Spectacular outcrops of Upper Cambrian microbial reefs in Mason County, Texas, offer unique opportunities to assess varying scales of their spatial variation and potentially serve as subsurface analogs to improve reservoir correlation and modeling. These outcrops are available on the Shepard and Zesch private Ranches, along the Llano and James rivers and Mill creek. These ranches became recently accessible to carry out geological field work.
An aerial survey was conducted in February 2013 to collect aerial photographs over ten outcrops (three pavements and seven cliffs). Camerawings, an Aerial Photography Company, was hired to conduct the survey with a drone carrying a Sony NEX-7, 24.3 MP camera, a gimble (tool which keeps camera horizontal during flight), and a GPS to locate the position at which the photographs were taken. These
aerial photographs were used to build 3D Digital Terrain Models (DTM) using Agisoft software 1.0 version. The workflow followed six steps: first importing photographs in Agisoft 1.0, second aligning them according to the location at which the photographs were taken, third building 3D sparse point cloud. Fourth step is to improve the accuracy of the location of 3D point cloud model where ground control points (GCP's) are used (Before the drone survey, markers were placed in the field and location data was collected using DGPS (Differential GPS) and Trimble Total Station unit). Fifth step is to build dense point cloud model and the last step is to build mesh.
Through these 3D models and field studies, three growth phases are observed in the microbial buildups (10-15 m high and tens of meters in width), evolving from an initial 'colonization' phase, then into a 'vertical aggradation and lateral expansion' phase, and ultimately into a 'capping' phase. 3D analyses of the buildups colonization phase on a plan view outcrop in the floor of the James River (600m x 200m pavement exposure) offers unique opportunities in scaling the growth at three quantifiable scales: large (few tens of meters), medium (few meters), and small (few decimeters). Different scales were mapped, and their length, width, orientation, and spacing were catalogued. In general the shape of buildups at all scales is elliptical to circular with large scale ranging in length from 15 to 40 m, medium scale ranging from 1.5 m to 15 m, and smallest scale ranging from 10 cm to 80 cm.
The Rice/Trinity Industry Microbial Research Consortium is funded by Chevron, ConocoPhillips, Shell, and Statoil.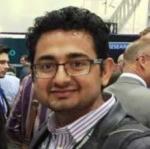 Pankaj's journey in Geology started from Himalayan foothills in India and brought him to the US in August 2012. As a child he was always interested to learn more about rocks which is why he enrolled at University of Delhi (India) first in Bachelors in Geology (honors) and then in a Master program in Geology. During his education in India he also participated in summer research programs at some major research institutes which include, India Meteorological Department (Delhi), Wadia Institute of Himalayan Geology (Dehradun, Uttarakhand) and Indian Institute of Science and Education (Kolkata). He was also awarded the Summer Research Fellowship by Indian Academy of Sciences. After his arrival at Rice, within a month he started his research by participating at a scientific cruise in September 2012 onboard R/V Falkor funded by Schmidt Ocean Institute during which very high resolution multibeam data over 11 carbonate drowned banks on the south Texas shelf was collected. He is currently working with the data to understand the origin, evolution and demise of these banks. He is also working on a parallel project to understand the evolution of the Male, Island, Maldives through high resolution multibeam data. Furthermore, in his third project he is utilizing drone imagery to build 3D outcrop models to quantitatively and qualitatively analyze some Upper Cambrian microbial reefs from Mason, Texas. He has also worked with Chevron, Statoil, and TGS as a summer over the past summers. Over the past few years Pankaj has also been the TA for sequence stratigraphy and carbonate courses at Rice.
During his stay at Rice he has been awarded with the BP Rice Fellowship 2013 and Departmental service award in 2016. He also won the first prize and second prize in the poster competition at IRESS 2016 and 2014. Additionally he was also invited to give a talk at IRESS 2015. At AAPG Student Expo Houston 2016, he won the first prize in the poster competition. He also won, 2nd prize at SEPM Carbonate meeting Photo contest in 2015. Pankaj was also nominated to be a part of the headquarters committee of SEPM and he currently holds the position for the 2016-17 session. He has always been involved with various students groups at Rice which include an AAPG Student Chapter President position currently, President position of ISAR (Indian Students at Rice), Vice President position in the AAPG Student Chapter, Boxing Club and Rice Cricket Club.
March 8th, 2017 5:30 PM through 7:00 PM
| | |
| --- | --- |
| HGS Member | $ 30.00 |
| Non-Member | $ 35.00 |
| Emeritus/Life/Honorary | $ 15.00 |
| Student | $ 0.00 |
Event Attachments
| | |
| --- | --- |
| Sponsorship Opportunities | |
Event Contact
| | |
| --- | --- |
| Contact Phone | (713) 777-0534 |
| | |
| --- | --- |
| contact Email | mrcowan1@hal-pc.org |
Event Filter Informations
| | |
| --- | --- |
| Event Owner | Environmental & Engineering |
---