HGS International Dinner - Tectonostratigraphic Evolution of the Barbados Accretionary Prism and its Controls on Hydrocarbon Prospectivity in Offshore Barbados
Monday, February 20, 2017
Westchase Hilton • 9999 Westheimer
Social Hour 5:30–6:30 p.m.
Dinner 6:30–7:30 p.m., Presentation 7:30-8:45 p.m.
Cost: $45 pre-registered members; $50 for non-members/ ALL walk-ups (Credit Cards Now Accepted);
$40 for Emeritus/Life/Honorary; $10 for HGS student members if pre-registered and pre-paid.
To guarantee a seat, you must pre-register on the HGS website and pay with a credit card.  You may walk up and pay at the door if extra seats are available.  Please cancel by phone or email within 24 hours before the event for a refund.  Online & pre-registration closes Monday, February 20, 2017, at 5:00 a.m.
Speaker:  Shenelle Gomez
Department of Earth and Atmospheric Sciences, University of Houston
Tectonostratigraphic Evolution of the Barbados Accretionary Prism and its Controls on Hydrocarbon Prospectivity in Offshore Barbados 
The Barbados accretionary prism (BAP) at the leading edge of the eastward-moving Caribbean plate covers an area of ~10,000 km2 and is the world's largest accretionary prism. The overall shape of the BAP is convex upward with bivergent zones of thrusting on its eastern edge, where oceanic crust of the Atlantic Ocean is subducting to the west beneath the Lesser Antilles volcanic arc, and on its western edge, where the oldest part of the prism is being back thrust to the west over the Tobago forearc basin (TFB).  I use an extensive grid of 2D seismic reflection data to define five structural provinces within the Barbados accretionary prism: 1) zone of initial accretion characterized by an imbricate system of westward-dipping thrust faults of Paleogene-recent age that root into a basal decollement; 2) zone of stabilization characterized by near vertical thrust faults and shale diapirism; 3) zone of asymmetrical piggyback basins that included the Barbados basin, formed along eastward-dipping and active thrust faults of Paleocene-recent age; 4) Tobago Barbados Ridge (TBR), interpreted as an unsubductable allochthonous metamorphic terrane serving as a backstop to prism sediments south of the Demerara fracture zone (DFZ) at ~12.5N. The exact age of the origin for the BAP is not well known but is thought to be late Cretaceous.  All of the above structural zones show varying degrees of active deformation.
The deep-water Barbados basin, south of the island of Barbados, is an emerging exploration province, situated less than 130 km to the north of productive oil and gas giant fields offshore and onland in Trinidad and northeastern Venezuela.  The hydrocarbon potential of the Barbados basin is supported from the oil geochemistry of Barbados oil that seeps by the buried presence of a proven world-class Cretaceous source rock, the La Luna Formation. On Barbados, these source rocks charge deep-water, clastic, Eocene-Miocene reservoirs fed by channel systems, turbidites, and fans of the Orinoco Delta. The Sandy Lane well, drilled in 2001 in the southern Barbados basin to target the Neogene play, which was inferred to extend from Trinidad into the deeper water, recorded presence of excellent quality clastic successions of ~400-420 ft thick sand with porosities between 24-28%, and interbedded ~150 ft thick columns of shales interpreted as potential seals. Seismic interpretation indicates that there are three key seismic facies within the Barbados basin: 1) mass transport complexes, which may serve as effective seals; 2) turbidite-flow induced leveed channel complexes, and; 3) distributary channel complexes identified here as main reservoir targets. Multiple structural traps exist within the Barbados basin. The requirements for future exploration in this region might include: 1) presence and distribution of Cretaceous marine shales, charge access, and migration pathways; 2) preserved traps and multiple extensive seal layers for commercial accumulations; and 3) turbidite-flow induced channel complexes as main reservoir targets. 
Slide 1: Topo-bathymetry map of the leading eastern edge of the Caribbean showing the distribution of giant oil and gas fields and location of producing wells onland and offshore Trinidad and northeastern Venezuela, in relation to the relatively under-explored Barbados accretionary prism.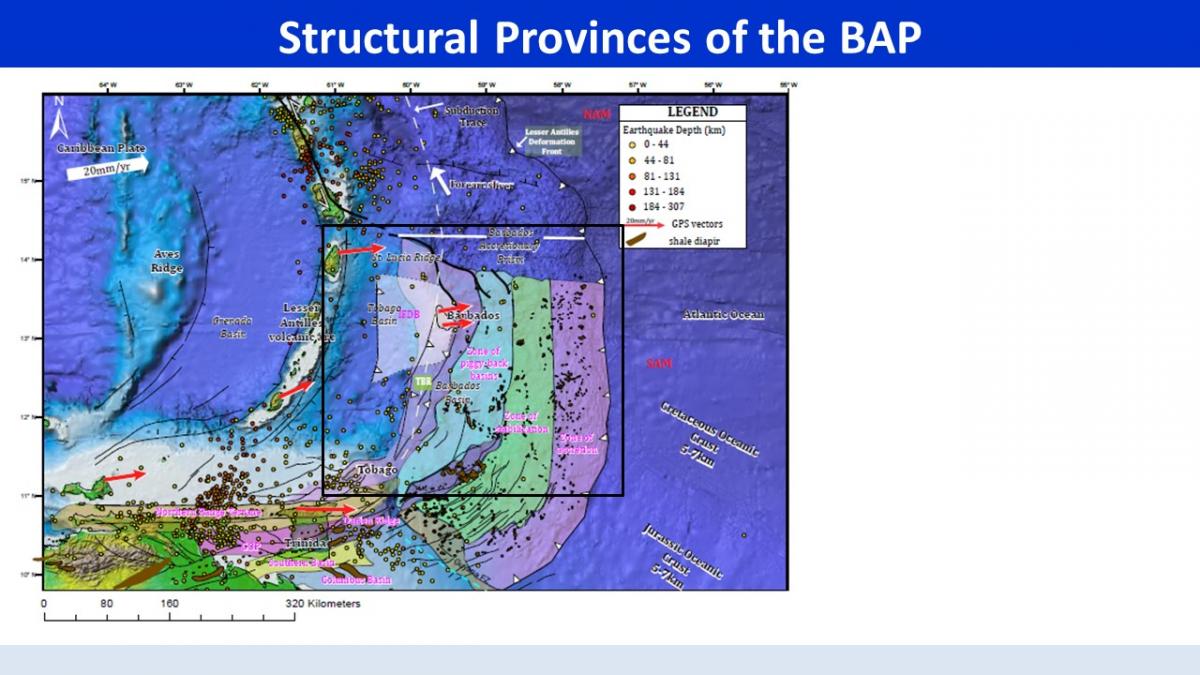 Slide 2: Map of the major tectonic provinces, structure, seismicity and regional trends within the study area.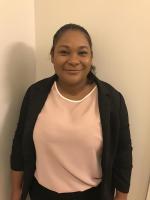 Shenelle Gomez
earned a BSc in Geology from the University of Houston and graduated Magna Cum Laude in 2014.  Shenelle Gomez is currently a Ph.D. candidate in geology at the Department of Earth and Atmospheric Sciences and a Graduate research assistant working with the Caribbean Basins, Tectonics and Hydrocarbon (CBTH) project at the University of Houston. Shenelle's dissertation topic is the tectonostratigraphic evolution of the Barbados accretionary prism and its controls on the hydrocarbon potential in the deepwater frontier basins of Tobago and Barbados. Shenelle was captain of the 2016 University of Houston's AAPG Imperial Barrel Award (IBA) team that finished second in a field of 12 universities in the AAPG Gulf Coast regional competition. She placed second in the 2016 AAPG student poster session held in Canada in summer of 2016, where she presented a play-based assessment of the Barbados Basin. 
Vendor Corner
---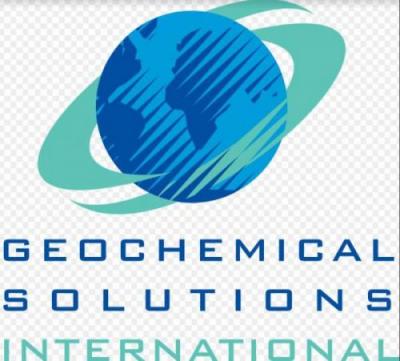 Geochemical Solutions is represented by Craig Schiefelbein who trained as a geochemist with Cities Service and Conoco and a series of geochemical service companies, gaining familiarity with more than 7500 oil samples from around the globe. Co-founder of Geochemical Solutions International (GSI) in 1998, he has developed a range of basin studies based on oils and related geochemical data points from the entire Brazilian margin. GSI provides interpretation QC; proprietary interpretation services; laboratory and acquisition oversight; and contributes to non-exclusive studies by related service companies.  http://www.geochemsol.com/ 

Dickson International Geosciences is represented by William Dickson who began his career working the frontier basins of Canada's margins. A continued thread of international new venture work on six continents connects his time with major and independent oilcos through the 1998 founding of his consultancy DIGs (Dickson International Geosciences). He has authored and contributed to numerous papers on aspects of South Atlantic and SE Asian geology. He continues to develop multi-disciplinary E&P evaluations with contributions from a range of associated companies specializing in geochemistry, structural geology, potential fields, remote sensing and seismic interpretation.  http://digsgeo.com/ 
Since 2001, DIGs and GSI have cooperated in the construction of multi-disciplinary super-regional basin studies of Southeast Asia (SEATIGER) and the Atlantic margins (MARIMBA, CARUMBA, CARIB).  Current work focusing on petroleum systems in the Greater Caribbean area will be on display.
 
When
February 20th, 2017 5:30 PM through 7:00 PM
Location
Westchase Hilton




9999 Westheimer Rd




Houston

,

TX

77042




United States
Event Fee(s)
| | |
| --- | --- |
| HGS Member | $ 45.00 |
| Non-Member | $ 50.00 |
| Emeritus/Life/Honorary | $ 40.00 |
| Student | $ 10.00 |
Event Attachments
| | |
| --- | --- |
| Sponsorship Opportunities | |
Event Contact
| | |
| --- | --- |
| Contact Phone | 713-304-8503 |
| | |
| --- | --- |
| contact Email | sgetz@sbcglobal.net |
Event Filter Informations
| | |
| --- | --- |
| Event Owner | International |