HGS International Dinner - Oligocene-Miocene Rifting and its Influence on Siliciclastic Reservoir Distribution and Exploration in the Gulf of Suez, Clues from Recent Sub-surface Analysis, Eastern Desert, Egypt
Important! Please do not create a duplicate login if you already have one. If you have forgotten your password click the "Request new password" tab above to reset your password.
Monday, February 15, 2016
Westchase Hilton • 9999 Westheimer
Social Hour 5:30–6:30 p.m.
Dinner 6:30–7:30 p.m.
Cost: $45 pre-registered members; $50 for non-members/walk-ups (Cash or Check Only);
$40 for Emeritus/Life/Honorary; $10 for students if pre-registered and pre-paid.
To guarantee a seat, you must pre-register on the HGS website and pay with a credit card.  You may walk up and pay at the door if extra seats are available.  Please cancel by phone or email within 24 hours before the event for a refund.  Online & pre-registration closes Monday, February 15, at 5:00 a.m.
If you are an active or associate member who is unemployed and would like to attend HGS meetings, please call the office for a discounted price. We are looking for one extra member to volunteer at the registration desk as well.
Speaker:  Sharma Dronamraju
AKD Professional Solutions
Oligocene-Miocene Rifting and its Influence on Siliciclastic Reservoir Distribution and Exploration in the Gulf of Suez, Clues from Recent Sub-surface Analysis, Eastern Desert, Egypt
Gulf of Suez is a prolific petroleum province and probably has the most unique geological setting to study sedimentary responses to tectonics. The short source-to-sink distance (less than 30km) and active rifting provides ample opportunity to study the rapid sedimentary response to the interaction between rifting, accommodation space and rate of sediment supply. The earliest evidence of rifting in the Gulf of Suez is documented to be the Oligocene-Miocene, which is responsible for the present-day shape of the Gulf. Much of the rifting was influenced by the structural grain established during the Late Proterozoic to Cambrian.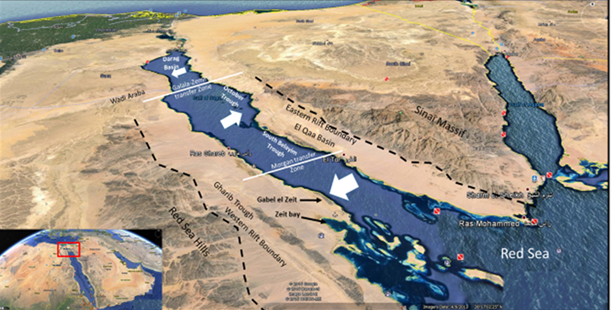 Figure 1 Gulf of Suez, regional tectonic picture.
Late Cretaceous Limestone member (Brown Limestone) is considered to be the predominant source of hydrocarbons, with millions of barrels in recovered in classical fields such as Gemsa, Ramadan, and few other well-known fields. Other factors include rapid burial of high quality sands from arid provenance, formation of several horst-graben structures, sediment drapes due to differential subsidence, effective entrapment by shallower evaporite sequence, etc. These fields produced predominantly from the pre-rift clastics and carbonate sequences, in well-defined faulted-block structures. However, much of the future exploration in the Gulf of Suez will depend on understanding the sedimentation trends in syn-rift and post-rift sag periods (Oligocene-Miocene), in highly complex fault systems in the regionally extensive Nukhul, Rudeis, and Kareem formations. These reservoirs are poorly imaged due to a thick overburden of evaporites, and the sparse well coverage adds to subsurface uncertainty.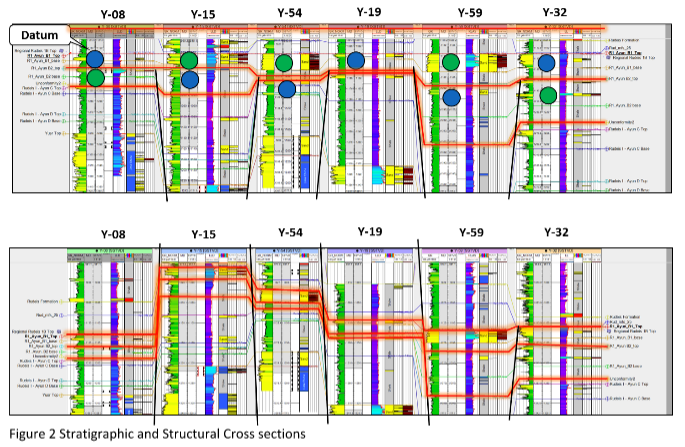 Recent work on the Yusr Field, Eastern Desert for an EOR project provides new exploration ideas. This study suggests that locating field-scale transfer or accommodation zones by applying the knowledge gained in East African Rift System and other similar intra-cratonic rifts, could help exploration.  Experimental deformation on scaled, physical models could supplement and possibly compensate for the poorly imaged 3D seismic and help delineate exploration targets. This study focuses on the Rudeis fm. and its hydrocarbon potential.  Carefully extracted seismic attributes (Ant Tracking* and Coherence attributes) illuminates fault patterns that are previously not recognized. Preliminary observations indicate that depocenters are created between the transfer zones, with high chance of up-dip stratigraphic terminations and lateral seals. While better imaged 3D seismic is imperative, intuitive application of analogue knowledge is essential in these challenging areas.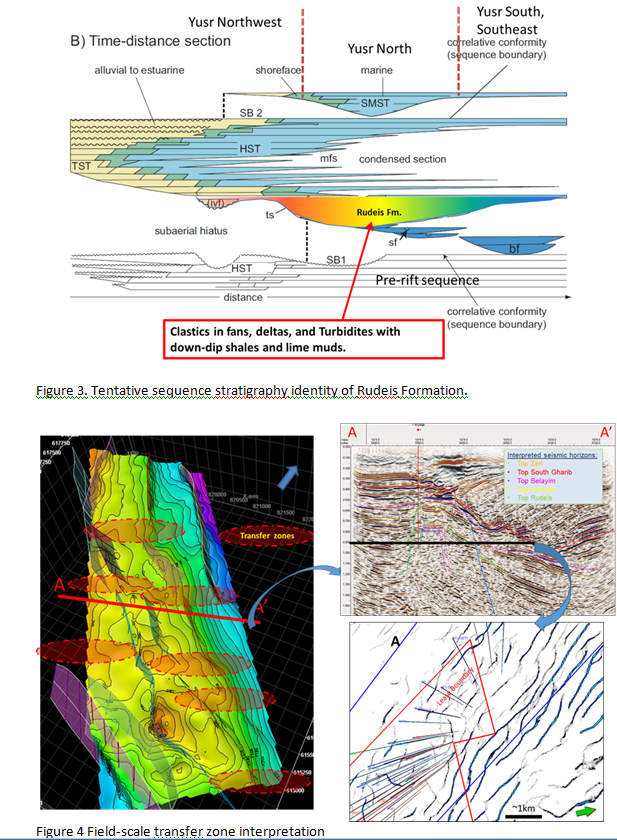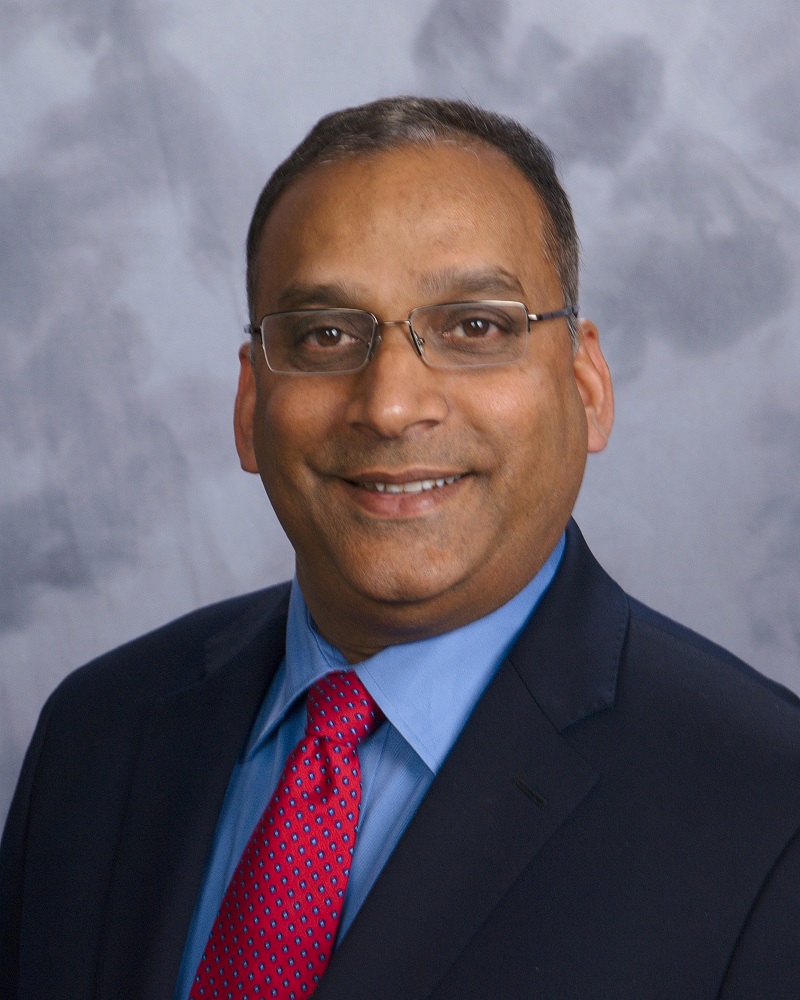 Sharma Dronamraju
is a Geoscientist and Director, AKD Professional Solutions in Houston. He worked for Petrobras USA, Marathon Oil, Halliburton, Landmark Graphics, Fugro and ONGC over 25 years of upstream oil and gas. His expertise lies in Reservoir Modeling and rejuvenating mature fields. He was associated with several deep-water developments and exploration appraisals in GoM, deep-water Nigeria, Equatorial Guinea, and South China Sea. Sharma's recent work includes Geomodeling for EOR in mature oil fields in Miocene Syn-rift clastics and carbonates and regional prospectively of Gulf of Suez, Egypt, heavy oil development in Powder River Basin in Lower Cretaceous incised valley fills (Newcastle Fm.), reservoir modeling of HPHT fields offshore East Malaysia and Borneo, and sub-salt interpretation, appraisal, and reservoir delineation of Lucius Field, GoM.  Sharma earned his Masters degrees from Indian Institute of Technology, Texas A&M University, and MBA from Rice University. He works with several non-profit associations in Houston, Houston Geological Society International Committee, a KEYS Mentor with Katy ISD, and a Coach for Science Olympiad.
Lynx Information Systems is a niche upstream company that provides reformatting services and support for the management and modernization of legacy data archives.  We also assist exploration teams in the international arena through our global portfolio of 'Exploration Adviser GIS' studies.  These studies have a focus on Africa, The Middle East, Latin America and other international regions which suffer from a paucity of accessible data.

 
When
February 15th, 2016 5:30 PM through 7:30 PM
Location
Westchase Hilton




9999 Westheimer Rd




Houston

,

TX

77042




United States
Event Fee(s)
| | |
| --- | --- |
| HGS Member | $ 45.00 |
| Non-Member | $ 50.00 |
| Emeritus/Life/Honorary | $ 40.00 |
| Student | $ 10.00 |
Event Attachments
| | |
| --- | --- |
| Sponsorship Opportunities | |
Event Contact
| | |
| --- | --- |
| Contact Phone | 713-304-8503 |
| | |
| --- | --- |
| contact Email | sgetz@sbcglobal.net |
Event Filter Informations
| | |
| --- | --- |
| Event Owner | International |