HGS International Dinner - W Africa deep water channel compartmentalization and evolution
Monday, January 18, 2016
Westchase Hilton • 9999 Westheimer
Social Hour 5:30–6:30 p.m.
Dinner 6:30–7:30 p.m.
Cost: $45 pre-registered members; $50 for non-members/walk-ups (Credit Cards are Now accepted);
$40 for Emeritus/Life/Honorary; $10 for students if pre-registered and pre-paid.
To guarantee a seat, you must pre-register on the HGS website and pay with a credit card.  You may walk up and pay at the door if extra seats are available.  Please cancel by phone or email within 24 hours before the event for a refund.  Online & pre-registration closes Monday, January 18, at 5:00 a.m.
If you are an active or associate member who is unemployed and would like to attend HGS meetings, please call the office for a discounted price. We are looking for one extra member to volunteer at the registration desk as well.
Speaker:  Jake Covault
University of Texas at Austin
W Africa deep water channel compartmentalization and evolution
Submarine channels are conduits through which terrigenous material is transported to the largest sediment accumulations on the planet in deep-sea fans, which can be prolific hosts for hydrocarbons. Submarine channels commonly develop above large-scale erosional surfaces, similar to incised valleys on the continental shelf, which truncate remnant channel deposits in terraces above a more continuous channel thalweg. These erosional surfaces often compartmentalize reservoirs, but a fundamental understanding of their development remains elusive as a result of few direct measurements of the morphodynamic processes that form them. We evaluate the stratigraphic evolution of submarine channels using seafloor and subsurface examples, combined with simple numerical modeling of the kinematics of submarine channel evolution. We show that as a channel strives to achieve an equilibrium condition, in which sediment is transported with minimum aggradation or degradation of the seafloor, large-scale erosional surfaces are created as a result of meandering channel cut-offs and upstream migration of knickpoints, which leave terraces of remnant channel deposits in their wake. The ubiquitous presence of submarine channel terraces and large-scale erosional surfaces on the seafloor and subsurface of continental margins suggests that processes of meander cut-off and knickpoint migration during incision, with no significant inner-bank deposits left behind might be common in the deep sea.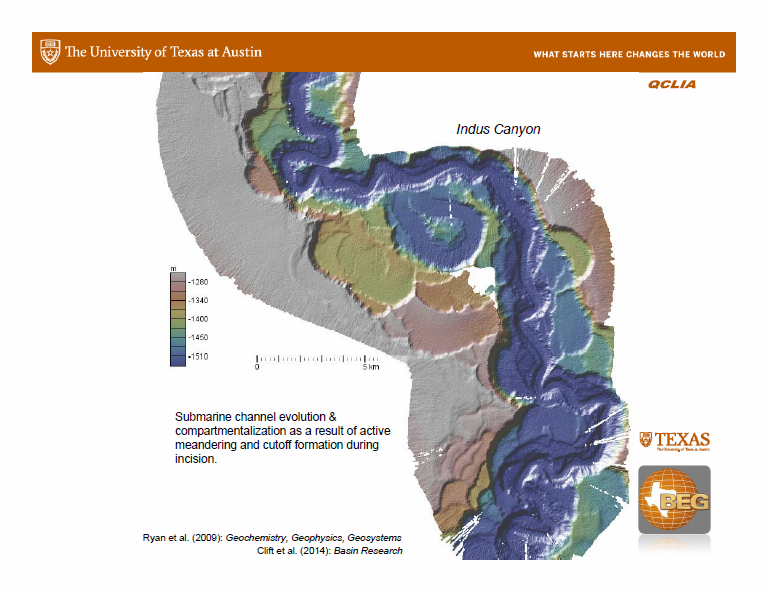 Dr. Jacob Covault is a Research Scientist and leader of the Quantitative Clastics Laboratory (QCL) at the University of Texas at Austin Bureau of Economic Geology. His expertise is the sedimentology and stratigraphy of deep-water depositional systems, and source-to-sink sediment dispersal. Jacob aims to address key challenges in the exploration and development of natural resources, namely reservoir presence and quality prediction in  frontier basins, and reservoir connectivity and heterogeneity. Prior to his present position at the QCL, Jacob was a senior research scientist at Chevron Energy Technology Company, and served the Department of the Interior at the U.S. Geological Survey. He received Ph.D. and B.S. degrees in Geological and Environmental Sciences at Stanford University. Jacob has published peer-reviewed research papers and scientific conference abstracts pertaining to petroleum geology, reservoir characterization, sedimentology, stratigraphy, basin analysis, Earth surface processes, and marine geology.
CGG's consulting services offer comprehensive geoscience knowledge and provide our clients with valuable insight into all aspects of natural resource exploration and development, from basin prospectivity to reservoir modeling and economic analysis. Our portfolio is unique in the industry, in terms of its breadth and in terms of its deep expertise in specialist technical disciplines including, Geology, Geophysics, Geospatial, Petroleum Economics,  Petrophysics, Reservoir Engineering, Geomechanics, Data Management Services, and Petroleum Training. We have an extensive knowledgebase  built on more than 50 years of industry-leading activities and extensive multi-client studies which can provide off-the-shelf answers for most of the
established and frontier hydrocarbon basins around the world. For more information visit cgg.com or contact Steve Bircher:  steve.bircher@cgg.com

 
| | |
| --- | --- |
| | Since 1995, C&C Reservoirs, a privately held company, has been capturing and delivering knowledge from the world's most important fields and reservoirs.  Through a combination of Consulting Services and DAKS™, the Digital Analogs Knowledge System, C&C Reservoirs enables the oil and gas industry to improve decisions, recovery and financial performance of their assets through a comprehensive knowledge database, in-depth reservoir reports and robust benchmarking and analysis capabilities.   For more information please visit www.ccreservoirs.com |
When
January 18th, 2016 5:30 PM through 7:30 PM
Location
Westchase Hilton




9999 Westheimer Rd




Houston

,

TX

77042




United States
Event Fee(s)
| | |
| --- | --- |
| HGS Member | $ 45.00 |
| Non-Member | $ 50.00 |
| Emeritus/Life/Honorary | $ 40.00 |
| Student | $ 10.00 |
Event Attachments
| | |
| --- | --- |
| Sponsorship Opportunities | |
Event Contact
| | |
| --- | --- |
| Contact Phone | 713-304-8503 |
| | |
| --- | --- |
| contact Email | sgetz@sbcglobal.net |
Event Filter Informations
| | |
| --- | --- |
| Event Owner | International |