HGS General Dinner - Big Bend Gulf Of Mexico Sucess, from Prospect to Production through Geoscience Integration
Monday, February 8, 2016
Westchase Hilton • 9999 Westheimer
Social Hour 5:30–6:30 p.m.
Dinner 6:30–7:30 p.m.
Cost: $45 pre-registered members; $50 for non-members/walk-ups (CASH OR CHECK ONLY);
$40 for Emeritus/Life/Honorary; $10 for students if pre-registered and pre-paid.
To guarantee a seat, you must pre-register on the HGS website and pre-pay with a credit card.  You may walk up and pay at the door if extra seats are available.  Please cancel by phone or email within 24 hours before the event for a refund. Monday scheduled HGS meetings need to be cancelled the Friday before by 2pm. Online & pre-registration closes Monday, February 8, at 5:00 a.m.
If you are an active or associate member who is unemployed and would like to attend HGS meetings, please call the office for a discounted price. We are looking for one extra member to volunteer at the registration desk as well.
Speaker:  Owen Stephens
Noble Energy, Houston
 Big Bend Gulf Of Mexico Sucess, from Prospect to Production through Geoscience Integration
Big Bend is one of several recent discoveries made in Mississippi Canyon by Noble Energy and partners. Oil is contained in Lower Middle Miocene deepwater sandstones within a very high-relief combination structural/stratigraphic trap. This presentation will recount the subsurface analysis that drove the successful discovery and subsequent rapid development of the Big Bend Field.
Several techniques were used to de-risk Big Bend prior to drilling: Proprietarily processed WAz data provided meaningful uplift to the imaging adjacent and under salt, the DHI interpretation and migration velocities. This uplift increased the confidence in reservoir presence and quality. An improved velocity volume was used in the pore pressure analysis to assess column height and top seal potential, which helped mitigate containment risk. Chimney cube technology results confirmed migration pathway and thermogenic charge assumptions, as well as the leaky trap prediction from pore pressure analysis. Seismic inversion reduced concerns about reservoir and hydrocarbon presence. With the resulting increased confidence, the well drilled in late 2012,
discovering 130ft of high quality net oil pay.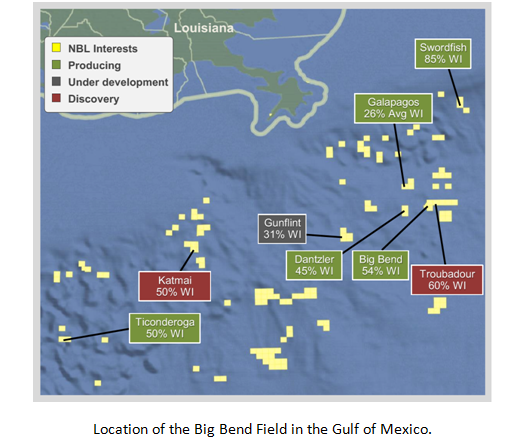 After discovery, actively addressing the remaining field uncertainties allowed acceleration of both project sanction and first oil. Risk of the interpreted oil/water contact being a paleo-contact was reduced through fluid substitution modeling and geostatistical seismic inversion. An updated depositional model was created using sidewall core, conventional core from nearby analogs, image log analysis and seismic interpretation, reducing reservoir uncertainties and feeding into the reservoir model. This then guided a multi-phased reservoir modeling approach. First, a simple model provided production profiles for early project planning. Multiple deterministic cases were then used to assess volumetric and compartmentalization uncertainties. With those uncertainties understood, the development could be sanctioned as a single-well subsea tie-back, maximizing value by minimizing both appraisal costs and project costs, and accelerating first oil. The resulting early production history will allow further appraisal of field volumes and compartmentalization, in the upside case potentially justifying an additional producer and water injection.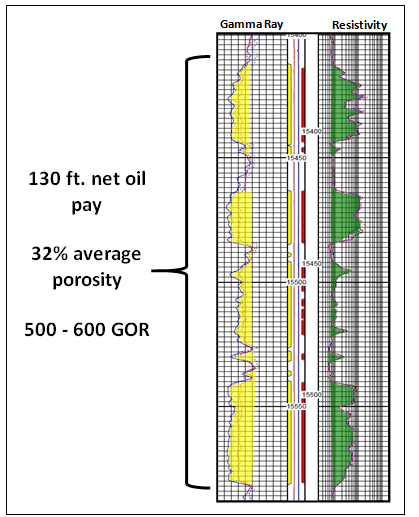 The Lower Middle Miocene reservoir in the Big Bend discovery well, MC698#1.
Big Bend commenced production on October 26, 2015, less than three years from discovery and within the sanctioned budget, with production reaching over 20 Mboe/d.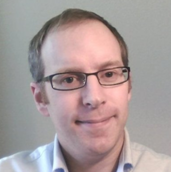 Owen Stephens is a Senior Geologist with Noble Energy in Houston. In his current role as reservoir geology specialist and reservoir modeler for the deepwater Gulf of Mexico, he has helped successfully bring many of Noble's assets from appraisal to development, first production and beyond, addressing issues of reservoir presence, thickness, quality and connectivity. Previously, he worked on the North Sea, Irish Sea and East Mediterranean, including discovery, appraisal and development of Noble's giant gas field, Tamar. Owen earned a B.A. in Natural Sciences (Geology) from the University of Cambridge, U.K. in 1996 and an M.Sc. in Basin Evolution and Dynamics from Royal Holloway, University of London, U.K. in 1997
CGG's consulting services offer comprehensive geoscience knowledge and provide our clients with valuable insight into all aspects of natural resource exploration and development, from basin prospectivity to reservoir modeling and economic analysis. Our portfolio is unique in the industry, in terms of its breadth and in terms of its deep expertise in specialist technical disciplines including, Geology, Geophysics, Geospatial, Petroleum Economics,  Petrophysics, Reservoir Engineering, Geomechanics, Data Management Services, and Petroleum Training. We have an extensive knowledgebase  built on more than 50 years of industry-leading activities and extensive multi-client studies which can provide off-the-shelf answers for most of the
established and frontier hydrocarbon basins around the world. For more information visit cgg.com or contact Steve Bircher:  steve.bircher@cgg.com

 
| | |
| --- | --- |
| | Since 1995, C&C Reservoirs, a privately held company, has been capturing and delivering knowledge from the world's most important fields and reservoirs.  Through a combination of Consulting Services and DAKS™, the Digital Analogs Knowledge System, C&C Reservoirs enables the oil and gas industry to improve decisions, recovery and financial performance of their assets through a comprehensive knowledge database, in-depth reservoir reports and robust benchmarking and analysis capabilities.   For more information please visit www.ccreservoirs.com |
PSI provides petrophysical consulting services including single-well analysis, field studies, and quality controlled petrophysical databases. We work closely with clients in data rooms and bid rounds, and provide mentoring and best practices in petrophysics for the industry. 

PSI also offers a growing Deepwater Gulf of Mexico database, which is a collection of fully interpreted data, from almost 1,700 wells spanning the entire Gulf, with sets of data curves that are more meaningful to geologists, geophysicists, and engineers – giving them the answers they're looking for…faster.
| | |
| --- | --- |
| | dGB Earth Sciences specializes in innovative seismic interpretation software and services. We developed OpendTect, the world's only free and open source software platform for seismic interpretation and visualization. Our commercial platform OpendTect Pro has added functionality with a link to Petrel and 3D pdf capabilities. |
When
February 8th, 2016 5:30 PM through 7:30 PM
Location
Westchase Hilton




9999 Westheimer Rd




Houston

,

TX

77042




United States
Event Fee(s)
| | |
| --- | --- |
| HGS Member | $ 45.00 |
| Non-Member | $ 50.00 |
| Emeritus/Life/Honorary | $ 40.00 |
| Student | $ 10.00 |
Event Attachments
| | |
| --- | --- |
| Sponsorship Opportunities | |
Event Contact
| | |
| --- | --- |
| Contact Phone | 713-816-9202 |
| | |
| --- | --- |
| contact Email | cheryldeforges@hotmail.com |
Event Filter Informations
| | |
| --- | --- |
| Event Owner | General Dinner |
---